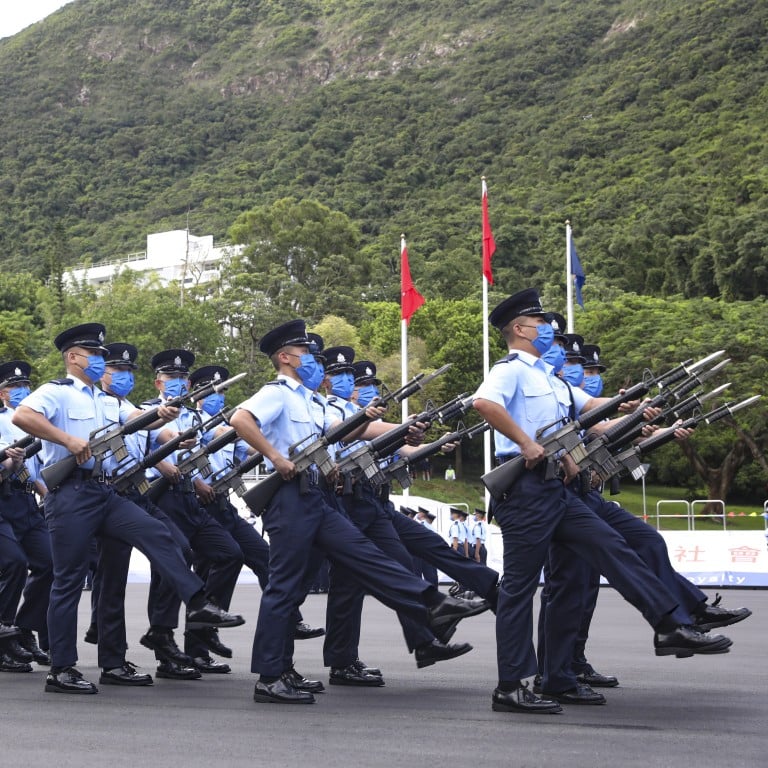 Many jobs, few takers: Hong Kong police recruitment centre opens in Wan Chai to woo applicants
With more than 5,000 vacancies and a falling number of applicants, the force has not met recruitment targets
New job centre at police HQ allows drop-in visitors to chat with trainee officers before applying
Hong Kong police have opened their first recruitment centre in 18 years and will increase efforts to boost hiring, as fewer people apply to join the force.
The move came after 4,470 people applied for positions as constables and inspectors from April to September, a 14 per cent drop from 5,185 over the same period last year.
Of those, 1,816 wanted to become inspectors and 2,654 applied for work as constables.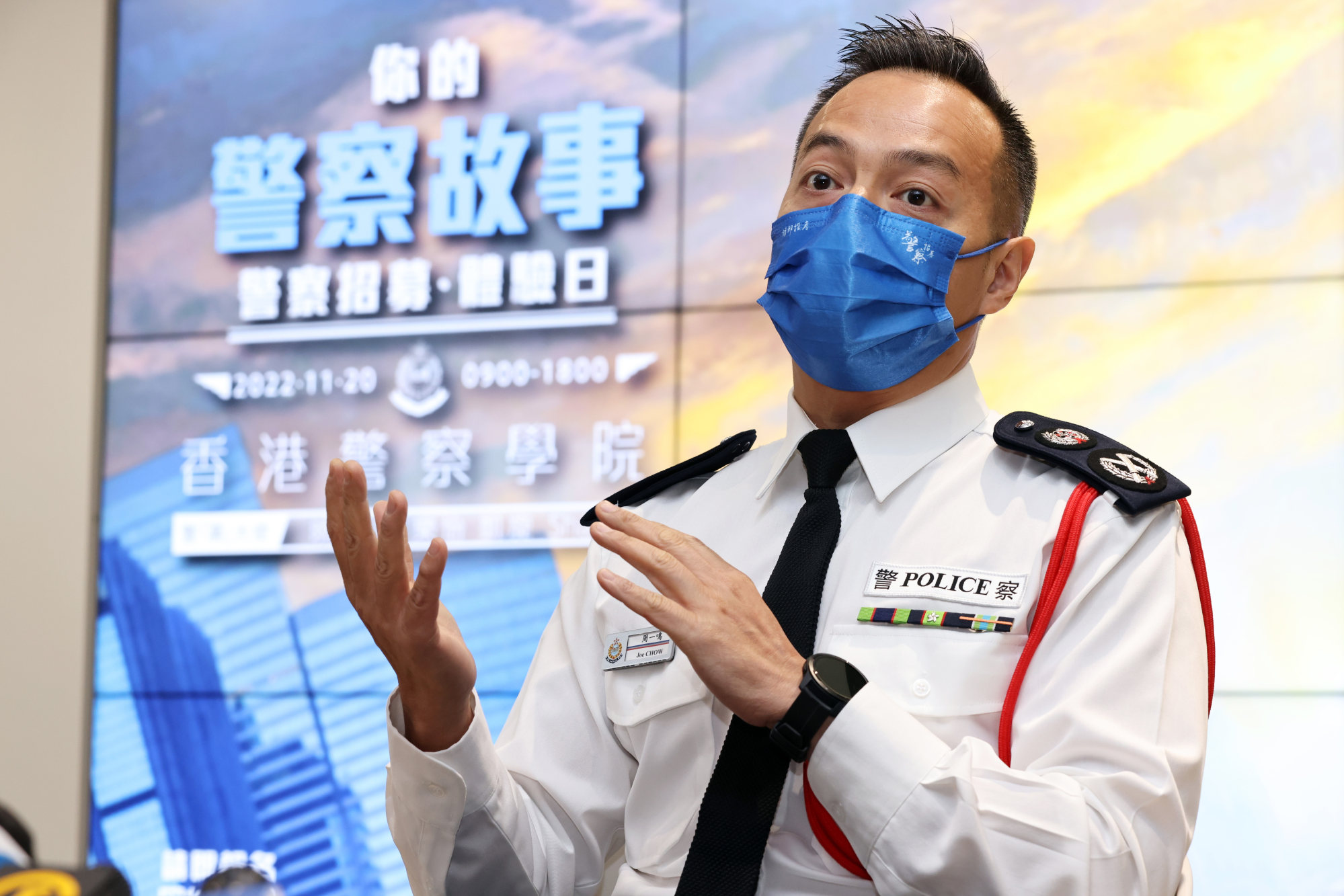 Over a 12-month period in 2021-22, about 8,200 people applied for police jobs. The force hired 170 inspectors and 484 constables, but that was short of its target of 195 and 1,350 respectively.
Deputy Commissioner of Police (management) Joe Chow Yat-ming, who revealed the latest figures at a press briefing on Friday, insisted that although recruitment remained a problem, the decline in applications this year was not major.
"The figures decreased slightly and the situation remained largely stable," he said, adding that the force's priority was to attract more applicants.
Police said in March they aimed to recruit 240 inspectors and 1,350 constables in 2022-23. The force relaxed a requirement that applicants must have lived in the city for at least seven years, a move designed to allow non-permanent residents to apply.
Chow said the change attracted 40 applicants who had lived in Hong Kong for less than seven years, and two had already joined the force.
"We have over 5,000 vacancies, but I don't have a definite timetable for filling them," he said. "We are looking for quality, not quantity."
The force had 42,347 staff last year, including 33,116 junior, inspector and senior officer posts. The rest were 4,730 civilian and 4,500 auxiliary posts.
With only 27,410 junior, inspector and senior police officers positions filled, there were 5,706 vacancies, or 17 per cent of the total. Most were for junior officers, including constables, senior constables, sergeants and station sergeants.
There were also 1,495 auxiliary police and 500 civilian staff vacancies, a total shortfall of about 7,700.
The relationship between police and Hongkongers was damaged during the social unrest of 2019, when anti-government protesters clashed with frontline officers over several months.
Although supporters said police had done their job to maintain public order, others felt the declining number of applicants reflected how some Hongkongers felt about the force.
Chow said recruitment efforts since 2019 had been affected by other factors too. "Some young people might not be interested in civil service posts," he said.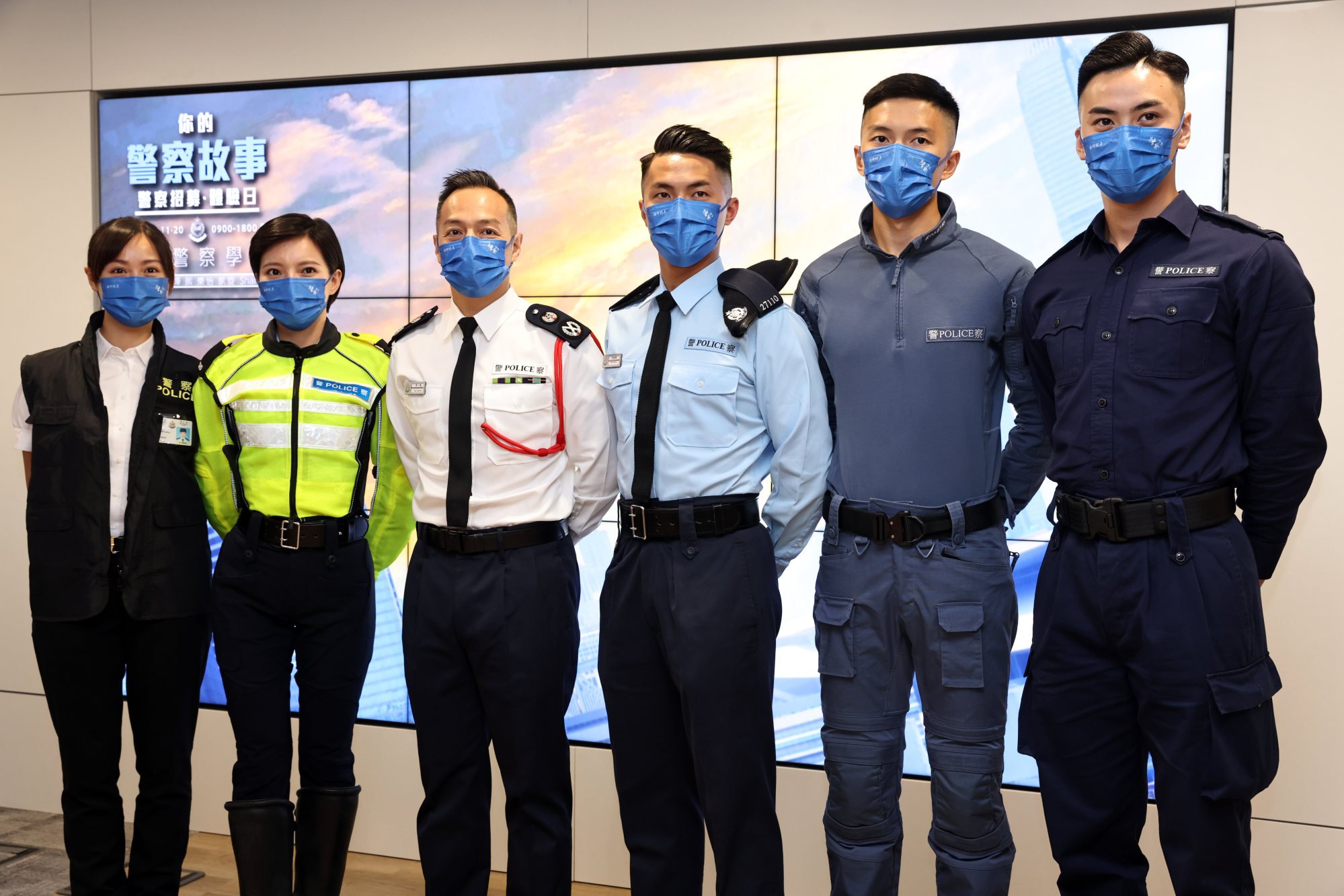 The starting monthly salary for an inspector is HK$48,255 (US$6,147) and HK$26,845 for constables.
The opening of the recruitment centre on Friday at police headquarters in Wan Chai marked the return of an old method of wooing applicants. Five such centres were set up across the city in the 1980s, but they gradually closed, the last in 2004.
Chow said the new one was designed as an activity room for people to drop in and speak informally with officers on duty about joining the force.
Aside from academic requirements, applicants who want to be inspectors or constables must be able to read and write Chinese, speak fluent Cantonese and pass the Basic Law and national security law test.
Visitors to the new recruitment centre will see a display board listing the physical requirements for candidates, and can test their strength using a hand grip, check their eyesight, and try out a virtual reality shooting corner.
Chow said some people might not have applied to join the force because they were unsure if they were fit enough for the Police College training regime of 27 weeks for constables and 36 weeks for inspectors.
But he said: "If they come, our probationary officers undergoing training and the instructors can share why there is no need to worry."
Chow said the force would continue four other campaigns – holding Recruitment Experience and Assessment Days (READ) at the Hong Kong Police College in Wong Chuk Hang, setting up booths at universities, using a recruitment truck and reaching out to athletes.
The READ held last December drew 1,671 people and 532 applied for jobs, he added, while a similar event in June saw 2,461 visitors and 926 applicants. The next one will be on November 20 at the police college.
Chow also said recruitment booths set up at 11 local universities had resulted in 389 applications.
More than 40 former athletes had applied for jobs with the force, which already had more than 60 former sportspeople in its ranks.
"Athletes' qualities are suitable for police jobs. They have good fitness, they are disciplined and resilient … so we hope to give them this option after they retire from sports," Chow said.