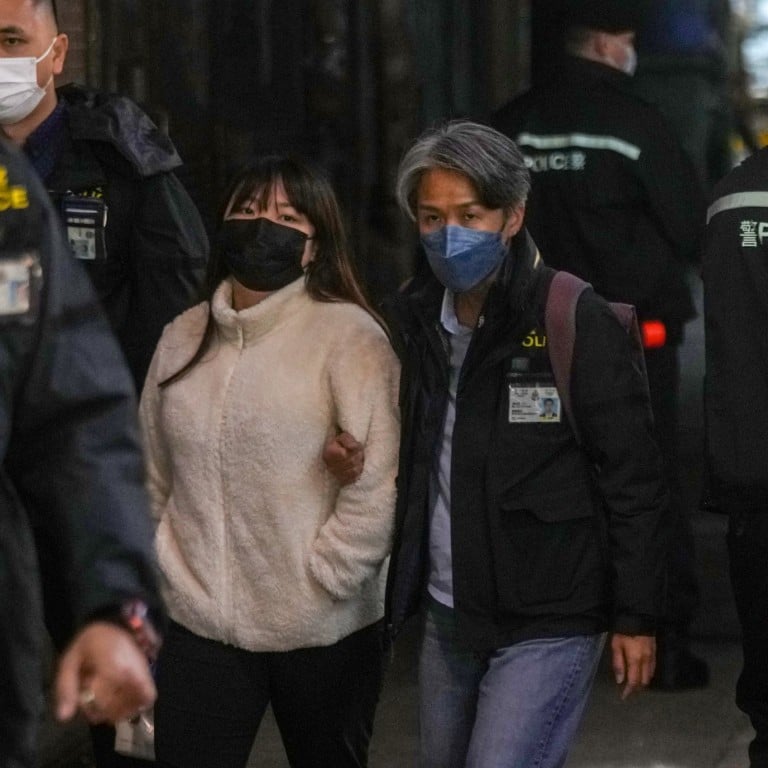 Hong Kong national security police arrest 6 for producing allegedly seditious books on 2019 protests, selling them at fair
Officers from force's National Security Department raid stall at fair on ground floor of Mong Kok shopping centre
Three men and three women, aged 18 to 62, arrested in Kowloon and the New Territories
Hong Kong police
have arrested six members of an "anti-government organisation" for alleged sedition for producing and selling a book at a Lunar New Year fair on the 2019 social unrest among other items.
Officers from the force's National Security Department were seen raiding a stall at a market fair on the ground floor of Ginza Plaza in Mong Kok on Tuesday evening, taking away at least two women.
A police spokesman said investigations had found that the group had produced and published a book covering a series of riotous events from June 2019 to February 2020 and had been selling it at the fair since last month.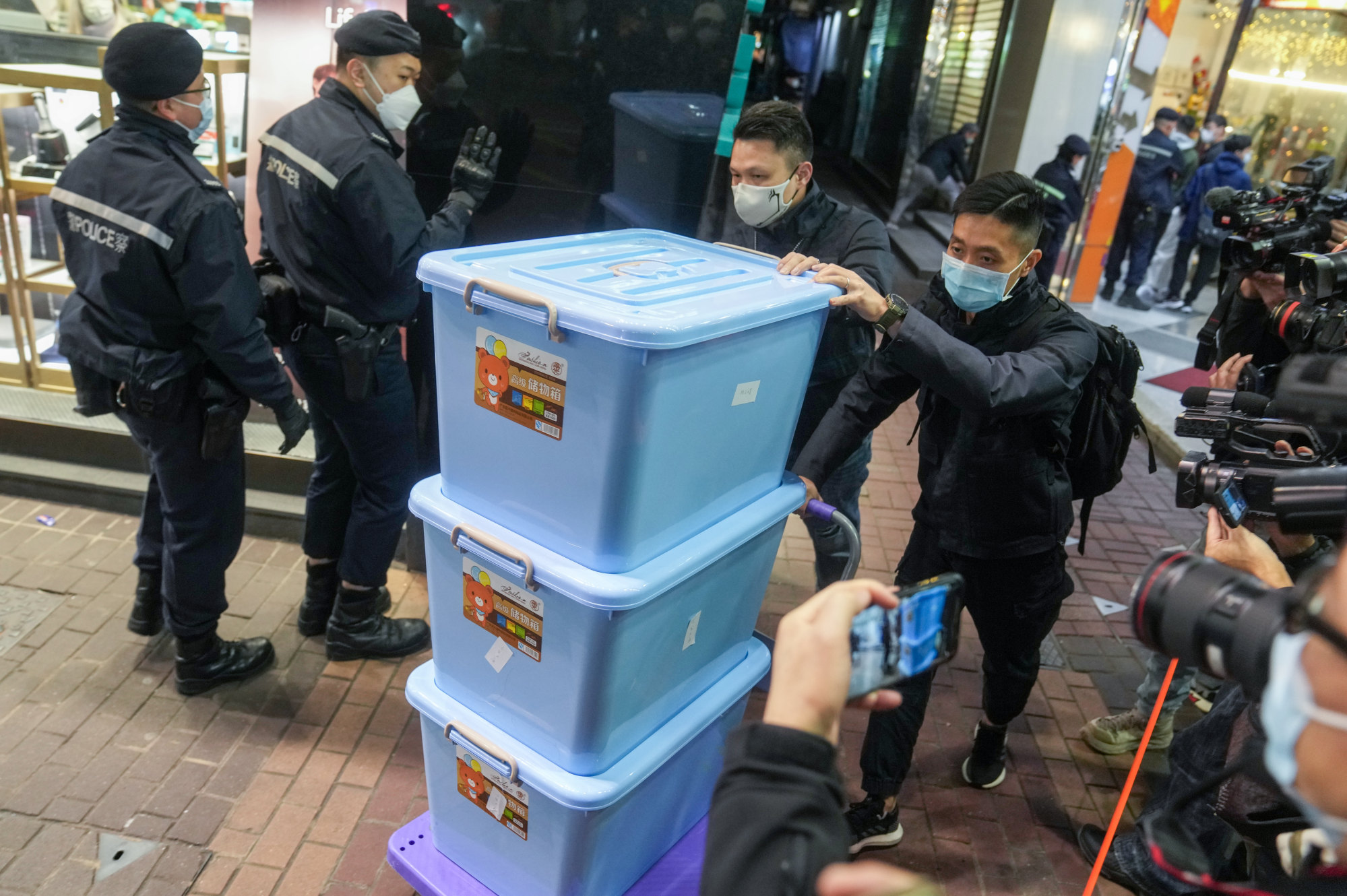 Three men and three women, aged 18 to 62, were arrested in Kowloon and the New Territories, accused of doing an act or acts with seditious intention in violation of the Crimes Ordinance.
Police said the book promoted the notion of Hong Kong independence and incited others to overthrow the central and Hong Kong governments. It also invited others to use violence and counselled disobedience to law or to any lawful order.
The stall was also said to have sold a variety of items with designs glorifying violence and of an anti-government nature.
A book with a cover showing clashes during anti-government protests in June 2019 was seen at the fair.
Items featuring the Chinese characters "Glory to Hong Kong", the title of a popular protest anthem, and illustrations of an umbrella-holding protester in a gas mask were also seen.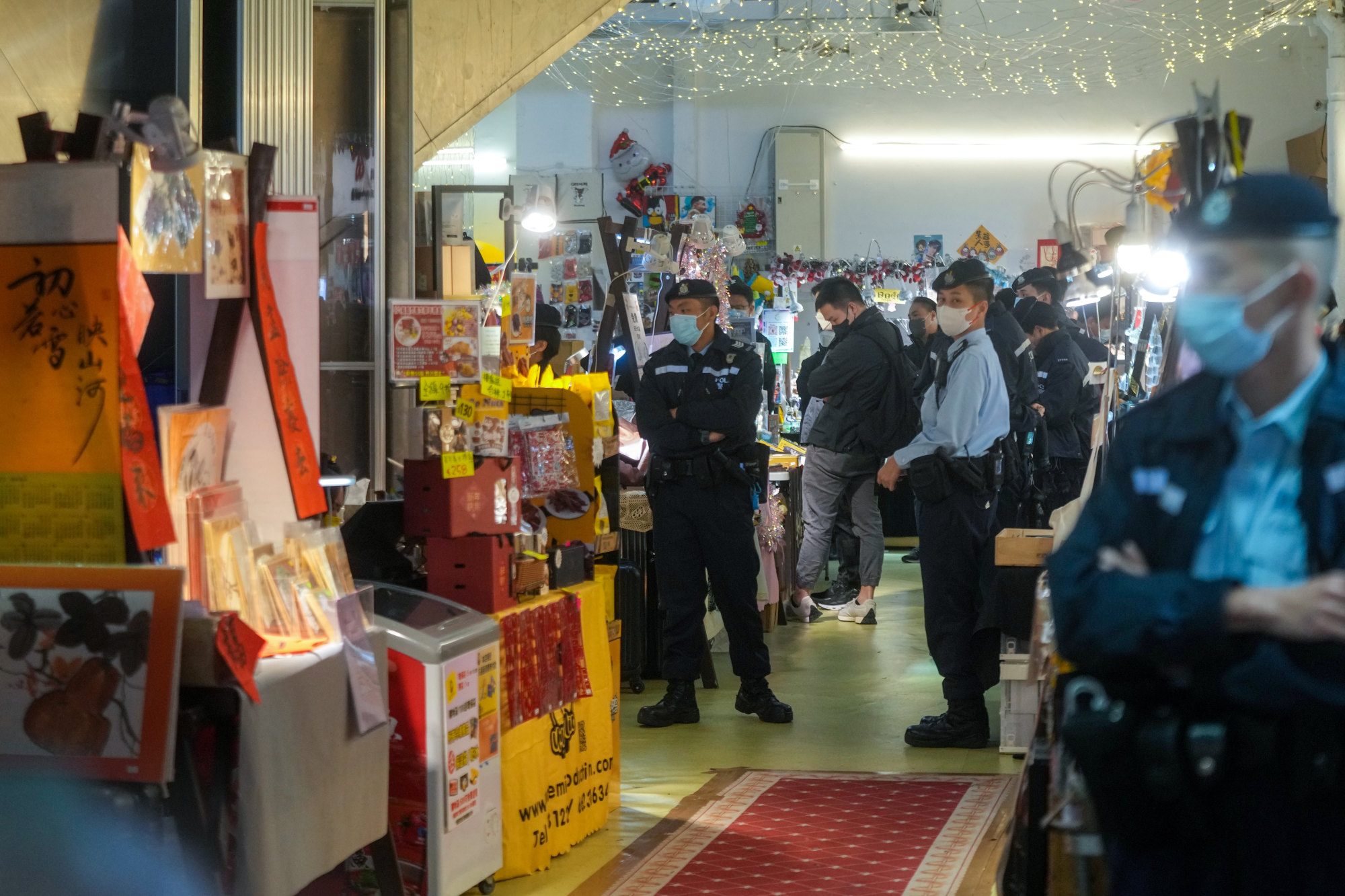 Police said officers also searched a store and print shop related to the "anti-government body", and the homes of those arrested, seizing 43 copies of the book in question and other allegedly seditious objects. The six people were detained for inquiries.
In a report last August on the market fair, a Beijing-friendly Chinese-language daily said a stall keeper had implied to a reporter that money they had made would be used to support activists abroad.
Politihk Social Strategic, a political organisation founded by a group of pro-Beijing activists in 2016, called police after collecting evidence at the site, the report said.
The temporary fair at the mall had been recruiting tenants from early last month and was expected to run until January 30.
The Democratic Party was also selling several items at the fair to help cover legal fees for jailed members including former chairman Wu Chi-wai, Lam Cheuk-ting and Andrew Wan Siu-kin.
During Tuesday's two-hour operation, which customs joined, police also took the names of all stall workers and visitors.