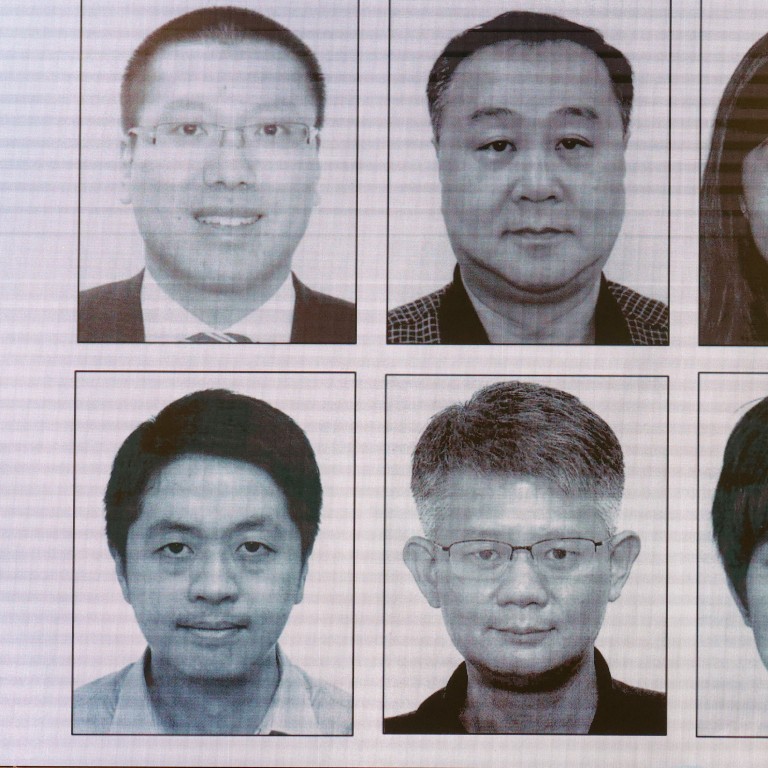 Hong Kong national security law: police offer HK$1 million rewards for arrest of 8 people, including 3 ex-lawmakers
Announcement marks first time bounties offered since legislation took effect, banning acts of secession, subversion, terrorism and collusion with foreign forces
Suspects, who are overseas, are ex-legislators Nathan Law, Dennis Kwok, Ted Hui, unionist Mung Siu-tat, lawyer Kevin Yam, activists Finn Lau, Anna Kwok and Elmer Yuan
Hong Kong police are offering HK$1 million (US$127,600) in reward money for information leading to each arrest of eight opposition fugitives accused of violating the
national security law
.
National security police obtained court warrants for the arrests on Monday, spelling out the offences allegedly committed by the fugitives living overseas and marking the first time authorities have taken such a step since the legislation took effect on June 30, 2020.
Beijing's agency overseeing national security in Hong Kong expressed its firm support for local police to "relentlessly crack down on anti-China culprits who fled", while the city government issued a statement stressing that the fugitives "should not have any delusion" about evading their liabilities by absconding.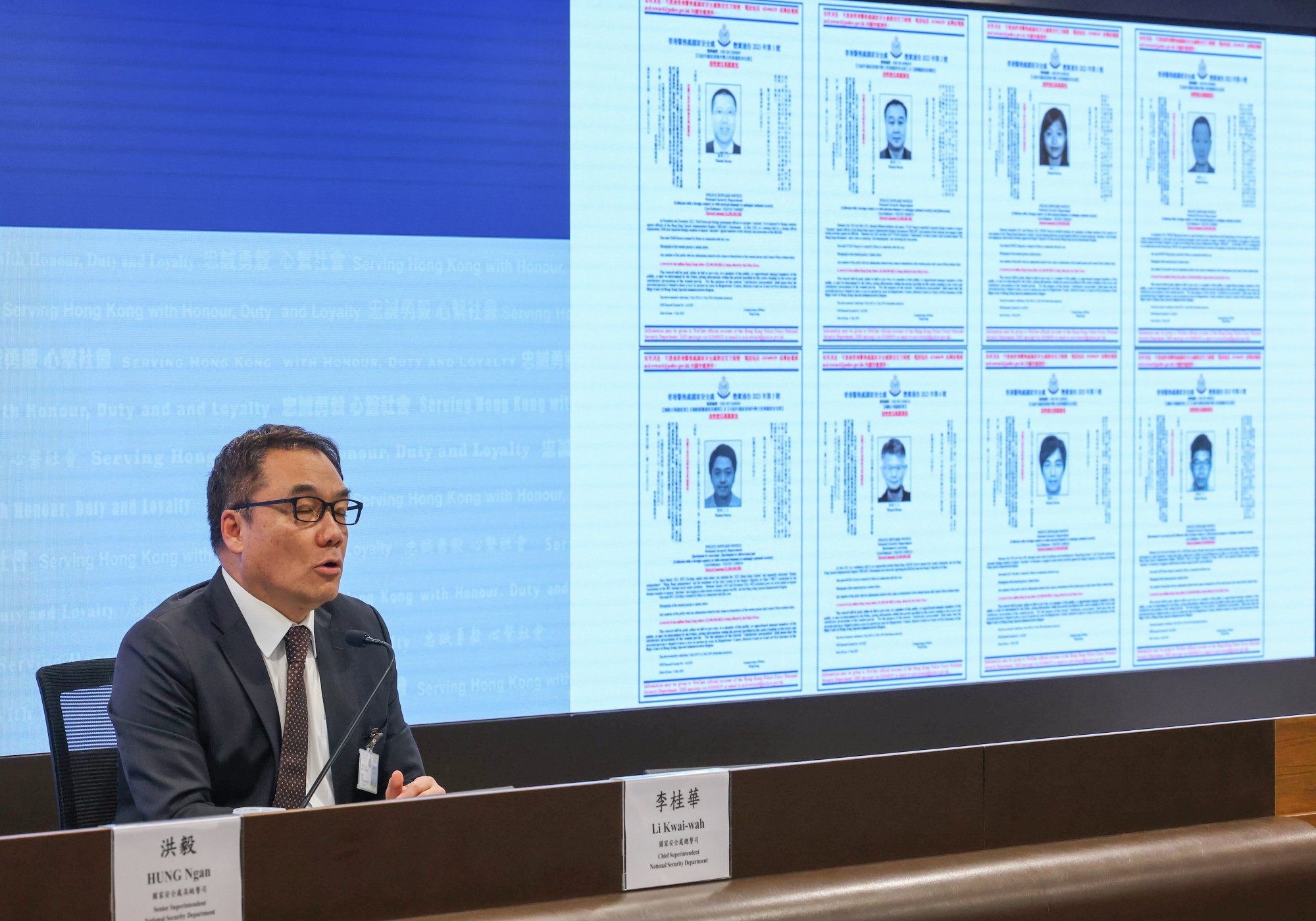 The national security law was imposed by Beijing to ban acts of secession, subversion, terrorism and collusion with foreign forces, effectively ending more than a year of
anti-government protests
that brought the city to the brink in 2019.
The eight fugitives – selected from the dozens on a wider wanted list – are former legislators Nathan Law Kwun-chung, Dennis Kwok Wing-hang and Ted Hui Chi-fung, unionist Mung Siu-tat, lawyer Kevin Yam Kin-fung, and activists Finn Lau Cho-dik, Anna Kwok Fung-yee and Elmer Yuan Gong-yi.
The wanted notices for the fugitives, last known to be living in Canada, Australia, the United States and Britain, urged anyone with information on their alleged crimes and whereabouts to "contact police without delay".
"We are absolutely not putting on a show or spreading any terror," Chief Superintendent Steve Li Kwai-wah of the police force's National Security Department said at a media briefing on Monday when asked if authorities were creating an atmosphere of "White Terror". "We are enforcing the law. By offering rewards, what we hope is to apprehend them."
Li said his department had obtained evidence that the eight fugitives, even after they fled, had continued to engage in "very serious crimes" endangering national security, advocating international sanctions against their former home city in a bid to "destroy Hong Kong and intimidate officials".
"Quite a few called for sanctions against judges and prosecutors, undermining the well-established, uninterrupted power of judges," Li said. "Some even proposed to foreign countries how to attack the financial system in Hong Kong."
Article 37 and 38 of the national security law states the legislation applies to everyone in the world and also covers offences committed outside the city.
A spokesman for the Security Bureau said law enforcement agencies would continue to cut off the fugitives' alleged criminal proceeds, their source of funding and identify their accomplices in Hong Kong.
Senior Superintendent Hung Ngan of the department warned that it would be "risky and unsatisfactory" for members of the public to repost the content of messages the fugitives disseminated online or fund them through any means, saying "most of their posts had seditious intent".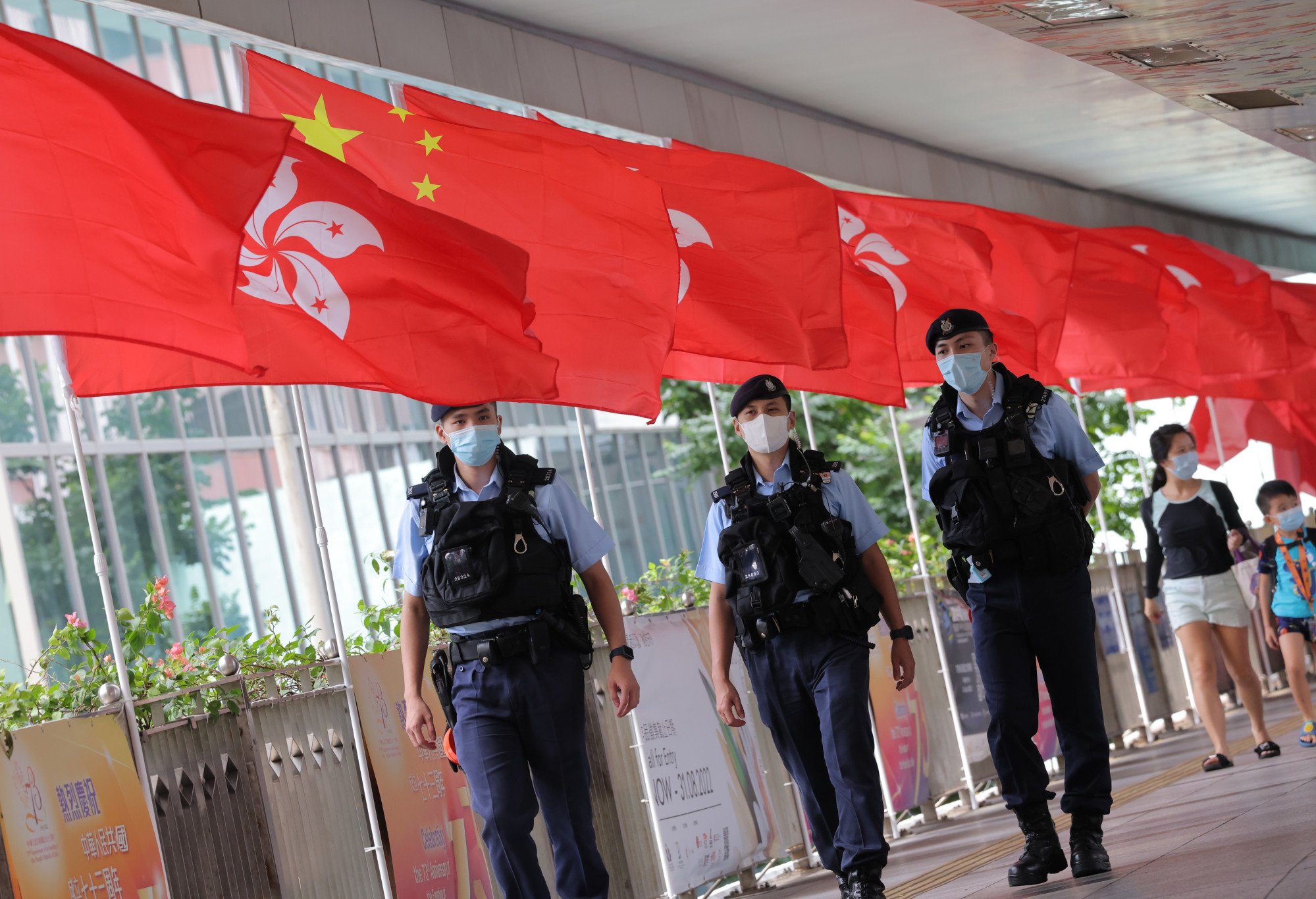 Police also appealed to the eight opposition figures to cease their alleged illegal activities and return to Hong Kong to surrender themselves to ensure they would receive more lenient penalties.
Questioned on how effective the rewards would be in leading to their arrests since they were overseas, Li said the intelligence to be collected would be useful if the fugitives were found to have returned to Hong Kong through illegal means.
A government source explained why the eight were singled out among others on the wanted list, saying they were "more actively involved" than the rest in matters that endangered national security.
Police set the bounties at HK$1 million for each of the eight fugitives to reflect the serious nature of national security offences, the insider said, compared with the usual amounts of HK$300,000 to HK$400,000 to track down a rapist or a murderer.
In a strongly worded statement backing the police action on Monday, the Office for Safeguarding National Security said the force would "relentlessly crack down on anti-China culprits who fled" in order to maintain the "hard-earned good situation" in Hong Kong.
"After fleeing Hong Kong, they intensified their collusion with external forces to recruit independence elements, assemble members to achieve 'self destruction' and beg foreign countries to impose sanctions or other hostile actions against Hong Kong," it said.
A government spokesman added the fugitives should not harbour "any delusions" that they could evade their legal liabilities by fleeing overseas.
Most of the eight Hongkongers targeted by the authorities have been vocal on Twitter, Facebook and YouTube, and were affiliated with overseas advocacy groups.
Seven of the eight suspects had called for sanctions against Hong Kong, according to police.
Kevin Yam, a solicitor now living in Australia, has publicly expressed support for sanctions against local judges. Dennis Kwok, currently a research fellow at the Harvard Kennedy School, suggested in a policy report that overseas governments should engage in activities hostile towards Beijing and Hong Kong, according to police.
The Security Bureau also warned residents about being in contact with the suspects.
"Members of the public should be careful not to be abetted by these absconders and their accomplices to avoid bearing criminal responsibilities," the spokesman said.
Executive Councillor Ronny Tong Ka-wah, a barrister by training, said he believed authorities were not banning residents from contacting the fugitives, but they should judge for themselves whether any content they reposted was seditious.
"You can defend that you do not have a seditious intention in doing so, but it's your call to decide whether you want to increase the chances of being suspected by the police," he told the Post.
The bounties were announced just days after the three-year anniversary of the imposition of the security law.
Lau Siu-kai of the Chinese Association of Hong Kong and Macau Studies, a semi-official think tank, said the rewards reflected that Beijing hoped to issue a fresh warning that national security risks still lurked in the city, as the expanding network of overseas advocacy groups affiliated with activists continued to disrupt local affairs.
The US, UK and Australian governments condemned Monday's move.
"The extraterritorial application of the Beijing-imposed National Security Law is a dangerous precedent that threatens the human rights and fundamental freedoms of people all over the world," the US State Department said. "We call on the Hong Kong government to immediately withdraw this bounty."
British Foreign Secretary James Cleverly decried the arrest warrants three years after Britain suspended its extradition agreement with Hong Kong following passage of the national security law.
"We will not tolerate any attempts by China to intimidate and silence individuals in the UK and overseas," Cleverly added in a statement.
Australian foreign minister Penny Wong, who met Ted Hui and Yam in January in Adelaide, said her government was "deeply disappointed" about the warrants.
"Freedom of expression and assembly are essential to our democracy, and we will support those in Australia who exercise those rights," she said. "Australia remains deeply concerned by the continuing erosion of Hong Kong's rights, freedoms and autonomy."
The Inter-Parliamentary Alliance on China, a grouping of like-minded lawmakers around the world, said the arrest warrants confirmed "fears of Hongkongers abroad" and represented a "dangerous escalation in Beijing's global war on dissent".
The legislators said they would call on their governments to take action against those who had eroded fundamental freedoms in Hong Kong, "including, but not limited to, the imposition of targeted sanctions".
Anna Kwok, the only woman on the bounty list, said from Washington that she awoke on Monday morning to the news and, as far as she could tell, the charges against her stemmed entirely from her work in the United States.
"The Hong Kong government is absurdly overreaching," she said. "It has no authority to arrest anyone overseas. Clearly, it intends to intimidate us."
Sophie Richardson, China director at Human Rights Watch, an advocacy group headquartered in New York, said the arrest warrants were an indictment of "Hong Kong's once well-regarded law enforcement and judiciary".
Officers from the National Security Department have arrested 260 people aged 15 to 90 since the law came into force.
According to the police, 161 of the individuals and five companies had been charged, and 79 had been convicted.
Additional reporting by Mark Magnier and Chad Bray