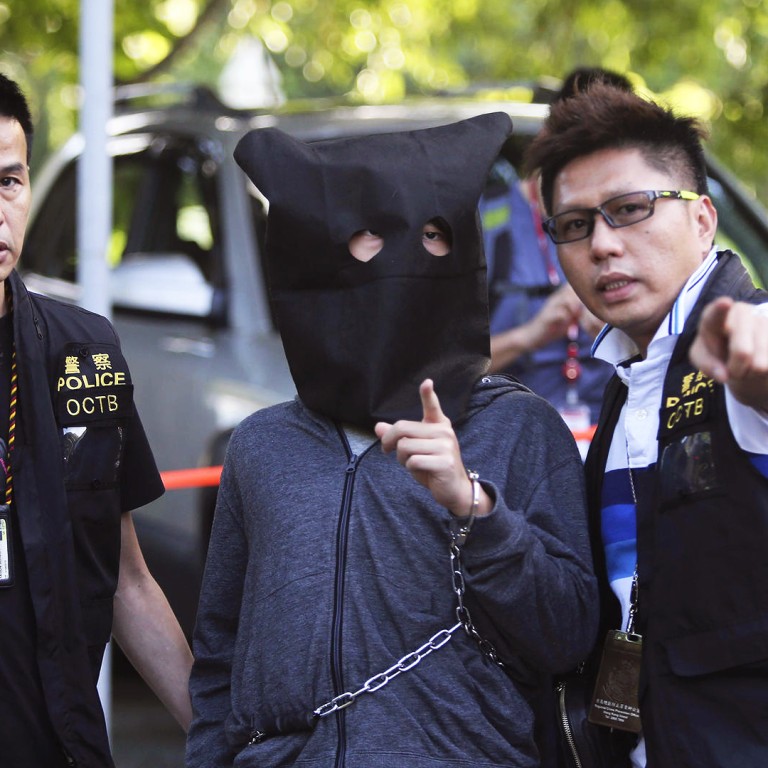 Six suspects in alleged Hong Kong bomb plot may face 20 years in jail
Police taking no chances as they form task force to assess risks to Hong Kong in light of arrests
Six out of 10 suspects arrested over an alleged bomb plot in Hong Kong could face up to 20 years in jail after they were charged jointly yesterday with conspiracy to cause an explosion.
The five men and one woman will appear in Kwun Tong Court today, according to police, while the rest are on bail pending investigation by the force's elite organised crime and triad bureau.
Officers from the bureau swooped on the 10 suspects - six men and four women aged 21 to 58 - in citywide raids on Sunday and Monday that also uncovered suspected explosives and bomb-making chemicals.
Police and a former senior law enforcer yesterday downplayed the likelihood of terrorism in the city. Nevertheless, the force began an operation codenamed "Jointbuilder" following a risk assessment in the light of this case.
"Apart from stepping up patrols in various districts, officers will visit companies selling chemicals or chemical products to conduct investigations and take enforcement action … if necessary," the force said.
It appealed to the public to "inform police … if they spot any suspicious persons or objects".
Under the Crimes Ordinance, the maximum penalty for trying to cause an explosion, or making or keeping an explosive with intent to endanger life or property, is 20 years' imprisonment.
In continuing investigations, one of the suspects, surnamed Man, was taken in the afternoon to a disused four-storey ATV studio complex in Sai Kung - where some of the chemicals were found on Sunday - for a crime reconstruction. The masked and chained man, wearing sandals, blue chinos and a grey jacket, was visibly tired but provided a detailed account of the alleged bomb plotters' actions in and around the L-shaped complex, calmly giving "yes" and "no" answers during the hour-long videotaped visit.
In one animated scene, Man described how he scaled a 4.3-metre wall to break into the complex, which, though vacated, was surrounded by village houses and lay along a road that was well-used by residents.
Several officers then escorted the suspect inside, away from the glare of the media.
Superintendent Ng Wai-hon, of the bureau, said Man had provided useful evidence.
Separately, a police spokeswoman said: "Up to now, there is no solid intelligence showing Hong Kong will become the target of terrorists. The terrorist threat level remains moderate."
The force was on high alert and would take suitable precautions, she said.
Clement Lai Ka-chi, a former superintendent who founded the police counterterrorism unit, also said: "Hong Kong is a very safe place".
Lai noted the city had encountered no credible terrorism threat before. "The moderate threat level is alarming enough, and shows how the police should patrol and what they should be aware of." He praised intelligence officers for having done a great job in foiling this alleged plot.
Last month, police commissioner Stephen Lo Wai-chung listed cybercrime and terrorism as two of his priorities, although he said no intelligence indicated a terrorist threat was imminent.
This article appeared in the South China Morning Post print edition as: Six charged over alleged bomb plot