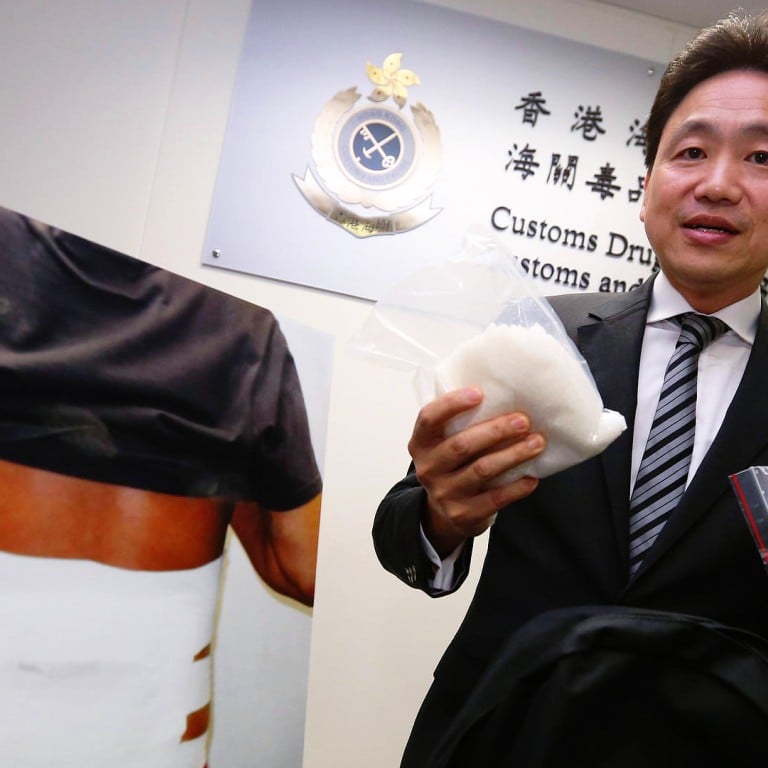 'Staggering' increase in meth, ketamine seizures, Hong Kong customs agents say
Hong Kong customs chiefs have described as "staggering'' an almost 200 per cent increase in the amount of drugs they have seized in the first five months of this year.
The year-on-year surge in seizures - mostly of crystal meth and ketamine - has also revealed the growing use by drug gangs of impressionable youngsters as mules, says Albert Ho Shi-king, the Customs and Excise Department's assistant commissioner for intelligence and investigation.
Describing the rise as "staggering", Ho said the volume of drugs seized in the first five months of this year - a total of 799.8kg - was up 186 per cent on the same period last year.
The haul also contained significantly more ketamine and crystal meth, or Ice as it is also known.
Ice, a powerful stimulant narcotic, is produced in massive amounts at drug labs in Guangdong province. It made up about a third of the drugs seized from young drug mules last year, the bulk of it bound for markets outside Hong Kong.
Ketamine made up the rest, with most of that drug destined for the local market.
Customs agents said a growing number of those arrested in connection with the seizures were very young.
Ho said of the 44 people aged 21 or younger who were arrested last year for drug offences, 81 per cent were for trafficking - up from about 48 per cent of the 31 arrested in 2012.
"Many were immature and believed what they were told: that youngsters were unlikely to be picked for searches, or that even if they were arrested, the punishments would be light," Ho said.
Holding a tiny packet containing about five grams of crystal meth, Ho warned: "This can get you three to seven years in jail."
From January to May this year, 18 people aged 21 or below were arrested, 15 of them for drug trafficking. In the same period last year, nine were arrested, seven for trafficking.
All the young traffickers arrested in recent years have been locally born and raised ethnic Chinese. The youngest was 14.
This article appeared in the South China Morning Post print edition as: HK records 'staggering' increase in drug seizures