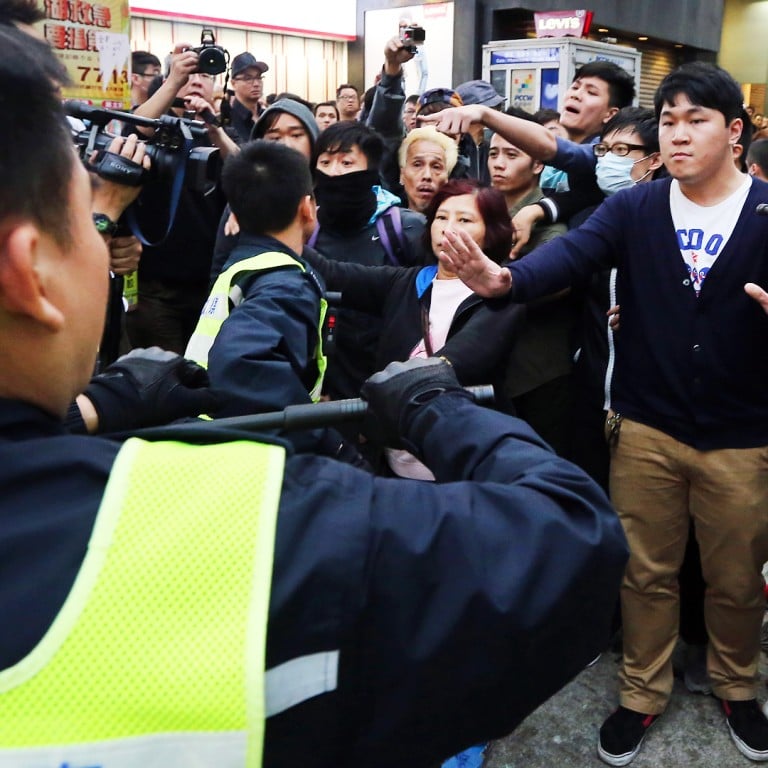 Hong Kong police officer says protester assaulted him with her breast
A woman who joined a protest against cross-border traders on March 1 assaulted a police chief inspector by hitting him with her breast, a court heard yesterday on the first day of her trial.
The defendant, Ng Lai-ying, used her chest to bump against the right arm of Chief Inspector Chan Ka-po as he dealt with her co-defendants during the chaotic protest in Yuen Long, Chan told Tuen Mun Court. "Simultaneously, she yelled: 'Indecent assault'," Chan said. He denied he had touched her inappropriately.
When uniformed police offices apprehended Ng, she had blood on her face and mouth, Chan said. He said he saw her fall to the ground, but he did not say what caused her to do so or whether it was an accident.
"At that time, she used her hand to wipe the blood around her face," Chan said.
Ng, 30, has pleaded not guilty to one count of assaulting Chan, as has her co-defendant, a 14-year-old pupil whose identity was not disclosed in court yesterday because he is a minor.
Two other co-defendants - Kwong Chun-lung, 20, and Poon Tsz-hang, 22 - each denied one count of obstructing an officer.
Yesterday, Chan said the 14-year-old struck him in the chest with a shoulder when he urged the teenager, Ng, Kwong and another protester to return to the pavement from the roadway on Sau Fu Street.
Kwong then allegedly pushed Chan's hand away when the inspector tried to collar the teen.
Ng's alleged assault came after Kwong's ensuing struggle with Chan.
The court heard that as Kwong subdued Chan, another protester allegedly kicked him, and that Poon had tried to stop Sergeant Hung Kwok-kee, from arresting that person.
Ng's lawyer, Lawrence Lau Wai-chung, suggested to Chan in cross-examination that he arrested Ng because she accused him in public of indecent assault.
Chan, who has never been charged with that crime, disagreed. But he conceded that he did not deny the accusation right away as he was too focused on handling the defendants.
The court also heard that the medical report sought on Chan did not find any injury to his chest, despite the inspector's insistence in court yesterday that he had been hurt when the teen struck him.
The case continues before Deputy Magistrate Michael Chan Pik-kiu today.
This article appeared in the South China Morning Post print edition as: Chief inspector: woman hit me with her breast