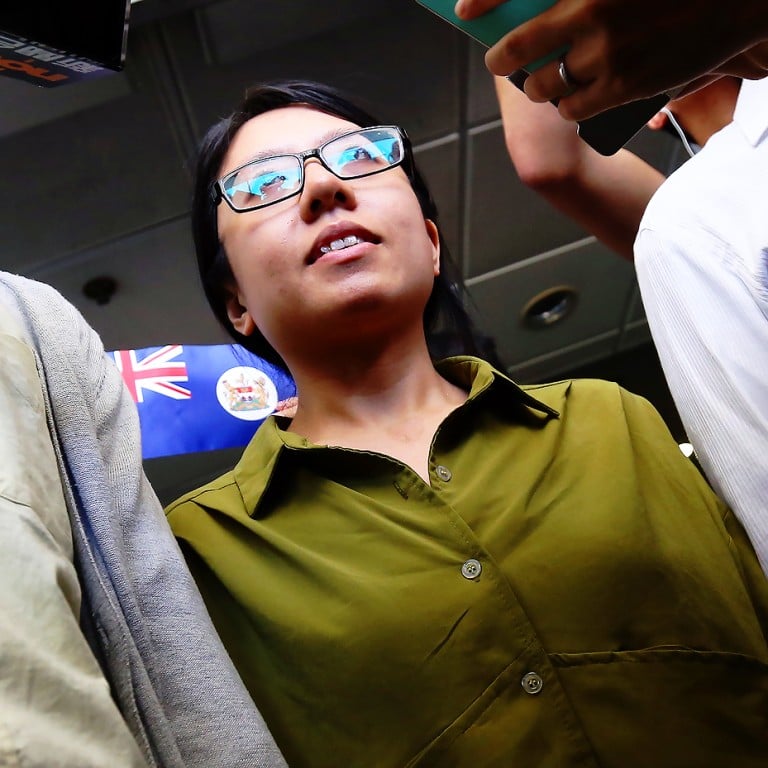 Woman convicted of 'assaulting cop with her breast' maintains she's innocent
A woman convicted of assaulting a police chief inspector with her breast in a protest against cross-border traders, maintained her innocence in a mitigation session attended by many of her supporters yesterday.
Ng Lai-ying, 30, instructed her lawyer Lawrence Lau Wai-hung to tell Tuen Mum Court that a report sought on her earlier had erred in suggesting she admitted the offence after being convicted.
Normally, a magistrate or judge would take into account such an admission when considering the sentencing options. But Lau told Deputy Magistrate Michael Chan Pik-kiu: "Ng insisted that she had not committed the offence. She wanted to retain her integrity rather than lie ... in exchange for a lighter sentence."
Dozens of supporters - including members of Hong Kong Indigenous and lawmaker "Long Hair" Leung Kwok-hung - poured into the courtroom to support Ng and her co-defendants. Some had to wait outside, forcing the court to keep its doors open throughout the hearing.
At least 20 police officers, in uniform and plain clothes, stood outside the courtroom.
Ng was found guilty last month of assaulting Chief Inspector Chan Ka-po, after the magistrate ruled she used her chest to bump against Chan's arm in Yuen Long on March 1. A 14-year-old boy was convicted of assaulting Chan in the same trial
Ng's boyfriend, Kwong Chun-lung, 20, and student Poon Tsz-hang, 22, were each found guilty of one count of obstructing a police officer.
The court heard during the trial that Ng suffered a fractured nose after being subdued during the protest.
Lau yesterday showed the court video footage that captured what appeared to be a police officer in uniform pushing Ng from behind. He asked the magistrate to consider the Ng's injury.
Earlier, the magistrate said Ng was malicious in accusing Chan of indecent assault. Lau said the incident was not premeditated, nor did it damage Chan's reputation in the police as Ng, whom Lau described as a "decent woman", did not make a complaint.
Lau urged the magistrate not to send Kwong to a detention centre as it would ruin the university student's future.
Senior counsel Martin Lee, who mitigated for Poon and the 14-year-old on a pro bono basis, asked the magistrate to consider the boy's well-being and not to deprive him of his liberty.
This article appeared in the South China Morning Post print edition as: 'Breast assault' woman maintains innocence