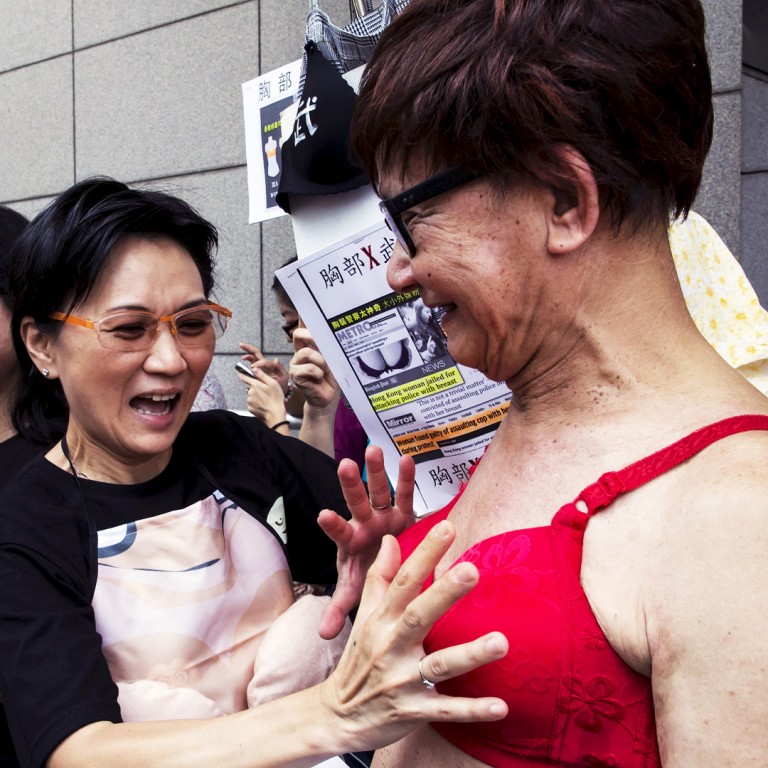 'Breast is not a weapon,' Hong Kong protesters shout as they gather at police headquarters
About 200 protesters brandishing bras rather than placards rallied outside the police headquarters in Wan Chai yesterday against the conviction of a woman jailed last week for three months and 15 days for assaulting an officer with her breast.
Ng Lai-ying, 30, was arrested during a protest against cross-border parallel traders in Yuen Long on March 1.
The magistrate said last week that although the police inspector assaulted by Ng had not suffered any injury, Ng's attempt to accuse the inspector of molesting her made her case serious.
Watch: Hong Kong activists join bra protest after woman jailed for 'breast assault'
"Breast is not a weapon," the protesters chanted while holding bras and pictures of underwear amid a heavy police presence.
Organisers of the Breast Walk rally said it was ridiculous for police to have ignored Ng's claim that she was molested by an inspector at the March protest.
Luk Kit-ling, a spokeswoman for the group, said: "It is very shocking and regrettable when a woman who says she's been molested is interpreted as causing chaos. It will deter women from taking part in social movements and deprive them of the right to take part in political activities."
Regardless of sex, demonstrators strapped bras to their chest to show support for Ng, including social worker Jordi Tsang Sing-cheung.
"The way I dress today looks quite ugly as a male, but it is not as ugly as the judgment, which is like pointing at a deer and calling it a horse, and the police's decision to prosecute Ng without following guidelines," said Tsang, who wore a coconut bra.
Despite the revelation by Deputy Magistrate Michael Chan Pik-kiu of Tuen Mun Court that he was threatened and feared for his safety since the verdict, some protesters yesterday held placards reading "God will punish".
Asked if this constituted contempt of court, lawmaker and barrister Ronny Tong Ka-wah said: "The point is whether you have insulted the judge and whether the public's impression of or respect for the judicial system has become negative because of the insult."
Before the rally began, police raised a yellow flag to warn protesters it was an unlawful assembly and they could be prosecuted because they had not obtained a letter of no objection from police. But the warning was ignored.
The demonstrators left peacefully after handing a petition to a police representative.
This article appeared in the South China Morning Post print edition as: Storm in a D-cup over 'breast assault' conviction