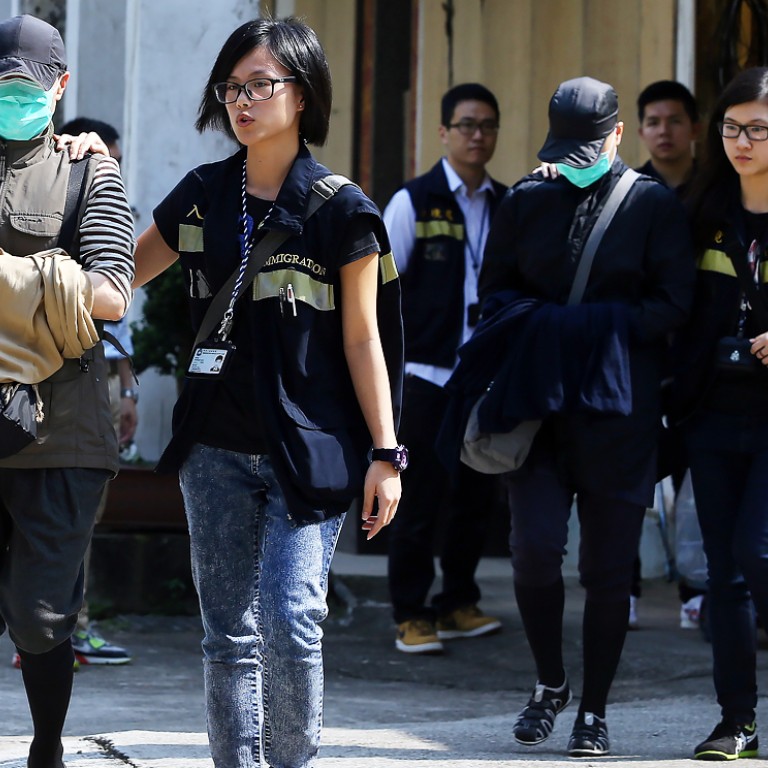 Chief nun and mainland Chinese monk arrested amid claims of marriage scam and embezzlement in Hong Kong monastery probe
Head nun among four arrested from a Buddhist monastery in Tai Po by immigration authorities after monastery director accused Chi Ding of finance mismanagement and bogus marriages
Immigration authorities arrested the chief nun of a Buddhist monastery in Tai Po yesterday amid allegations that she married two mainland Chinese monks in a residency scam and pocketed donations.
Four people were arrested at
Ting Wai Monastery
at 2pm, including a man and a woman detained on suspicion of making false representations in statutory declarations and making false statements to immigration officers, the department said.
Sources close to the case named the four as chief nun Sik Chi Ding, 47; monk Ru Zhi, 40; a female Indonesian domestic helper, 30; and the helper's employer, also a nun, aged 40.
The helper and her employer were arrested on suspicion of breaching conditions of stay and aiding and abetting a person in breaching conditions of stay.
The two nuns and the monk were released on bail last night, while the helper was released on bail this morning. Chi Ding and the monk have to report to the investigation bureau on Tuesday.
Sources close to the investigation said the monk's name was found on a marriage certificate seized yesterday, and investigators were looking for people related to the case.
"Our investigation is not over yet. We will see if there are other offences, including sham marriages. We won't rule out making more arrests," senior immigration officer Karmen Tam Kok-shan said.
About 10 immigration officers descended on the monastery yesterday and spent about four hours taking photographs and questioning people inside. They took away marriage and divorce certificates issued on the mainland, identification documents, a Buddhist academy graduation certificate, a laptop and a safe.
The authorities acted after monastery director Mary Jean Reimer, a lawyer and former actress, accused Chi Ding publicly on Tuesday of mismanagement and bogus marriages.
Reimer claimed the nun had transferred some of the more than HK$5 million in donations to a bank account she controlled and had admitted twice marrying mainland monks to help them secure permanent Hong Kong residency.
Chi Ding responded on the same day by issuing a statement saying she had reported the matter to police.
"I will not speculate on the motives behind Ms Reimer's recent acts," she wrote. "The matter has been passed to my lawyer and I will not comment further."
On hearing of Chi Ding's arrest, Reimer said: "I hope she will feel remorse now. We don't feel happy hearing about her arrest but we hope to revive donors' confidence in the monastery."
Ting Wai Monastery, built in the 1920s, is one of the earliest Buddhist temples in Tai Po. It raised more than HK$1.3 million on FringeBacker, a global crowdfunding platform, for renovation work this year, according to the monastery's Facebook page.
In a statement on its website, FringeBacker confirmed it still held all the money it had received from 737 backers for the monastery campaign and would keep them updated.
Additional reporting by Fanny W. Y. Fung
This article appeared in the South China Morning Post print edition as: Nun arrested in immigration swoop on monastery