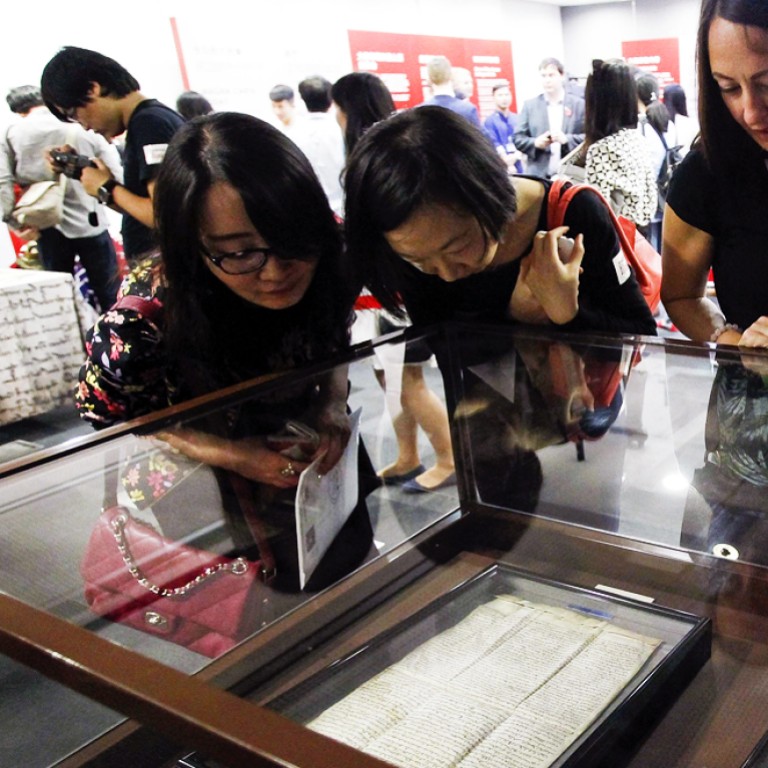 Laying down the law: Magna Carta will be displayed in Hong Kong as part of its world tour
The 800-year-old Magna Carta is to be displayed in Hong Kong next month as part of a worldwide celebration of the British legal document that forms the basis of common law systems worldwide.
The charter, which has been exhibited in Beijing, Guangzhou and Shanghai in the past couple of weeks, is making its first visit to China.
Magna Carta gained its significance and status by establishing for the first time the principle that everyone, including the sovereign, was subject to the law.
One famous clause declared no free man shall be imprisoned without trial, and no one shall be denied justice.
The exhibition in Beijing, which was due to be held at Renmin University, was changed at the last minute to the residence of the British ambassador.
The copy of the Magna Carta, which dates to 1217, will be on display from November 11 to 14 at Sotheby's Hong Kong Gallery in Admiralty.
It will be shown alongside the only surviving copy of the King's Writ, a letter sent by King John to royal officials in 1215 which announced the terms of Magna Carta. Both documents are on loan from Hereford Cathedral in England.
British Consul General Caroline Wilson said it would be "meaningful" to bring a "seminal legal document" to the city.
The Magna Carta exhibition is the perfect occasion to celebrate our shared common law heritage and the close links between our legal systems," Wilson said.
Secretary for Justice Rimsky Yuen Kwok-keung said the city's common law heritage could develop under the Basic Law.
"Magna Carta is an embodiment of a number of core values such as equality before the law and access to justice which the community of Hong Kong SAR shares," said Yuen.
Hong Kong is one of the nine cities hosting the global tour of the historical document. After starting in New York and in Luxembourg, the tour will continue to Singapore, Malta and Portugal after the Hong Kong exhibition.