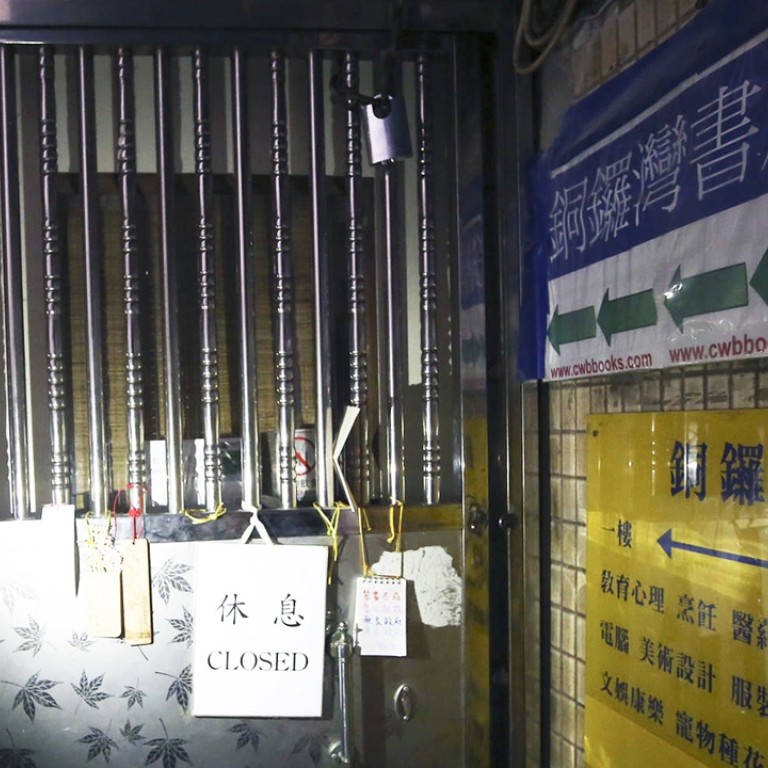 Update

|
CY Leung on Hong Kong's missing booksellers: mainland China law enforcement actions 'unacceptable'
The city's top official expresses concern as mysterious disappearance of five local booksellers sparks fears among local residents
Chief Executive Leung Chun-ying said earlier today that it was unacceptable and unconstitutional for mainland agencies to take law enforcement action in Hong Kong.
Leung was responding to the mysterious disappearance of Lee Bo, a shareholder of Causeway Bay Books, and four associates involved in publications critical of the mainland.
Leung said he and his government were highly concerned about case and would follow up on it comprehensively.
There is speculation that four of the five had been separately taken out of Hong Kong by mainland law enforcement personnel.
Leung said there was no indication that was the case. He also said that under the Basic Law and the "one country, two systems" arrangement, only law enforcement agencies in Hong Kong have the authority to enforce laws and take related action in the city.
"No other law enforcement agencies, outside of Hong Kong, has such authority," he said.
"It would be unacceptable if mainland law enforcement agents enforce laws in Hong Kong because this violates the Basic Law," he added.
The incident has prompted responses from different parties, including the Anonymous hacker group, which has allegedly threatened to attack the official websites of mainland authorities. In a video posted on YouTube, someone allegedly from the group claimed mainland police were responsible for the missing of .
A synthesised voice on the clip expressed disappointment that Hong Kong was not run according to the "one country, two systems" principle.
"We also give a warning here, we will attack at any [Chinese Communist Party] website. And here, we are asking for worldwide Anonymous to support," it said.
Watch: Missing bookseller prompts protests in Hong Kong
Bookstore boss Lee Bo, 65, was last seen on Wednesday in the Chai Wan warehouse of Mighty Current, the publishing house that owns the shop. He vanished weeks after his four associates went missing under similar circumstances.
The bookstore in Causeway Bay sells books about gossip on mainland politics, power struggles and scandals involving officials.
Democratic Party chairwoman Emily Lau Wai-hing said during a radio talk show this morning that the incident raised fears among Hongkongers that the principle of "one country, two systems" had been violated.
She said the Hong Kong government should look into whether the missing booksellers had been taken away by mainland personnel.
Meanwhile, the state-run conservative newspaper Global Times published a commentary by Shan Renping saying it would not do any good to engage in political speculation over the incident.
The Hong Kong police are seeking answers from their mainland counterparts as the case sparked protests at Beijing's liaison office on Sunday as concerned parties expressed fears that mainland agents may have overstepped their bounds in apprehending the bookstore owner secretly in Hong Kong and then spiriting him across the border
Acting Secretary for Security John Lee Ka-chiu said on Sunday that the police Regional Missing Persons Unit of Hong Kong Island was conducting "a thorough and professional investigation" into this matter, including looking at CCTV footage from around the location where the missing men were last seen.
"Through an established mechanism, Hong Kong police can make enquiries to the mainland law enforcement agencies on whether any Hong Kong people have been detained on the mainland," Lee said. "The Hong Kong police have already done this... We are waiting for a reply."
Lee also made it clear mainland police should not be operating on their own in Hong Kong.
"In Hong Kong, the only people who can exercise the power of the law are our legal enforcement agencies of the Hong Kong Special Administrative Region Government. The law protects the rights, including the freedom and safety of everybody in Hong Kong," he said.
The Hong Kong Alliance in Support of Patriotic Democratic Movements of China said if Lee Bo and the others had really been taken away by mainland officers, as Lee's wife suspected, the city's autonomy was being severely threatened.
"Hong Kong people are shocked and appalled. How can mainland officers come to Hong Kong and make arrests? This is terrifying," alliance chairman Albert Ho Chun-yan said.
Ho's Democratic Party colleagues held a small protest outside the liaison office in Sai Wan on Sunday to demand answers from Beijing.
A bigger protest by about 50 members of the League of Social Democrats shouted slogans and posted pictures of the missing booksellers at the gates of the liaison office in Sheung Wan.
Lee was last seen on Wednesday in the Chai Wan warehouse of Mighty Current, the publishing house that owns the bookstore. He was there to deliver books to a customer.
His disappearance is the fifth case related to the bookstore. Gui Minhai, owner of the publishing house, went missing while on holiday in Thailand in October.
Missing person reports were made about three others: bookstore manager Lam Wing-kei; general manager of the publishing house Lui Bo; and business manager, Cheung Jiping. Police classified them as "missing persons".
Lee's wife said her husband had called her from Shenzhen the night he disappeared.
"He said he will not be coming back anytime soon. He said he was assisting in an investigation. I asked him if it was about the previous cases, he said yes. It was about the missing [associates]," she told Cable TV.
"He later called me again and asked me not to make a scene. I guess it was the Shenzhen police."
Mrs Lee found it strange that her husband had talked to her in Putonghua instead of Cantonese. She said the caller ID was a Shenzhen number. She suspected that Shenzhen officers had taken her husband from Hong Kong.
But a police source told the Post there was no record of Lee leaving Hong Kong.