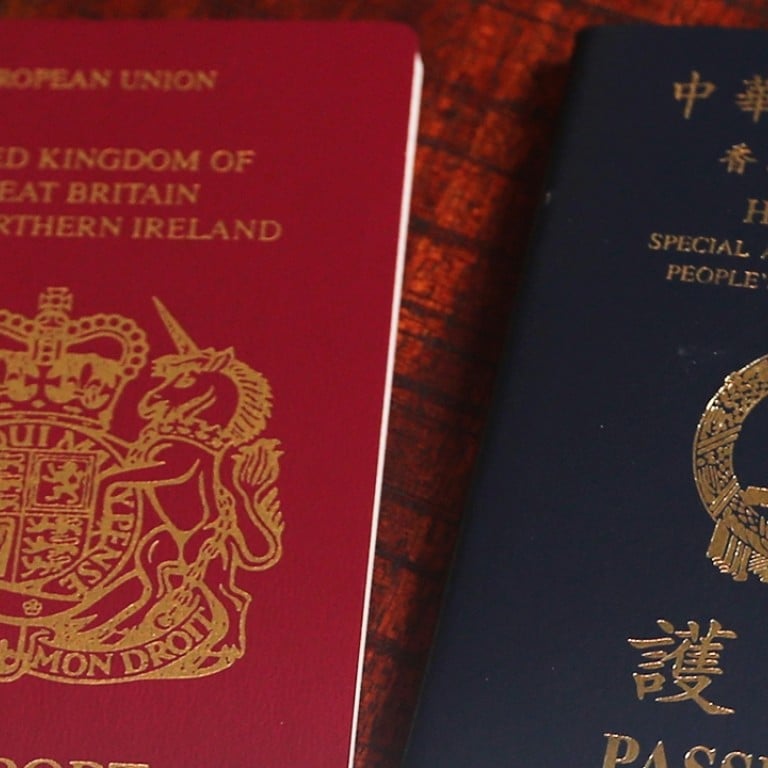 Missing Hong Kong bookseller Lee Bo's British passport counts for little as China reasserts sovereignty
The disappearance of bookseller Lee Bo – and the fact that he holds a British passport – has exposed the byzantine nationality legacy Hong Kong has been left with after 150 years of foreign rule and the complex geopolitical process involved in China reasserting its sovereignty.
While the whereabouts of Lee and how he got there remain a mystery, one simple fact has emerged from the cloak-and-dagger goings on – if you are an ethnic Chinese resident of Hong Kong, China claims rightful ownership of your nationality. The only way to avoid China's steadfast denial of dual citizenship is by renouncing your Chinese nationality. But there, the simplicity ends.
While holders of dual nationality definitely cannot seek diplomatic protection from their non-Chinese country of choice, Beijing does not bar the use of other passports for travel purposes. Indeed, Chinese nationals who hold a non-Chinese passport are entitled to seek consular protection from their second country of choice in nations which accept dual nationality.
Legal academic and solicitor Dr Alex Lau Kun-luen said Hong Kong residents who held foreign passports still had access to services and treatment including consular protection accorded by foreign countries that accepted dual citizenship.
"These Hongkongers may still want to hold an additional passport issued by other countries despite the fact that dual nationality was not recognised on the mainland ," Lau said.
He said the central government was lenient in allowing Hong Kong people to use foreign passports as travel documents.
Watch: Chief Executive CY Leung 'very concerned' about missing booksellers
Lau's remarks came after Foreign Minister Wang Yi said that even though "missing" local bookseller Lee Bo held a British passport, he was "first and foremost a Chinese citizen".
Exactly what type of British passport the bookseller is holding remains unknown.
But Wang's statement has fuelled concerns about the extent of Chinese citizenship and about protection for those with dual passports – who are not recognised by Chinese law.
Article 3 of the Nationality Law of the People's Republic of China states that dual nationality or citizenship is not allowed.
Hong Kong residents who are of Chinese descent and born in Chinese territories including Hong Kong are defined as Chinese nationals by the mainland authorities.
Falling within the scope of the national law, Hongkongers appear to be given only some leeway in regard to travelling.
The Standing Committee of the National People's Congress had provided explanations concerning the implementation of the Chinese Nationality Law in Hong Kong, which stated that Chinese nationals in Hong Kong with right of abode in foreign countries might, for the purpose of travelling, use the relevant documents issued by the foreign governments.
But the explanations, released in 1996, specified that these Hongkongers were not entitled to consular protection in the city and other parts of the country.
According to explanations listed in Annex III of the Basic Law, the British citizenship acquired by Chinese nationals in Hong Kong, a former British colony, through the "British Nationality Selection Scheme" will not be recognised.
"They are still Chinese nationals and will not be entitled to British consular protection in [Hong Kong] and other parts of the People's Republic of China," they read.
Watch: Missing bookseller prompts protests in Hong Kong
Past media reports said more than 200,000 Hong Kong residents held passports issued by Australia and Canada, two of the most popular destinations for Hong Kong emigrants, while about 3.4 million people, mostly living in Hong Kong, had acquired "British National Overseas" passports, which do not provide holders right of abode in Britain.
Lau said allowing dual citizenship could attract Hong Kong talent to work in the city. But critics say dual citizenship smacks of questionable loyalty to the motherland.
Commerce minister Greg So Kam-leung was the focus of a political furore when, in a previous appointment as undersecretary of commerce in 2008, he admitted he held a foreign passport after studying and living in Canada for years.
He eventually renounced his Canadian citizenship.