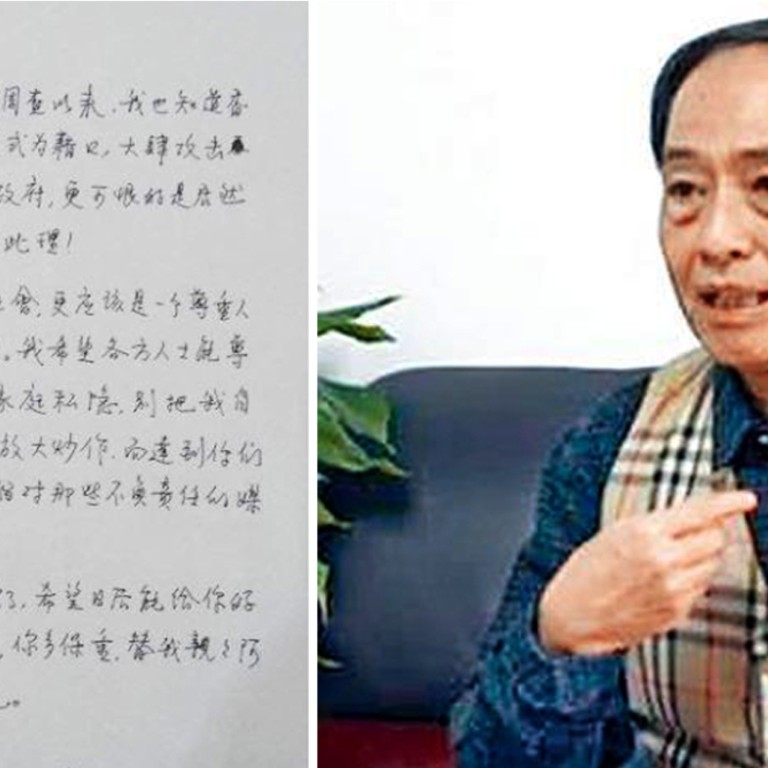 'Dear Ping...' Another letter from missing Hong Kong bookseller Lee Bo surfaces
Reproduced below is a third message allegedly sent by Causeway Bay Books co-owner Lee Bo to wife Choi Ka-ping after his disappearance on December 30. In the letter which surfaced on Sunday night, after Gui Minhai's disclosure on state television that he had turned himself in over a death related to drink-driving, Lee refers to Gui's "complicated history" and calls him "morally unacceptable".
In the first letter, dated January 3, Lee said he "returned to the mainland my own way and am working with concerned parties in an investigation which may take a while". The second letter, as well as a video recording, came on January 9 on the eve of a planned protest march in Hong Kong against "political abduction". In the letter, Lee asked outsiders not to organise protests and said his return to the mainland had nothing to do with others. "I do not understand why some people want to make a fuss over it."
Ping,
Since I voluntarily went to the mainland to assist with investigations, progress has been good. Things are going well. I have made friends with them.
Only recently, I came to know that Ah Hai [Gui Minhai] has a complicated history. He caused someone's death while drink-driving in the mainland, and then fled to foreign countries. He also has many facades that I do not know. He has been involved in other crimes. He is a morally unacceptable person. This time he has caused me trouble.
Since I voluntarily came back to assist in investigations, I have followed the situation in Hong Kong. Some people used my immigration methods as an excuse to wantonly attack "One Country, Two Systems" and the Hong Kong SAR government. What was more odious was the smear accusing me of visiting prostitutes. This is ridiculous!
Hong Kong uphold its laws and systems. It should also be a city that respects human rights and individual privacy. I hope that every one can respect my personal choice and the privacy of my family. I hope people and organisations wanting to pursue their own agenda will stop blowing up and sensationalising the fact that I voluntarily returned to the mainland to assist in investigations. I reserve the right to sue such irresponsible media outlets and individuals.
This has been a hard time for you. I hope I can compensate you well later. I should stop here. Take care. Kiss Ah Tung* for me, and tell him Pa Pa misses him.
Love You
Bo 2016.1.17
*Ah Tung is the son of Lee Bo and Choi Ka-ping