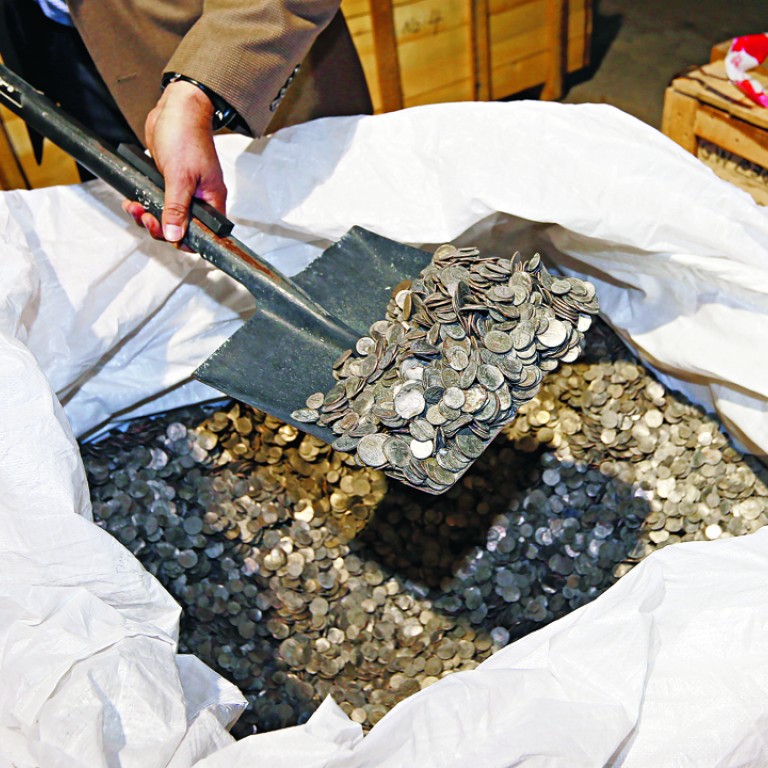 The penny drops: Hong Kong recycling firm faces lawsuits over sale of damaged coins to the US Mint
Company is accused of sending counterfeit money to the United States, a charge it strongly denies
The little-known but lucrative industry of coin recycling is in the spotlight as the US government fights a legal battle over millions of dollars worth of damaged and discarded loose change that a Hong Kong company is cashing in on.
Wealthy Max Ltd stands accused of recycling counterfeit currency among genuine coins to the United States Mint. The company says US authorities are withholding HK$62 million worth of coins and payment owed for transactions in 2014 and 2015.
In October, Wealthy Max filed a lawsuit against the US government, seeking US$3.18 million in compensation.
In a public relations offensive yesterday, the company took the media on a tour of its secure facility in Yuen Long, New Territories, to demonstrate that its collection of discarded and "mutilated" coins as they're officially named, was genuine.
Companies on the mainland buy scrap metal in bulk from the US, and sift through the junk to separate unwanted loose change. Tonnes of coins deemed "chipped, fused and not machine countable," by the US Mint are bought by the likes of Wealthy Max from the mainland scrap metal companies at a 30 per cent discount on their face value.
The coins are then shipped back to the mint, which pays for the coins at face value, allowing such Hong Kong businesses to make a tidy profit.
Next week, Wealthy Max is expected to hear from a US judge on the outcome of the first of two lawsuits against the company.
According to court documents, US authorities are alleging a conspiracy to defraud the mint with counterfeit coins.
Wealthy Max said that between 2002 and 2014, it had sent 170 shipments containing dozens of boxes of damaged coins to the US Mint, for which it was paid HK$621 million.
But starting from 2014, it started receiving only partial payments for the goods, and in 2015, the US government seized the outstanding shipments that had already been delivered.
Company director Matthew Wong Kwok-fai said he could not understand why his company had been targeted by the authorities. "We got no prior notice. The important point is, for the past decade, our shipments have been okayed."
Wong's US-based lawyer, Brad Geyer, said: "We have been unable to confirm the existence of any kind of counterfeiting that could account for this industry.
"Our conclusion is that the coins are real and they come from scrap reclamation."
US government agencies involved in the lawsuit have yet to reply to the Post's requests for comment.