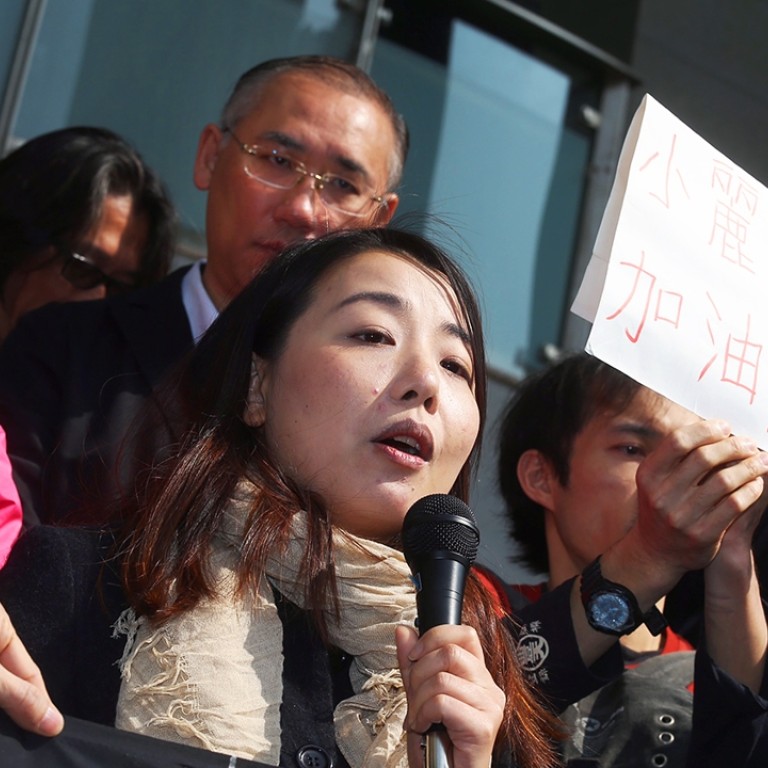 Hong Kong woman accused of hawking without a licence blames 'unscrupulous government'
The defendant, a university lecturer, tells court 'the guilty ones are not the people who rely on their own hands to make ends meet'
A university lecturer accused of hawking without a licence denied responsibility in court on Tuesday and said the "unscrupulous government refusing to grant hawkers' licences" and "developer conglomerates which suck blood from the people" were instead the guilty parties.
Denying charges at Kowloon City Court, Dr Lau Siu-lai, from the Polytechnic University's communication and social sciences department, added: "The guilty ones are not the people who rely on their own hands to make ends meet."
The lecturer, in her 30s, faced one count of obstruction of public places, one of hawking without a licence and another of cooking food for the purpose of hawking without a licence.
She was accused of hawking on Kweilin Street on February 7, a day before the Lunar New Year.
"Although I did it, I plead not guilty," she told deputy magistrate Leung Ka-kie.
Lau referred to an old woman, sentenced to HK$350 before her appearance, and said both she and the woman should not be found guilty.
It was the government, she said, who should be found guilty for refusing to grant hawkers a licence, as well as developers, which she said charged hefty rents.
The magistrate adjourned the case to May 23 for trial, in which Lau would conduct her own defence. Her supporters applauded as Lau left court. Outside court, other supporters held banners and yelled: "To set up policies for hawkers. Give us back our night market."
"We have a right to be hawkers. We have a right to treat ourselves to fishballs," they also chanted, referring to a popular snack sold at local night markets.
The hawker control teams from the
Food and Environmental Hygiene Department
were believed to have stepped up their patrols of illegal hawking across Kowloon during the recent Lunar New Year holiday, with the Sham Shui Po neighbourhood being one of their areas of concentration. It was common for hawkers there to sell their food during previous Lunar New Year holidays.
The patrols reportedly put off hawkers from wanting to do business at Kweilin Street on the night in question.