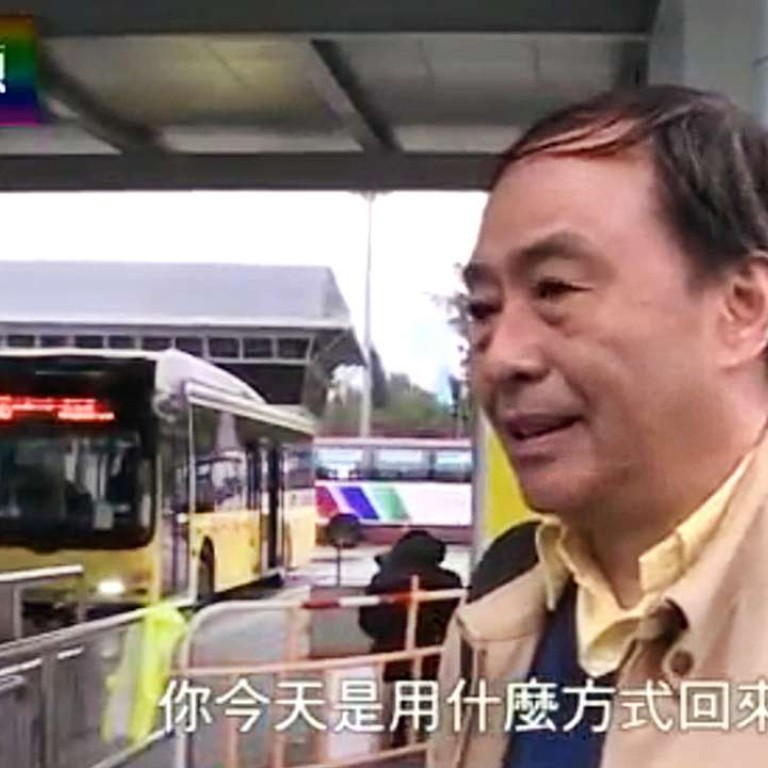 Missing Hong Kong bookseller Lee Po returns home from mainland China after disappearing last December
Lee Po returns home quietly, denying he was kidnapped and asking police to cancel their missing-person investigation
The man at the centre of Hong Kong's missing bookseller mystery returned quietly to the city yesterday and asked police to end their investigation into his missing-person case.
Causeway Bay bookseller Lee Po, who vanished from Hong Kong last December and later surfaced on the mainland, told local authorities again that he did not require any police or government assistance.
The same requests were made by his two associates – Cheung Chi-ping and Lui Por – when they returned to the city earlier this month after disappearing last October, prompting speculation that they had been frightened into silence. All of them have dismissed concerns that they were kidnapped and spirited across the border by mainland agents over the smuggling and sale of banned books critical of China's leaders.
Lee, who left the city without going through proper immigration channels, was handed over to Hong Kong authorities at the Lok Ma Chau border crossing yesterday afternoon.
"As Lee Po did not provide thorough information about his last departure, no arrest has been made against him at this stage," police and immigration said in a written statement. "[The Immigration Department] needs to conduct further investigation to ascertain if there is any prima facie evidence showing that he has committed any immigration ­offences."
When he was interviewed by immigration and police officers upon his return yesterday, the bookseller stuck to his story that he had voluntarily gone to the mainland to assist in an investigation involving his publishing colleague, Gui Minhai, who also disappeared last year and surfaced later on the mainland.
"He stated that he was free and safe whilst on the mainland. He restated his request for the cancellation of his missing-person case," local authorities said.
"He refused to disclose other details. After meeting with police, Lee Po left on his own."
Lee was more forthcoming in an interview with selected mainland and Hong Kong media groups, telling them he would never run a bookstore business again.
"I will never publish and sell those books that make things up. The freedom of publication and of speech does not mean that people can make things up," he was quoted as saying. "Like I have said earlier, there are still people doing this business in Hong Kong. I hope they won't do it any more."
He said he had sneaked into the mainland because he wanted to settle matters with his companies. Now that three of his associates had been released on bail, he said, his efforts had not been in vain. He met the three on Wednesday to talk about what to do with the companies, he revealed.
Lee went on to say that during his time across the border, he had witnessed the prosperity of the country and felt proud to be ­Chinese. He added that Hong Kong was still his home and he would never leave the city to settle elsewhere.
Five associates of the Mighty Current publishing house and Causeway Bay Books store disappeared one after another in mysterious circumstances. Gui was the first to vanish in Pattaya, Thailand, in October. Lam Wing-kee, Cheung and Lui disappeared that same month while on the mainland. Lee vanished in December.
Their disappearances have led to widespread fears that they were kidnapped by Chinese agents because their companies specialised in books critical of the Chinese Communist Party.
Gui has been accused of ordering his associates to deliver about 4,000 banned books across the border since October 2014.
On the sidelines of the Boao Forum for Asia in Hainan (海南) yesterday, Chief Executive Leung Chun-ying said the central government was aware that Hongkongers were very concerned about Lee's case.
"The SAR government has consistently been transparent in handling the incident," he said before the police and immigration statement was issued. "We have spared no effort in reflecting [concerns] to the mainland."
Labour Party vice-chairman Lee Cheuk-yan said the bookseller's claim that he had smuggled himself into the mainland was "an insult to the intelligence of Hong Kong people".
Democratic Party lawmaker James To Kun-sun said the government was adding insult to injury by saying it would continue to probe whether Lee had committed immigration offences.
In an explosive twist earlier, the Post obtained an email by Lee dated November 10 to Gui's daughter, Angela, in which Lee wrote to say that he feared Gui "was taken by special agents from China for political reasons".
Additional reporting by Clifford Lo and Tony Cheung