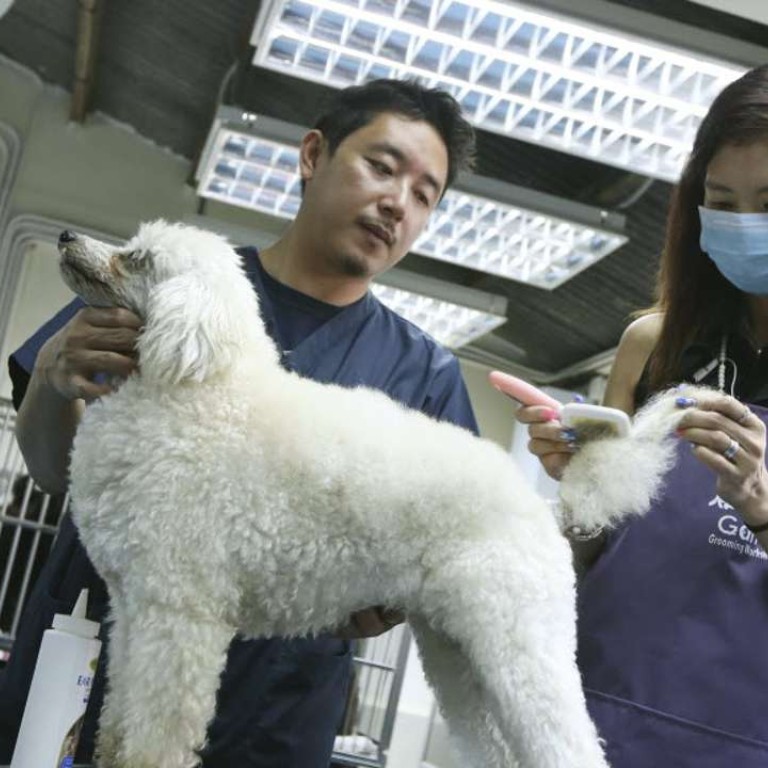 Pampering pooches: training programmes set Hong Kong prisoners on the straight and narrow
A total of 32 female inmates have been trained; 10 have been released and three are employed in the pet trade
Life behind bars was tiring and dreary for 36-year-old Abi, which is not her real name. However, a new pooch-grooming workshop not only allayed her mundane life at Lo Wu prison, but also helped her find her calling.
"The best time of the day was right after class, when we got to play with the dogs for a bit," said ex-offender Abi, recalling her experience taking the two-month course which the prison recently started offering to inmates as part of their market-oriented vocational training programme.
Hong Kong's penal population is required by law to spend six hours a day working. Normally for female inmates, that means making uniforms for Correctional Services Department staff alongside a slew of courses in catering, beauty, laundry services and other skills as part of the institution's rehabilitation service.
But the city's boom in the pet trade – with dog numbers rising by 25 per cent in the last five years and pet shop numbers climbing 100 per cent between 2000 and 2009 – has led to the Correctional Services Department (CSD) diversifying its programmes to include one that teaches women how to pamper pooches.
"There's been a gradual increase in the number of pet owners, who pay attention to their pets, The pet grooming industry is therefore steadily growing from year to year," said CSD vocational training superintendent Tam Kwok-keung.
"To meet the rehabilitation needs of persons in custody and foster their determination to rehabilitate, the CSD has offered various market-oriented vocational training courses to enhance their employability," he said.
Trainer Gary Ho agreed with Tam's comments on the pet market. "There is a big demand for pet groomers in Hong Kong, and when inmates come out they can expect a starting salary of around HK$12,000," he said.
Ho set up his Yuen Long-based grooming school seven years ago and launched his first course within the prison two years ago.
"Getting the poodles through security was quite annoying," he said of the experience that involved putting four dogs through X-ray scanners before each training session.
Poodles are the best pooches to train on, according to Ho, because their curly fur and popular bouffant styles pose the greatest challenge to dog groomers.
Dog grooming in Hong Kong is a particularly fine art, he said, because its well-heeled, aesthetic-obsessed owners insist on high-calibre cuts with scissors, rather than clippers – as is more usual in Western countries where hounds tend not to be considered as much as status symbols.
Ho said he enjoyed teaching the class of 20 inmates because he felt the students, who acquire the first rung of accreditation on the course, to be more motivated to gain the skills that can help turn their lives around.
"It's easier to teach students who aren't always checking their smartphones," he added.
The CSD says the programme has trained 32 inmates in two courses. Of the 10 inmates who have since been released from prison, three have taken on jobs in the pet trade.
Plans to roll out a similar programme for male inmates in other prisons are under review and will be subject to security considerations, which are more stringent.
For Abi – who was serving her fourth prison term for theft – the course rekindled a deep love and passion for animals, and helped the mother-of-four to become more committed to living a life on the straight and narrow.
"I've always loved dogs," she said, describing with a wide grin how she likes to fill her home in Sha Tau Kok with stray dogs and cats, boasting a tally of 109 pets.
"I want to start my own pet business for owners of abandoned dogs," she said. She is currently working as a freelance pet groomer and has the support of family and friends in her bid to make her dream come true.