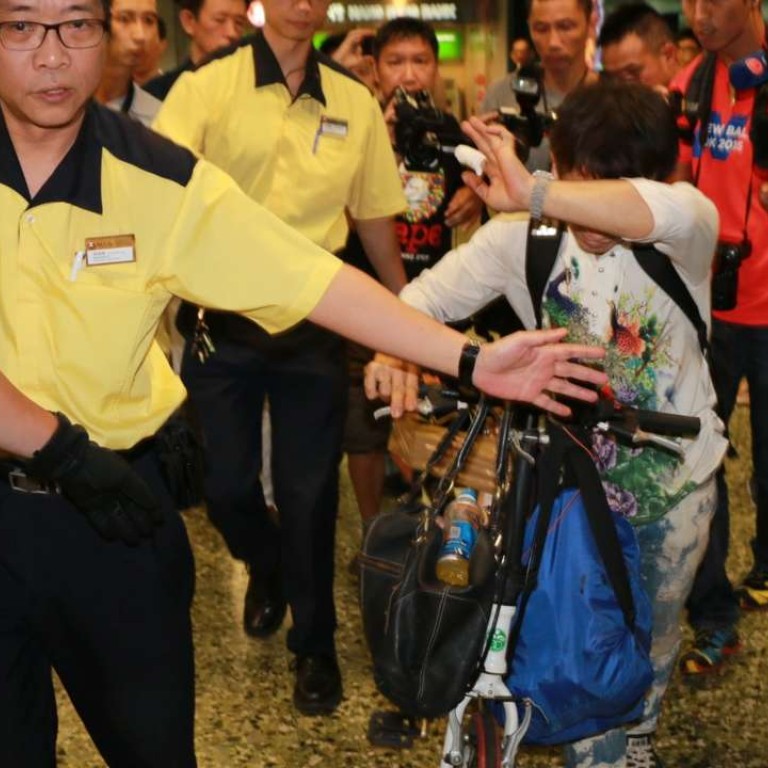 Blast and smoke on Central-bound MTR train slow 600 commuters
Man suffers minor finger injuries as his malfunctioning speaker battery is blamed
About 600 commuters were evacuated from a Central-bound train at Sham Shui Po MTR station on Tuesday afternoon when a speaker's battery exploded, causing smoke to billow from it.
The battery was in a box placed on the seat of a bicycle when the blast happened shortly after 2.45pm. Its male owner suffered minor finger injuries on his left hand, police said.
The
Fire Services Department
said the man was bandaged at the scene by paramedics and did not require hospital treatment.
The man surnamed Lam said his left hand was resting atop the box containing the battery at the time of the blast, which happened as the train was approaching Sham Shui Po MTR station.
"There was the sound of an explosion before the battery emitted smoke and other passengers retreated and ran away from me," he said.
A police spokeswoman said initial investigation showed the speaker's battery had exploded.
According to MTR Corp, another commuter pressed an emergency button and informed the train's captain of the blast. Police and the fire department were then alerted.
Eleven fire engines and one ambulance were deployed to the scene.
"As a safety precaution, all the passengers were evacuated from the train after it arrived at Sham Shui Po MTR station," the MTR Corp spokesman said, adding that about 600 passengers were affected.
He said the involved train was then driven to a siding track at Admiralty MTR station for inspection.
Firemen were investigating the cause of the incident.
The MTR Corp issued a notice to the man stating he would be prosecuted for breaching
MTR By-laws
as he carried his bicycle on board without removing one of its wheels, thus inconveniencing passengers. It said the maximum penalty was a HK$2,000 fine.