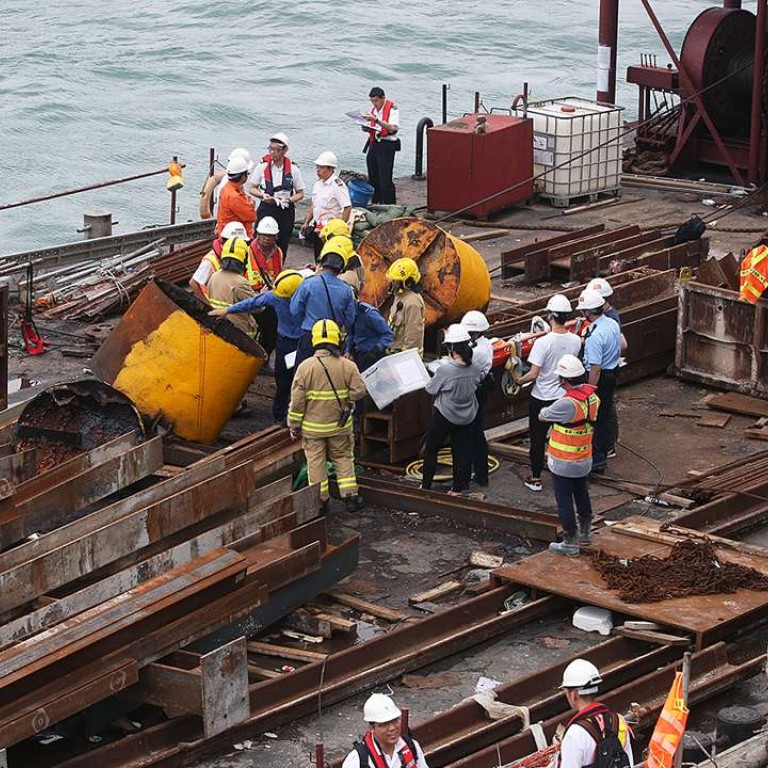 Update
Blast kills one, injures another in industrial accident at Hong Kong's Victoria Harbour
Initial investigations show explosion involved buoy brought on board barge for repair
One worker died and another was injured in an explosion on a barge in Victoria Harbour on Wednesday morning.
Initial investigations showed the blast involved a floating buoy that was brought on board the barge for repair, according to police. The buoy was one meter tall and about 50cm in diameter.
The incident happened near an Oil Street construction site shortly after 9am.
According to the Association for the Rights of Industrial Accident Victims, the deceased was Mamraiz Khan, a 38-year-old Hong Kong identity card holder of Pakistani origin. He had been working on board the barge since April 26.
"The worker was carrying out welding work on the buoy when it exploded," a source with knowledge of the investigation said.
The source added that the buoy was like a metal container, and it was possible that there had been some unknown gas inside.
Khan was married without children, and his parents are in Pakistan, according to the association, which added that it would follow up on the case and request that the construction company issue the death gratuity and burial grant to the family as early as possible.
Khan's injured colleague is a 60-year-old Hong Kong man who suffered minor injuries to his limbs.
According to a fire department spokeswoman, there was no blaze when firefighters arrived. An ambulance took the two victims to
Ruttonjee Hospital
in Wan Chai.