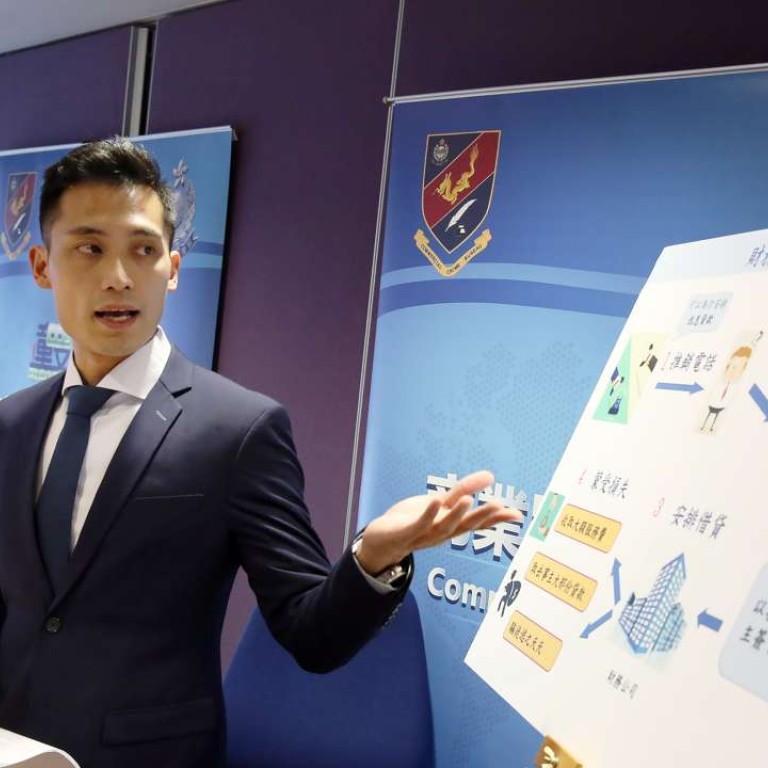 Update
Hundreds of Hong Kong home owners cheated by scammers posing as financial agents: HK$320 million in new debts for victims
More than 400 conned by middlemen offering to secure loans, with some even losing their homes
More than 400 people have been cheated out of at least HK$320 million by scammers acting as middlemen to secure loans for struggling property owners and plunging them further into debt.
Police said yesterday they had arrested 271 people, aged 18 to 57, over the past eight months, but had yet to lay charges against any of them because of difficulty ­collecting evidence.
Between last August and March this year, 420 victims aged between 21 and 74 lodged 601 complaints to police against 41 financial intermediaries accused of luring debtors into applying for low-interest loans and then cheating them out of the money they borrowed.
Acting chief inspector Fan Chun-yip of the Kowloon West ­regional crime unit said the ­victims were often property owners in financial difficulty.
They ­received calls from the scammers claiming to be financial intermediaries acting on behalf of banks and money lenders from which they had taken out mortgages.
The scammers then accused the victims of violating their loan conditions by securing a second mortgage on the same property and persuaded them to take out low-interest loans from money lenders to pay off all their debts.
"The middlemen claimed they could help victims settle the payment on the mortgages. Despite being charged big fees, many victims still fell prey because of the low interest," Fan said.
"Victims were also taught to secure large overdrafts from banks. The money was handed over to the fraudsters as security deposits, as the middlemen claimed they could help raise the victims' credit rating for loans."
About three months after reeling their victims in, the middlemen would then close shop and flee with the money, leaving hapless property owners struggling with new debts.
Some even lost their flats, as the loans were legitimately taken out and the lenders had legal rights to claim their money.
In the largest single case, scammers cheated a retired bank worker out of HK$4.94 million last November after borrowing HK$5 million from a money lender under his name.
"Many victims cannot recall case details as they often report to us some months after they were deceived," Fan said. "Some cannot even recognise the middlemen involved."
Lawmaker Alice Mak Mei-kuen from the Hong Kong Federation of Trade Unions said up to this month, her party had received more than 250 complaints about such financial scams that involved HK$334 million. None of the victims was able to recover the money.
Mak called on the government to plug the legal loopholes in the regulation of such intermediary companies, as they were not bound by the existing Money Lenders Ordinance.
The ordinance only prohibits money lenders from colluding with any person to charge a fee from a borrower unlawfully. There is currently no specially ­designed legislation to regulate intermediaries.
To combat illegal loans, the government pledged last month to impose new rules that would require potential lenders to report the identity of the intermediaries they appoint to the Registrar of Money Lenders, which processes their licence application, renewal and endorsement.
That way borrowers can check if the middlemen dealing with their loans are trustworthy.