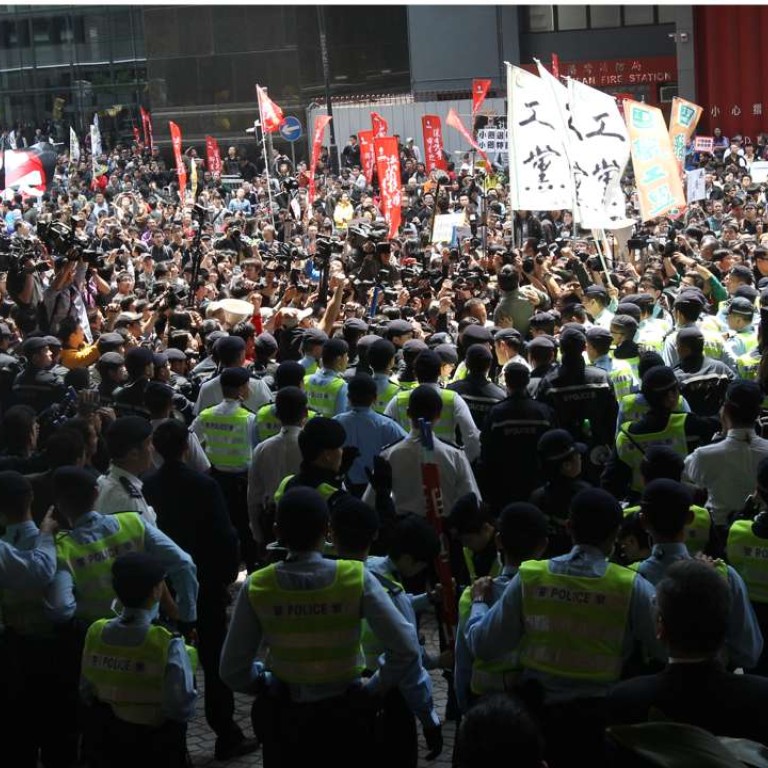 Exclusive

|
Hong Kong police to mount biggest security operation for a visiting Chinese state leader
Zhang Dejiang's three-day visit will see largest security presence throughout the city since hosting equestrian competitions in the Beijing Olympics
Hong Kong police are mounting their biggest security operation for a visiting state leader, citing the threat of international terrorism and radical localism in the city.
Starting from next Tuesday, about 6,000 police officers will be deployed each day to protect the chairman of the National People's Congress Standing Committee, with the risk level for Zhang Dejiang raised to the maximum "very high" during the three days he spends here.
The manpower deployment will be up to three times that arranged for the visits of a sitting premier and president in recent years, when the risk level was considered "high". Not since 2008, when Hong Kong hosted the equestrian competitions of the Beijing Olympics, has there been a security presence of this size throughout the city, a top government source told the Post.
Police are now finalising the measures for Zhang, who will land at Hong Kong International Airport around noon next Tuesday.
The source cited the recent terrorist attacks in Europe and the threat posed by separatists from China's troubled Xinjiang region as risks, adding that there was also potential danger from rising localist sentiment and radical protests.
Referring to an alleged bomb plot aimed at disrupting a critical Legislative Council vote that was busted by police last June, and a blast in a rubbish bin during the Legco debate on the controversial copyright bill, the source said: "They showed that radical localists must not be neglected during major events or the harm could be as severe as a terrorist attack," the source said.
Zhang will be escorted around town by his personal bodyguards, elite security personnel from the Central Security Bureau, and top officers from the VIP Protection Unit of the Hong Kong police force.
At least 3,000 police officers, including those from the local Counter Terrorism Response Unit, Police Tactical Unit and Airport Security Unit, will be on duty at any given time during Zhang's visit. Joining them will be snipers from the elite Special Duties Unit, known as the "Flying Tigers".
"Each shift lasts 12 hours. So we need 6,000 officers a day and it will take up a headcount of around 18,000 for the three-day operation," the source continued.
"The manpower will focus on Hong Kong Island, the airport and Kowloon East."
He stopped short of revealing what Zhang would be doing in Kowloon.
In contrast, police deployed only about 2,000 officers each day during then vice-premier Li Keqiang's visit in 2011, and about 3,000 officers when then president Hu Jintao came to Hong Kong in 2012. Both leaders made home visits in Kowloon East.
Zhang will stay at the Grand Hyatt Hotel in Wan Chai and deliver a keynote speech at the Belt and Road Summit on China's trade strategy, to be held at the Convention and Exhibition Centre next Wednesday. The force's elite search teams will secure the area after a thorough inspection.
The source said larger areas than before would be declared off limits outside the venues than during the state leader visits.
More than 250 water barriers, weighing two tonnes each when full, will be used to cordon off restricted zones, while demonstration zones will be designated much further away than usual.
"Protesters will not be able to see Zhang for sure," he said.
It is understood that the force has not granted approval to any application for protests or demonstrations so far.
Police are ready to use a powerful pepper spray-based solution for riot control in case of trouble during Zhang's visit, while tear gas rounds and riot guns have already been loaded onto Emergency Unit vehicles.
The source revealed that Police Commissioner Stephen Lo Wai-chung and his deputies would supervise the command centre at their Wan Chai headquarters during the visit, and top brass would issue direct orders to district commanders on the frontline.
Officially, the force refused to confirm any of the security arrangements on Wednesday, only stating that it "monitors terrorist trends to ensure a high state of readiness" for all visiting dignitaries.