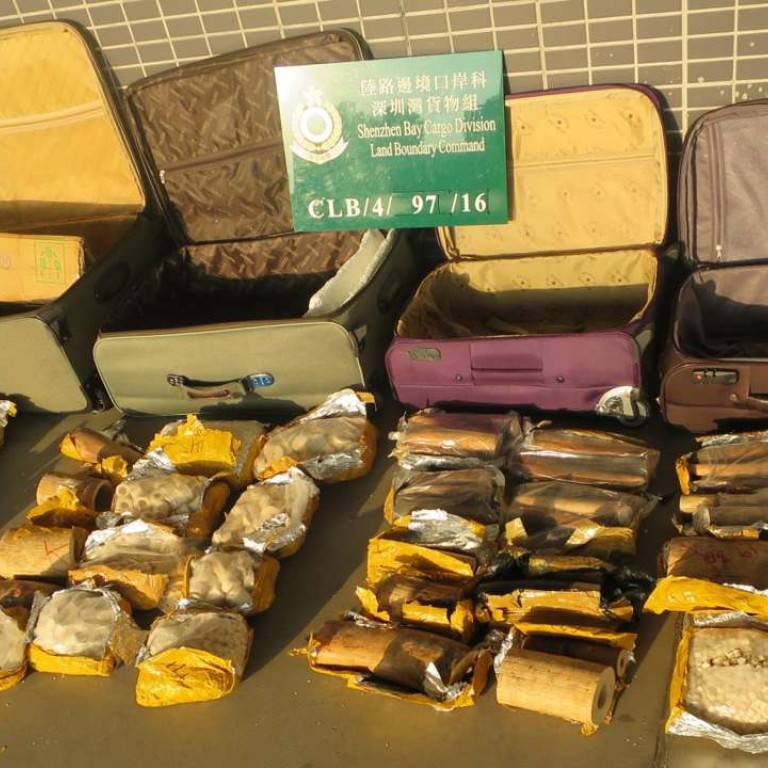 Hong Kong customs officers seize more than HK$1 million worth of ivory, hornbill beak and other contraband
50-year-old male en route to Shenzhen arrested after items were found in his suitcases
Nearly 110kg of suspected endangered species items and rare agarwood were found hidden in four suitcases after Hong Kong customs officers intercepted a Shenzhen-bound car for inspection at an immigration control point on Thursday.
The consignment consisted of 98.65kg of suspected ivory, 6.82kg of suspected hornbill beak and 1.75kg of suspected agarwood, according to the Customs and Excise Department.
The department said the haul could be sold for more than HK$1 million on the black market.
A 50-year-old man was arrested in connection with the case. Investigations are ongoing.
The suspect might face prosecution for importing an endangered species without a licence and exporting unmanifested cargo, according to the department.
The haul was discovered when customs officers intercepted an outgoing seven-seater car at the Shenzhen Bay Immigration Control Point on Thursday afternoon.
"The suspected endangered species items were seized from a male passenger's baggage," the department said.
It said the passenger was arrested on suspicion of breaching the Import and Export Ordinance and the Protection of Endangered Species of Animals and Plants Ordinance.
According to the department, exporting unmanifested cargo carries a maximum penalty of a HK$2 million fine and seven year's imprisonment.
Tthe maximum penalty for exporting an endangered species without a licence is a HK$5 million fine and a two year's jail.