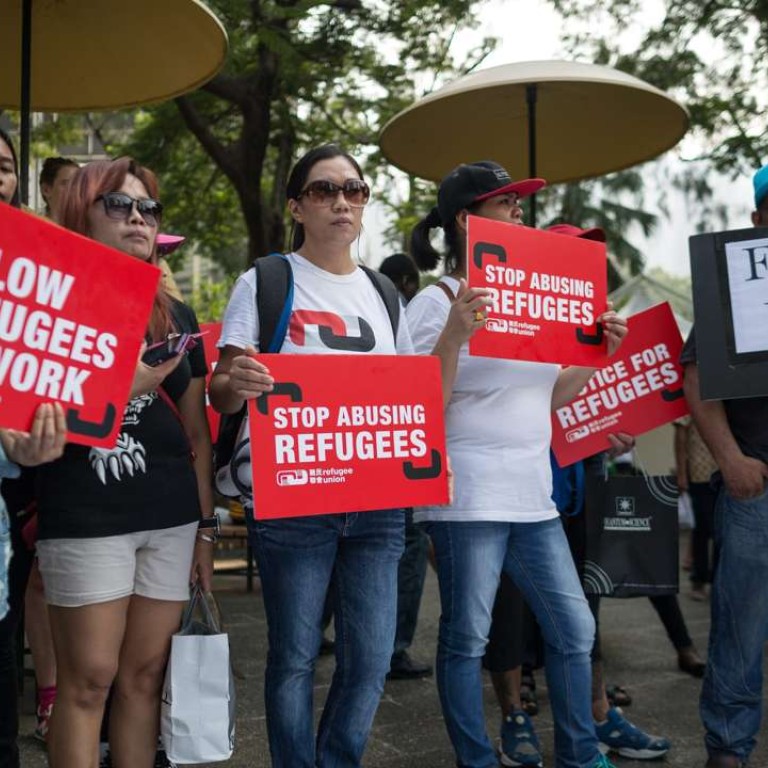 Respect refugees' liberties and let them work in Hong Kong, protest organiser urges
200 people expected to join a march through the city on World Refugee Day
Refugees in Hong Kong preparing to stage a protest on Monday to mark World Refugee Day are calling for the right to work in the city, a fair screening system and the end of smear campaigns.
The Refugee Union, which is organising the demonstration, said it expected 200 people to join a march starting at 2pm from the Central ferry piers to Immigration Tower in Wan Chai.
The union is demanding major changes, including "respect for the personal liberties of all refugees, regardless of status" and a realistic acceptance rate of refugees. Hong Kong's current acceptance rate stands at 0.6 per cent. They also urge an end to "smear campaigns aimed at discrediting refugees and their rights" as well as conditional work rights for all refugees.
In recent months, voices linking asylum seekers to criminal activities have grown stronger, with some residents and pro-establishment lawmakers urging the government to set up closed refugee camps in Hong Kong.
"I think that these are individuals who are motivated by hatred. They are highly discriminatory and racists," Peter Maina, secretary general of the Refugee Union and an asylum seeker, said.
Official statistics show that asylum seekers – formally known as protection claimants – represented only 3.9 per cent of the total number of people arrested last year. But it's unclear how many of them were actually convicted, as the government does not maintain data on prosecutions and convictions of asylum seekers.
"It is morally wrong to blame all refugees for crimes committed by a few. It goes against the rules of natural justice and fairness," Maina said. "It will be inhumane to detain refugees on the pretext that refugees are criminals and that we have abused the asylum system to stay in Hong Kong."
Secretary for Security Lai Tung-kwok said last week that the government was considering several detention measures, but noted that refugee camps would be a very complicated and expensive option.
Critical voices have pointed out the financial pressure that asylum seekers exert on the city. According to the government, the estimated expenditure for 2015-2016 on handling protection claimants totalled HK$644 million.
Maina argued that refugees were perceived as a burden on society because they were not allowed to work in the city. "They decided to turn us into beggars by subjecting us to a grossly inadequate welfare system that perpetuates that narrative," he said.
There were 11,201 outstanding claimants as of March this year, with most of them coming from Vietnam, India and Pakistan. Between 2009 and March, only 52 people had their claims substantiated.
The human rights NGO Justice Centre is also organising a fundraising event at Orange Peel, in Central, to celebrate World Refugee Day. "Rock for Justice", which will include concerts by local bands, starts at 6pm.