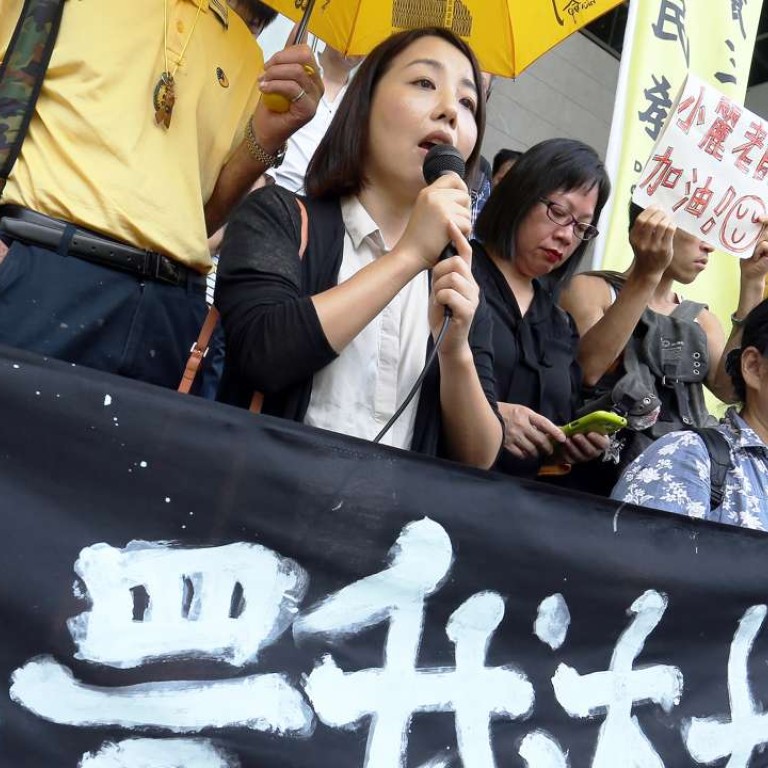 Hong Kong lecturer fined HK$1,800 for selling fried squid without licence
Case puts spotlight on rights and role of hawkers in city
A community college lecturer was fined HK$1,800 on Monday for selling fried squid in the street on the eve of the Lunar New Year, in a case that put the spotlight on the rights and role of hawkers in the city.
Lau Siu-lai, from Polytechnic University's Hong Kong Community College, was ordered to pay a fine after she was convicted of hawking on Kweilin Street in Sham Shui Po on February 7.
The hawker supporter, 40, was found guilty of one count of obstruction of public places, one of hawking without a licence and another of cooking food for the purpose of hawking without a licence.
Outside court, Lau said it was necessary for the government to rethink its policies as hawking provided jobs for citizens and contributed to more affordable neighbourhoods in an increasingly expensive environment dominated by corporate giants.
"So not only were there citizens who would like to go into hawking, there were also those would wish to make purchases," said Lau, who proposed the government should regulate hawkers with a market. She said she made her observation from a Wong Tai Sin market she organised earlier.
Yesterday's case also dealt a blow to an unproven belief that the city's unlicensed hawkers were allowed to hawk on the street during the Lunar New Year with discretion.
It reignited a debate as to whether it was appropriate for hawkers to have their possessions confiscated, with Lau telling Kowloon City Court of the self-immolation in court of a hawker in 1998 after his gemstones were not returned to him.
Previously, the court heard that on the night in question, a hawker control officer saw Lau stand behind a "wooden trolley" parked at the side of Kweilin Street, frying squid..
She yelled "HK$10 per skewer", the officer had told the court.
The officer and his superior testified that Lau, surrounded by more than 10 people at the time, then passed a squid skewer to a man and collected money. But Lai contended that they could not see it given their positions.
She also argued that any obstruction of the road would have been caused not by her, but by a fire engine and two vehicles from the department.
However deputy magistrate Leung Ka-kie pointed out there was a "no parking" sign at the scene, adding that Lau went on to hawk there despite complaining about the three government vehicles. The magistrate also ruled a transaction did take place based on the officers' testimony.
The prosecutors subsequently asked for permission to confiscate Lau's trolley and cooking equipment under the Public Health and Municipal Services Ordinance, which was granted.
But when objecting, Lau said the order was "crude" and "unsympathetic" for many hawkers, who are low-income earners. She cited a hawker who set himself ablaze in a courtroom in 1998 over the same order.
Speaking outside court, Lau said the law was unreasonable, in that it deprived hawkers of their personal properties, even though their belongings were far from threats to society.
"If they don't sell them, they could make use of it as their own personal properties," she said, adding that confiscation was a form of oppression.
The lecturer said she had since organised hawker markets in other districts such as Wong Tai Sin and was told by elderly residents that they had been priced out.
Lau, a critics of management firm Link Reit, wished the government could review its policies so that the grass-root community would be able to purchase what were affordable for them.
Asked if her conviction would deal a blow to the Lunar New Year tradition, she urged people to voice out their support for the hawkers.
She was joined by a group of hawker supporters as she left court.
"Formulate hawker market policies. Give me back my Kweilin market," the banner-wielding group yelled outside court.