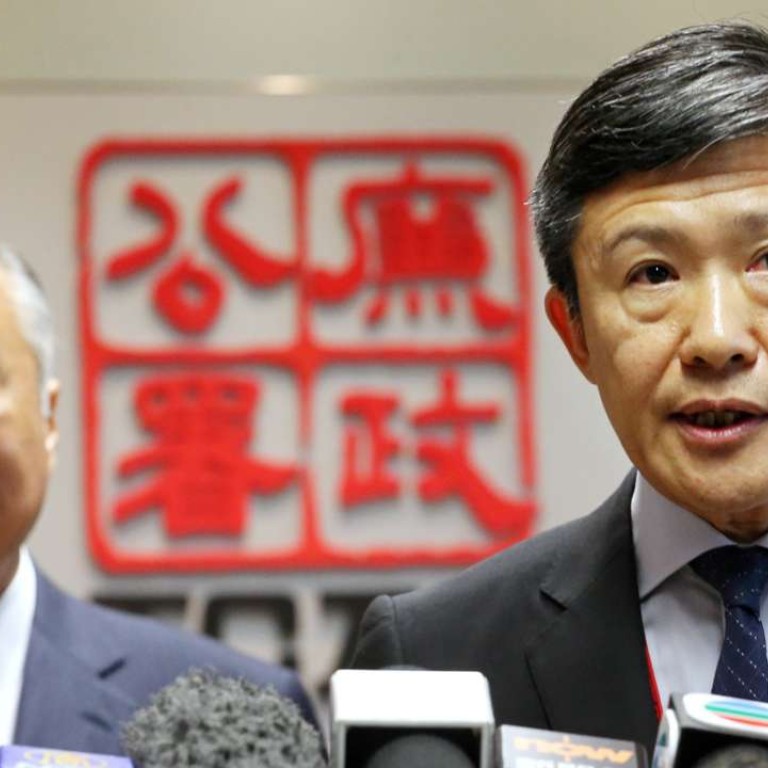 ICAC chief claims he alone, and not CY Leung, made decision to remove deputy
Simon Peh Yun-lu's comments meant to quell speculation Rebecca Li Bo-lan's termination was politically motivated
Hong Kong's anti-corruption chief took sole responsibility on Monday for
removing a top investigator
, saying she "failed to meet the job requirements", and denying the city's leader had anything to do with the controversial move.
Simon Peh Yun-lu, head of the Independent Commission Against Corruption, said he had personally conducted the ­appraisal for Rebecca Li Bo-lan, acting head of the operations ­department and the first woman to lead the watchdog's powerful investigative unit.
"I notified the chief executive before [deciding to terminate Li's acting appointment], and he did not give his views or take part in the decision-making process," he said. "In my appraisal, Li failed to meet the job requirements, so I terminated her acting capacity. It is my own judgment."
But Peh would not specify what Li had failed to deliver, citing privacy reasons. It was his own decision, he reiterated, when asked whether Beijing's liaison office in the city had any say.
Li was asked to step back into her previous role as director of investigations for the public sector but has now decided to end her contract prematurely.
Last Thursday, the ICAC raised eyebrows when it announced in a press release that Li, in the acting post since June last year, would be replaced and "proceed on final leave".
Ricky Yau Shu-chun, the ICAC's director of investigation for the private sector, is to take over as acting head of operations.
On Saturday, Democratic Party lawmaker Albert Ho Chun-yan, citing ICAC sources, said investigators had tried repeatedly over the past year, to no avail, to obtain evidence from the Executive Council secretariat on whether Chief Executive Leung Chun-ying had made a significant declaration about a HK$50 million payment he had received in 2012-13.
That probe centred on whether Leung had disclosed to Exco the HK$50 million payment from Australian firm UGL. Ho cited it as a possible reason for Li's removal.
Li, known by colleagues for her "uncompromising" attitude against corruption, was the first ICAC officer to be sent for special training with the United States Federal Bureau of Investigation, in 2000.
The Chief Executive's Office earlier said Leung had not taken part in the decision-making process or given his views on forcing her out. But it did not respond on the UGL case, saying Leung, who has consistently denied any wrongdoing, would "cooperate wherever necessary" in any ­investigation.
Li, 54, joined the graft-buster in 1984 as assistant investigator. Some of the high-profile probes she has handled include the stock fraud case against Mo Yuk-ping, the wife of Shanghai tycoon Chau Ching-ngai, and the rental fraud case of former deputy inland revenue commissioner Agnes Sin Law Yuk-lin.
Pro-establishment lawmaker Ip Kwok-him, of the Democratic Alliance for the Betterment and Progress of Hong Kong, said he could not believe the ICAC would "mess things up" as it had a sound system in place for such matters.
Chow Chung-kong, head of its advisory committee on corruption, said the body met Peh on Monday and urged him to explain his decision because the matter "could affect the ICAC's operations and had sparked public ­concerns".
Stephen Char Shik-ngor, a barrister who previously worked for the ICAC for 28 years, including in the capacity of chief investigator, advised Peh to specify which of the two kinds of acting arrangements had been made for Li: "acting for administrative convenience" – having her fill a vacant post until someone else took over – or "acting with a view to promotion", with the appointment to be confirmed on good performance.
"If ... Li is of the first case, there is no point in Peh talking about her performance," Char said.
This article appeared in the South China Morning Post print edition as: anti-graft chief 'alone' pushed out top agent