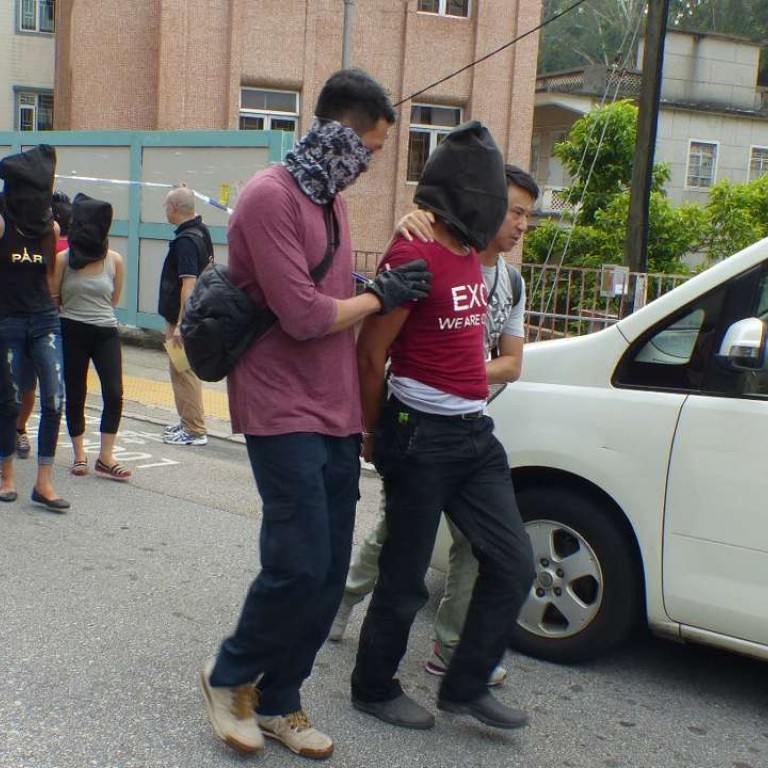 Suspected leader of cross-border smuggling ring arrested in swoop by Hong Kong and Guangdong police: dramatic scenes as smugglers ram police van
Almost 40 people held in Hong Kong and the mainland after coordinated raids
Hong Kong and Guangdong police on Monday arrested the suspected ringleader and core members of a cross-border people smuggling racket accused of bringing more than 300 non-Chinese illegal immigrants to the city in a year.
By lunchtime, police had picked up nearly 40 people on both sides of the border in a major operation that continued in the afternoon after it was launched on Sunday night.
Officers in Yuen Long arrested 13 people in two cars at daybreak on Monday. One car collided head-on with a police van near a school, and officers smashed their way into the vehicle to arrest the occupants.
The alleged ringleader – a Hongkonger in his 50s – was among more than 10 people nabbed by mainland Chinese police, along with at least four snakeheads from across the border, sources said.
His wife and son, in his 30s, were among another 21 arrested by Hong Kong police in a series of raids, including the 13 in Yuen Long, across the city in the early hours of Monday. The 14 men and seven women included 11 non-Chinese illegal immigrants and four asylum seekers.
Sources said the syndicate had smuggled people across the border for about 18 months.
"Intelligence showed fishing boats were arranged to take illegal immigrants from Dongguan to somewhere near the sea boundary of Hong Kong before they went on board speedboats which ferried them into Hong Kong," one source said.
"Some illegal immigrants were given speedboats to sail across the border on their own as mainland snakeheads tried to evade arrest."
He said migrants were picked up at landing spots in the city and taken to hideouts.
On Sunday night mainland police caught a group of illegal immigrants before they boarded a fishing boat. The alleged mastermind and mainland snakeheads were picked up in follow-up raids.
In the Yuen Long raid, officers caught 13 people inside a seven-seater car and a sedan, using at least five unmarked police vehicles to intercept them.
"We believe the two vehicles were used to transport non-Chinese illegal immigrants to hideouts," another source said.
The sedan collided head-on with a police van near Chung Sing School on Yuen Long Kau Hui Road shortly before 7am. Those inside refused to leave the car, so officers smashed the two front windows, forced open the doors and arrested them.
About 100 metres away, officers caught up with the seven-seater car further down the road. One of the suspects put up a struggle after being pulled out of the vehicle. He was pinned on the ground before being arrested.
It was understood the wife and son of the alleged ringleader were picked up in a public housing flat in Tin Shui Wai. The wife was arrested on suspicion of money laundering.
The others were picked up when police raided premises in Lok Ma Chau and Yau Ma Tei.
Further arrests were expected, according to police.
This article appeared in the South China Morning Post print edition as: Dozens held in dramatic raids on people smugglers