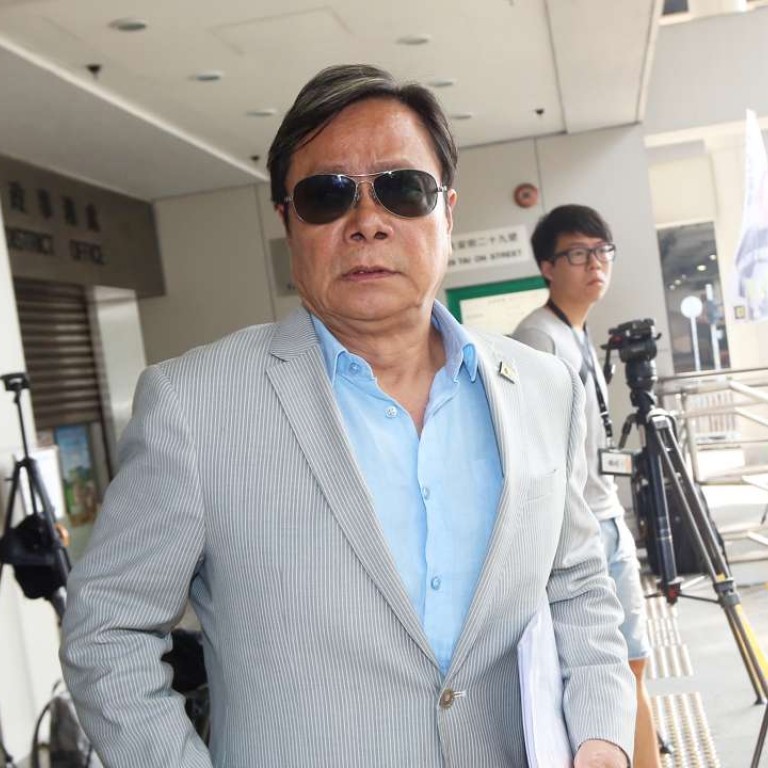 CY Leung labelled a crook by lawmaker accused of throwing glass at Hong Kong's top official
Wong Yuk-man claims its his job as opposition lawmaker to insult chief executive to give him and public wake-up call on bad governance
An outgoing Hong Kong lawmaker slammed Chief Executive Leung Chun-ying in court on Monday, calling him a vindictive person with "no friends in the city", as he attempted to discredit the man accusing him of assault.
Mounting his own defence in a trial that saw Hong Kong's top official take the witness stand for the first time, pan-democrat lawmaker Wong Yuk-man denied aiming at Leung when he allegedly threw a glass during a question-and-answer session in the Legislative Council chamber on July 3, 2014.
"It was thrown in the direction of the seat of the president," Wong told Eastern Court.
Wong claimed he was merely trying to splash water on his opposition when the glass slipped out of his right during a struggle with security guards.
Leung testified earlier that he was in shock and feared a second attack.
Wong accused Leung of using his position to interfere with the legislative, executive and judicial branches since taking office.
"He is a crook," Wong said. "Since he has had the power, he has targeted me.
"If you have offended him, bad luck ... However trivial the matter, he will seek revenge."
Wong suggested that political motives were at play when Leung accused him of throwing the glass, which landed behind the chief executive.
The court heard earlier that Wong was supposed to call various lawmakers and Anthony Cheung Bing-leung, Secretary for Transport and Housing, as defence witnesses. But he advised the court yesterday that they would no longer be called.
Wong reasoned that as an opposition lawmaker voted in by his supporters, it was his job to insult the chief executive and the government via filibustering and physical protests. He said he did not mean to inflict bodily harm on Leung.
Under the cross-examination by senior assistant director of public prosecutions Anna Lai Yuen-kee SC on Monday, Wong denied pulling his arm backwards to increase the momentum when throwing the glass.
During Monday's session, the lawmaker also presented a string of news reports to the court in an attempt to discredit the chief executive and show his dishonesty, including one about Leung receiving HK$50 million from Australian engineering firm UGL.
He accused Leung of meddling with the Independent Commission Against Corruption when it refused to promote Rebecca Li Bo-lan, former acting head of the Operations ­Department that oversees agency ­investigations, resulting in her resignation.
"Anyone who criticises him is his enemy ... to be countered with [a] hardline approach," Wong said of Leung.
Lai questioned the hearsay nature of the news report.
The hearing continues before Magistrate Chu Chung-keung Tuesday.
This article appeared in the South China Morning Post print edition as: wong hits back over claims he threw cup