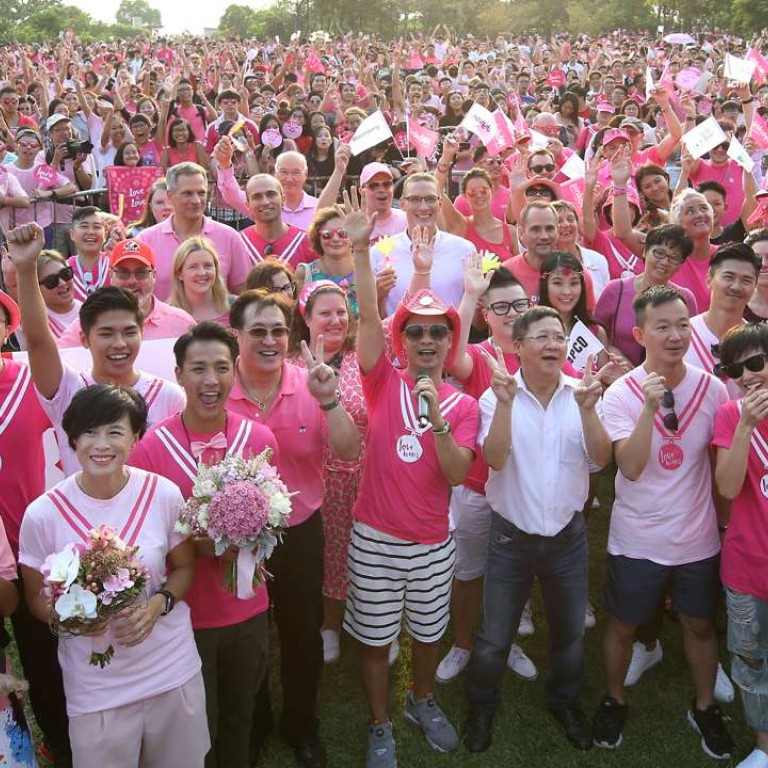 The way Hong Kong tackles issue of rights for same-sex couples will test its claim to be Asia's World City
A lack of recognition undermines the ability of sexual minorities to enjoy basic respect in many areas of the law
At a time when more than 20 countries around the world have legalised same-sex marriage, it seems unfathomable that some basic rights of same-sex couples are being denied in Hong Kong, including the right to claim the ashes of one's deceased partner.
In June this year,
Cyd Ho Sau-lan
, then a lawmaker, proposed amendments to the Private Columbaria Bill that was passing through the Legislative Council. She wanted to extend the definition of the word "relative" in the bill to include a deceased person's same-sex partner in a marriage, civil partnership or civil union in any jurisdiction outside Hong Kong, so as to ensure that such persons would be eligible to claim for the return of the deceased person's ashes.
The suggested amendment was indeed very limited in scope and scale. The number of same-sex couples in such relationships in Hong Kong is unquestionably small.
Yet, the suggested amendment ran into resistance from the government and opposition from the Catholic Diocese of Hong Kong. The Food and Health Bureau claimed that if the government accepted the amendment, it would have to incur much public expenditure to seek legal advice and research on the topic.
The fate of the suggested amendment in the new Legco session now remains to be seen, but it is certainly clear that recognition of same-sex relationships (or the lack thereof) influences many different aspects of the lives of same-sex couples. There are two ongoing judicial review cases concerning the recognition of same-sex relationships registered overseas for fringe benefits, taxation allowance and dependent visa purposes.
Besides those that are already on the legal and social policy agenda, there are still many issues that the lack of recognition would affect. For example, can same-sex couples apply for public housing in Hong Kong as a family unit? Can they adopt children?
It is sometimes argued that, since Hong Kong's matrimonial laws do not recognise same-sex relationships, Hong Kong should not extend any of the rights mentioned above to same-sex couples – essentially an all-or-nothing argument. However, we need not adopt an all-or-nothing approach to the issue of recognising same-sex relationships in Hong Kong.
As seen above, the lack of recognition permeates the lives of same-sex couples and undermines their abilities to make various basic decisions and enjoy basic respect in many different areas of the law. Even if marriage equality is not politically feasible at this stage, we should still endeavour to achieve greater equality for same-sex couples in as many areas of law as possible. Such efforts could go a long way to improving the lives of sexual minorities and educating the public about the difficulties that sexual minorities face on a daily basis.
The Hong Kong government, our newly elected legislative councillors and the judiciary all have important roles to play in this. The ways in which Hong Kong answers these legal and social policy questions about recognition of same-sex relationships will speak volumes about how it treats minorities in society and whether it stands up to its claim to be Asia's World City.
It has been reported that more than 10,000 people attended the third Pink Dot event on September 25, in celebration of LGBT diversity, in the West Kowloon Cultural District. LGBT equality is certainly going to stay high up on the policy and legal agenda in the years to come.
Suen Yiu-tung, DPhil, is assistant professor at the Gender Studies Programme, associate director at the Gender Research Centre, and founding director of the Sexualities Research Programme at the Chinese University of Hong Kong.
This article appeared in the South China Morning Post print edition as: HK needs to achieve greater equality for same-sex couples