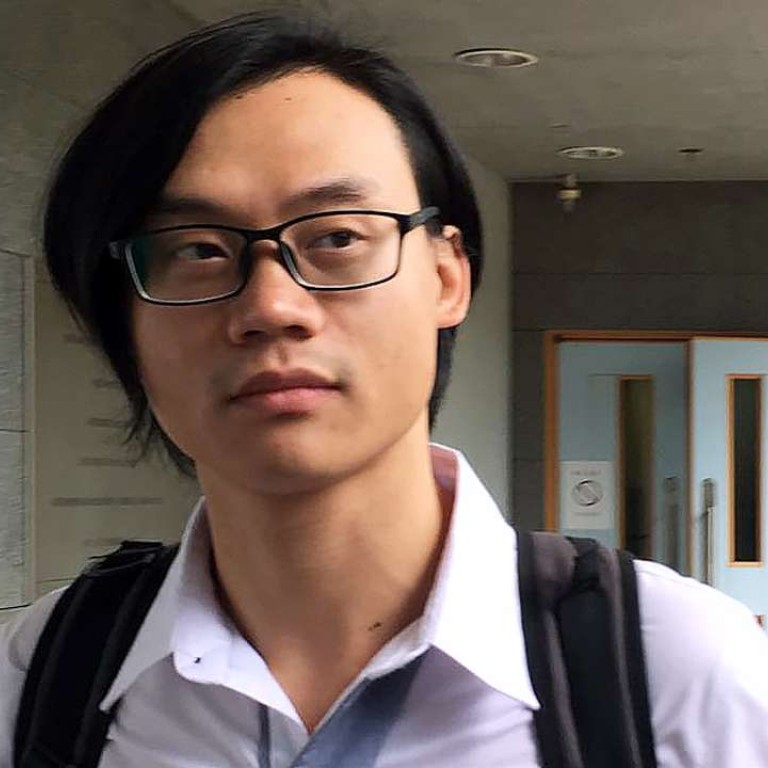 Hong Kong waiter gets 9 months in jail over Mong Kok riot in first conviction relating to clashes
Magistrate says defendant treated police officer like moving target when hurling water bottles during Lunar New Year unrest
A Hong Kong waiter was jailed for nine months for throwing water bottles and resisting police during the Mong Kok riot in February, becoming the first person to be convicted over the violent clashes on Lunar New Year night.
Sentencing Chan Pak-yeung, 30, magistrate So Wai-tak likened the defendant to "a rioter" who treated police officer Kwan Kwong-wa as a "moving target" when he launched two water bottles containing liquid at the officer
in the early hours of February 9
.
The night saw some of the fiercest
clashes engaging local police
since the city's handover to the mainland in 1997. Protesters hurled bricks at officers and set objects alight in the busy Kowloon district. A policeman fired shots skywards on the night.
The court ruled that Chan threw the bottles and struggled violently to resist arrest, prompting others at the scene to throw other objects such as rubbish bin lids at the officers handling him.
"Apart from the bottles, the circumstance at the moment has to be taken into consideration," the magistrate said.
His action made the situation worse and endangered the police officers' safety, So added, noting the court needed to protect law enforcement officers.
After hearing the sentence, Chan's supporters in the court gallery yelled: "Ridiculous!"
"The policeman fired shots," one supporter shouted.
Chan's application for bail pending an appeal was rejected. He was immediately taken away to be locked behind bars.
Former lawmaker Wong Yuk-man criticised the court for making Chan "a political prisoner" and said he would contact him to explore filing an appeal.

Although the maximum jail sentence for assaulting a police officer under the Offences Against the Person Ordinance is two years, Civic Passion radical activist Alvin Cheng Kam-mum said outside court on Thursday another group member received only three weeks in jail for throwing a water bottle at a police officer on a separate occasion.
Before sentencing, So convicted the defendant on one count of assaulting a police officer and another of resisting an officer.
The court earlier heard that Chan brought gloves and something to protect his neck on the night in question before going out to see what was happening in Mong Kok.
"[Understood] if the protector was to shield him from pepper spray, but why the gloves?" he asked.
The magistrate said Chan tried to play down his participation.
He also rejected the defendant's argument that officers had mistaken him for someone else whom he claimed actually threw the bottles. So said an officer had been paying attention to Chan throughout the incident.
This article appeared in the South China Morning Post print edition as: 9 months' prison in first riot conviction