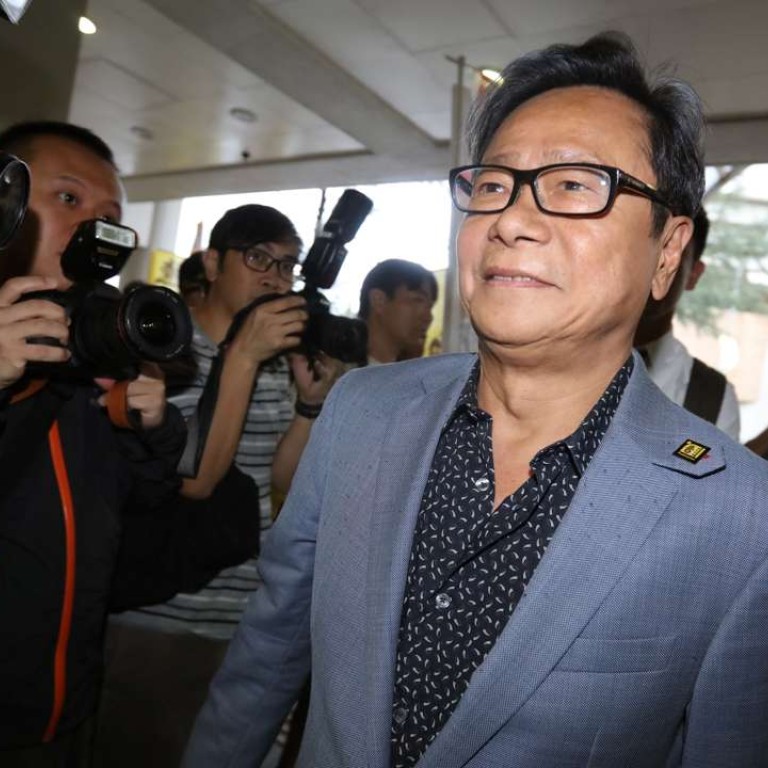 Wong Yuk-man convicted of common assault for throwing glass at Hong Kong chief executive
Calling defendant's actions 'uncivilised behaviour', Magistrate Chu Chung-keung said they put Leung Chun-ying in fear of second attack
Former lawmaker Wong Yuk-man was convicted of common assault on Wednesday for hurling a glass at Chief Executive Leung Chun-ying during a Legislative Council meeting two years ago.
The case, according to Wong, marked the first conviction of a lawmaker for protesting within the deliberation chambers.
Wong, 64, did not react in the courtroom after the lengthy verdict of more than two hours was read out at Eastern Court.
But he pledged outside court: "I will protest judicially by lodging an appeal."
Magistrate Chu Chung-keung said glass throwing was uncivilised behaviour that put the chief executive in fear of immediate unlawful violence at the scene.
The high-profile case had called for the city's first testimony by a chief executive, with Leung claiming that he froze during a question-and-answer session on July 3, 2014 because he was shocked by the noise of the shattering glass behind him.
He also said he did not see who threw the glass in the first place, but was worried there might be a second attack.
His testimony was supported by lawmaker Wong Ting-kwong, who testified to seeing Wong standing on a desk to throw sheaves of paper and "something shiny" that he later concluded was glass after hearing it shatter on the floor.
The defendant, meanwhile, said in his defence that he had no intention of hurting anyone when he threw the objects and explained that he could not have aimed properly because of a previous eye operation.
He said the paper was intentionally thrown towards a location where no one was standing, and he switched to throwing water only when there were not many documents left on the table.
He said the glass was released accidentally as security guards were pulling him back.
But the magistrate found the former lawmaker's evidence contradictory and inconsistent, in contrast with that of the 25 prosecution witnesses, whom he described as "honest and reliable".
Citing Legco's CCTV footage, Chu said it was evident that Wong had intentionally and forcefully thrown the glass because he was in full control of the hand he used, despite security guards trying to pull him down from the table, and that the extent of his arm movement was consistent with how he threw the paper.
"Anyone hearing glass shattering in their proximity would feel shocked, but [that shock] might not be expressed," Chu continued. "It is understandable for [Leung] to worry about a second attack."
The court session drew a full house of reporters and Wong's supporters, some of whom murmured and even made loud comments as the magistrate delivered his verdict.
"You must be joking," one woman said. "Throwing [a] glass is different from throwing [it] at people."
The former lawmaker, who was not legally represented throughout the trial, elected not to give mitigation.
"I have nothing to say after hearing your verdict," he told the magistrate.
Wong will be sentenced next Tuesday. Common assault is punishable by imprisonment for one year, under the Offences Against the Person Ordinance.
This article appeared in the South China Morning Post print edition as: wong convicted of hurling glass