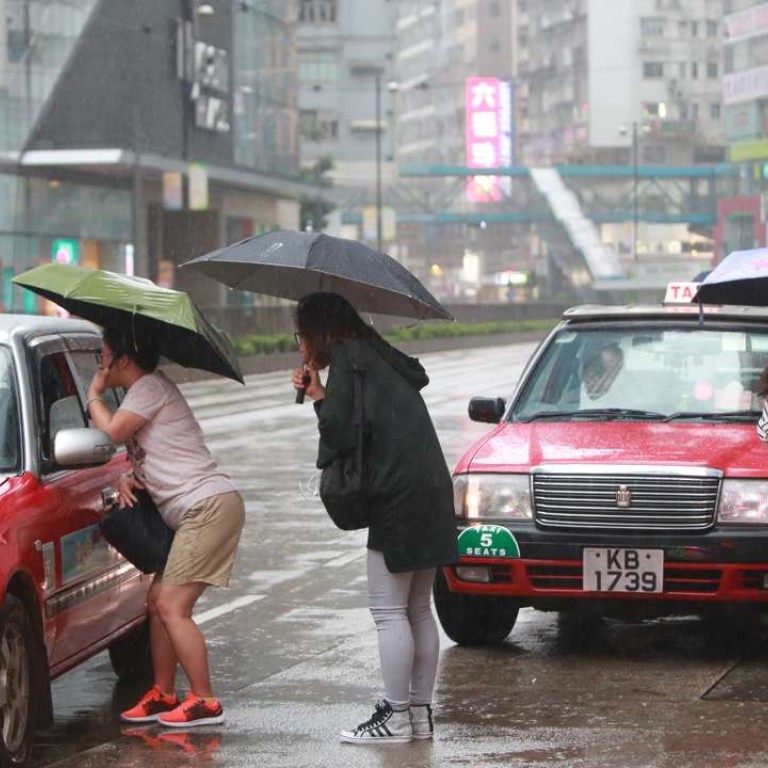 As Hong Kong taxi drivers jack up fares again during typhoon, is it time to legalise such 'surcharges'?
Transport sector lawmaker condemns grasping cabbies but says putting standardised fees in place would protect customers
Some taxi drivers touting for business while
Typhoon Haima
pounded the city on Friday took advantage of the lack of transport options to demand hefty surcharges from passengers.
Although the practice is illegal, most people have become accustomed to the extra charge, and one lawmaker raised the possibility of legalising such payments.
With public transport limited or suspended when the No 8 typhoon signal is raised, passengers who need to get to work have little option but to hand over the money.
The Transport Advisory Committee said 430 complaints about overcharging were filed from April to June, up 15.6 per cent compared to the previous quarter. But most complaints are made between July and September – peak typhoon season.
The Post came across taxi drivers imposing take-it-or-leave-it surcharges on Friday ranging from HK$50 to HK$300 for a trip from Whampoa Garden in Hung Hom to Causeway Bay, a journey for which the usual meter charge is less than HK$100.
One excuse used by cabbies is that they need to charge more because insurance companies will not compensate for damage if they work while a No 8 signal is raised.
"The practise is definitely illegal," Automobile Association president Wesley Wan Wai-hei said, adding that some particularly greedy drivers tarnished the industry's image.
He urged overcharged customers to contact the police or government transport complaint hotlines.
According to the law, a driver who overcharges is liable to a fine of up to HK$10,000 and six months' imprisonment. But in reality, the issue is more complicated.
"It is understandable to the public as long as the extra fee is not too ridiculous, and there are customers who are willing to accept it," Wan said.
One passenger told the Post she was charged HK$50 extra for a ride from Sham Tseng in the New Territories to Causeway Bay, which she found "reasonable".
An employee at taxi hailing app HKTAXI said orders flooded the system on Friday as many drivers decided not to work.
Despite police taking action against such illegal practices from time to time, the unwritten industry rule is still largely in place during extreme weather.
Transport sector lawmaker Frankie Yick Chi-ming said heftier punishments should be imposed on drivers who take advantage of bad weather to overcharge.
"The courts never hand out the maximum punishments to such drivers," he said.
They usually get away with a fine of around HK$1,000, which was little deterrent, he added.
But Yick suggested that legalising the surcharge could be a solution to protect customers in need. Instead of the random fees imposed now, the extra payment would be standardised for certain conditions, he said, although the insurance industry would need to be consulted to cover the issue of damage to taxis during extreme weather.
This article appeared in the South China Morning Post print edition as: is it time to legalise the 'surcharges' of grasping cabbies?