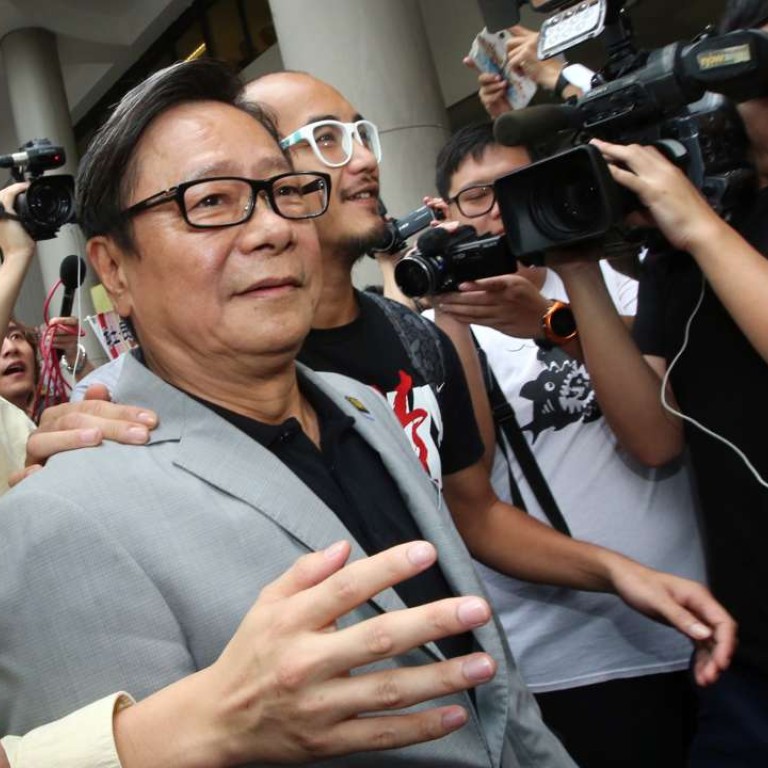 'I will appeal against conviction', Wong Yuk-man says after getting jail for hurling glass at Hong Kong's CY Leung
Magistrate compared case to that of social activist Chan Tak-cheung, who was jailed three weeks for throwing egg at Financial Secretary John Tsang
Former lawmaker Wong Yuk-man vowed to appeal against his conviction after he was jailed for two weeks on Tuesday for hurling a glass at Chief Executive Leung Chun-ying during a Legislative Council meeting two years ago.
The 64-year-old was not immediately remanded as magistrate Chu Chung-keung granted his bail application pending appeal, with his bail set at HK$5,000.
The Eastern Court case marked the first conviction of a lawmaker for protesting within the deliberation chambers.
Wong said that he was definitely going to file an appeal, otherwise lawmakers like "Long Hair" Leung Kwok-hung, who threw luncheon meat in the meeting chamber last Wednesday, could incite fear over his actions and go to jail a few more times without hurting anyone.
"The reason for my appeal is so that the executive branch cannot easily prosecute you, future protesters in the legislature, with a criminal offence," he said. "How can you criminally prosecute a legislative protest?"
He said the case was "a political prosecution from start to finish" and he had expected a jail sentence after he was convicted of common assault.
Citing that court ruling, Chu said the right to expression should be protected but its methods cannot involve violence.
"Though the defendant said he was only staging a legislative protest ... his behaviour was violent and uncivilised," he said. "This trend ought not to be promoted."
He said neither a fine nor community service were suitable options as the court found Wong had shown no remorse.
He adopted a starting point of three weeks for sentencing and said the current case called for a deterrent sentence, which he reduced by a week to acknowledge that Wong had not brought the glass into the chamber or hurt anyone.
Common assault is punishable by imprisonment for one year.
Wong's supporters swore at Chu and told him to go to hell as the magistrate retreated to his chambers.
The magistrate said last week that he did not have the "slightest hesitation" in
finding Wong guilty
as the throwing of the glass was uncivilised behaviour that had put the chief executive in potential danger and led to a fear of immediate unlawful violence at the scene.
The high-profile case had called for the city's
first testimony by a chief executive
, with Leung claiming that he froze during a question-and-answer session on July 3, 2014 because he was shocked by the noise of the shattering glass behind him.
The city's top official also said he did not see who threw the glass, but was worried there might be a second attack.
This article appeared in the South China Morning Post print edition as: Wong: I'll fight for right to protest