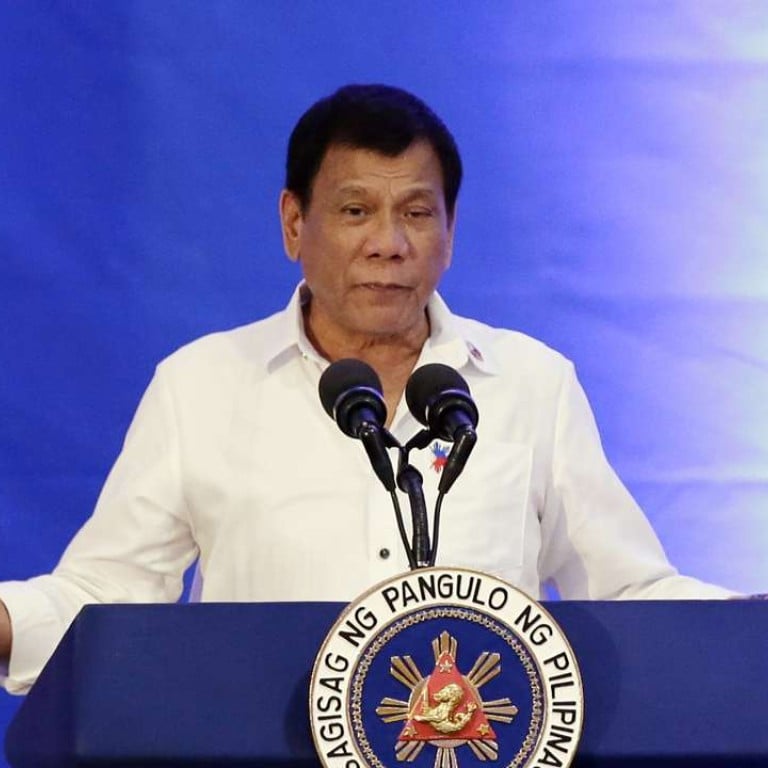 UN official calls on Philippines to give up targeting street sellers in its war on drugs, as more Filipinos seek asylum in Hong Kong
United Nations calls on Philippine President Rodrigo Duterte to tackle problem at source by focusing on major organised crime and trafficking groups
A top United Nations drugs official has called on the Philippines to shift the focus of its war on drugs, as figures show the number from the country applying for asylum in Hong Kong almost doubled in the third quarter of this year.
According to figures provided by the Immigration Department, the number of Filipinos filing protection claims increased from 43 between January and March to 84 from July to September.
Philippine President Rodrigo Duterte declared a war on drugs when he took office on June 30, and the country has seen more than 4,900 deaths since that time involving both official police operations and extrajudicial killings, according to the Philippine National Police.
Jeremy Douglas, regional representative for the UN Office on Drugs and Crime for Southeast Asia and the Pacific, said the anti-drugs campaign in the Philippines should shift its focus from low-level street sellers to tackling the problem at its source.
"We recommend focusing on the major organised crime and trafficking groups running the business, coupled with a strong focus on reducing demand through prevention, treatment in communities and health programmes. Neither easy, but very necessary," he said.
"There isn't a successful drug war to date that we can point to that has focused on low-level street sellers and users."
It is unclear whether Duterte's bloody anti-narcotics campaign is directly linked with the rising number of asylum seekers from the Philippines in Hong Kong.
"We have heard of people going into hiding but nothing has been confirmed," Douglas said.
The Immigration Department refused to comment on why Filipino citizens were seeking protection in the city.
From January to September, "among the total number of 3,295 non-refoulement claims, the Immigration Department received 190 claims by nationals of the Philippines", a spokesman said.
The applicants claimed they were at "risk of being subjected to torture … and/or persecution in that country".
Cynthia Abdon-Tellez, general manager of the Mission for Migrant Workers, and a Filipino, said her organisation had received queries about the procedures for applying for asylum.
"Some asked about it, but they didn't explain why they were asking … We simply explained the procedures," she said.
Abdon-Tellez said there was a feeling of ambivalence among the Filipino community in Hong Kong when it came to the war on drugs back home.
"I would say most people like the idea of fighting drugs, but there are killings going on and we are not sure if some deaths are related to drugs ... It's a very tricky situation," she said.
A human rights activist based in the Philippines who preferred not to reveal his identity said those who had managed to flee the country were likely wealthy people.
"A huge majority of the victims of this drug war are poor people, who can't afford even flip-flops," he said.
A coalition of Filipino rights advocates launched the Network Against Killings in the Philippines on Wednesday. The group seeks to stop extrajudicial killings, demands accountability from the government and calls for human rights for all.
Of the 4,942 reported deaths linked to the anti-narcotics campaign since July 1, 1,941 died in police operations and 3,001 were victims of extrajudicial or vigilante-style killings, according to data compiled by news website Rappler.
Organised crime in other regions of the world has led thousands of families to flee their homes. "Violence and persecution generated by transnational organised crime, gang-related violence and drug cartels ... are likely to be the primary causes behind the increasing numbers of asylum seekers from Central America in the United States" in 2015, a report by
UN Global Trends
said.
As of the end of September, there were 10,815 outstanding claims in Hong Kong, with 483 of them filed by citizens of the Philippines.
This article appeared in the South China Morning Post print edition as: 'change target in war on drugs'