Focus
Get more with myNEWS
A personalised news feed of stories that matter to you
Learn more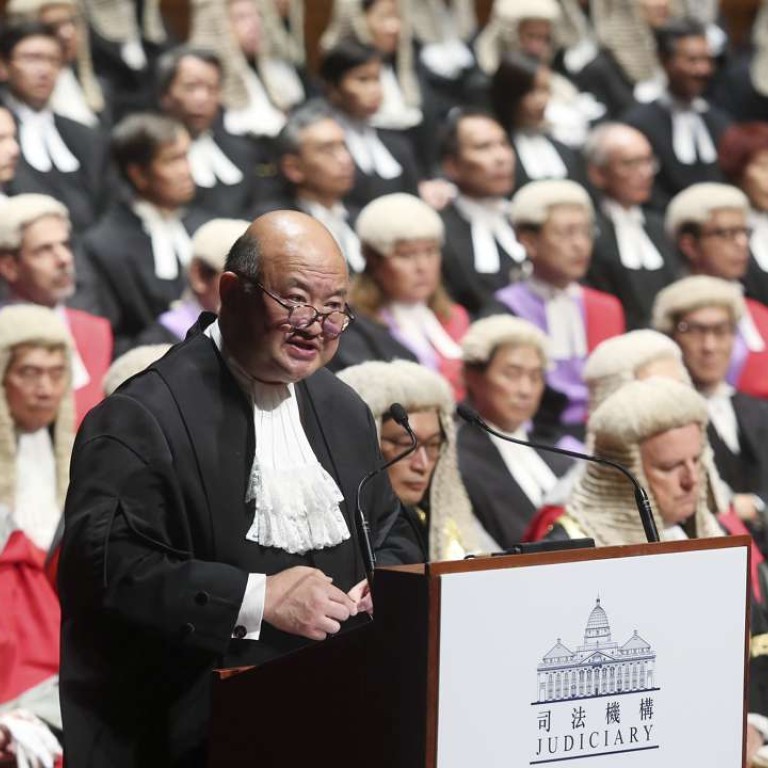 Beijing throws the book at Hong Kong's foreign judges
The jailing of seven policemen for beating up a protester has led to an outpouring of anger at the Briton who passed sentence and reopened debate about the number of expats in the court system
In her book Justice without Fear or Favour published in 1999, former magistrate Marjorie Chui, the first Chinese woman on the bench in Hong Kong, launched a thinly veiled attack on the judiciary's then heads, who were said to have allowed expatriates to continue to dominate the upper echelons of the court system despite the city's imminent return to Chinese rule in 1997.
Almost two decades on, while similar sentiments occasionally surface in postcolonial Hong Kong, they have been eclipsed by a recent outpouring of grievances from across the border against the purportedly slow pace of localisation of judges here.
The hostile rhetoric, coinciding with Beijing's assertion of its tough stance against the former British colony during the annual "two sessions" – meetings of the Chinese People's Political Consultative Conference and National People's Congress – contrasts with some regional rivals' pronounced openness to enlisting the help of top judicial minds from other countries in order to advance their justice systems.
The latest complaints were essentially triggered by the
jailing last month of seven Hong Kong policemen
for assaulting an Occupy protester in 2014, by District Court judge David Dufton. Some commentators and police sympathisers suggested "foreign judges" were predisposed to "favour the pro-democracy camp".
Tian Feilong, an associate professor at Beihang University Law School in Beijing, argued that the two-year prison terms were too h­arsh.­
"[Foreign judges] cannot in particular understand the 'one country' connotation and the legal interest issues in Hong Kong Basic Law," Tian told the Post.
The academic, also a deputy director of the institution's One Country Two Systems Legal Studies Centre, said "local" judges might show a different inclination towards the same case.
"While local judges might not necessarily hand down a light sentence, they could have attached importance to the public order interest ... They could have been sensitive to Hong Kong's deteriorating social order under the impact of social movements," Tian explained.
In his view, the appointment of foreigners to the bench could lead to defects in protecting the public interest. He cited the chaos in the English courts caused by decades of interference by European judges.
English courts would soon be on their own again as the European Union would no longer hold sway after Brexit, Tian said.
The academic suggested that Hong Kong judges without Chinese nationality be confined to handling more technical cases such as commercial disputes, and those related to the implementation of international treaties.
"In fact, justice can neither be entirely neutral nor technical. It always concerns political sensitivity, cultural values and balancing of public policy objectives," Tian said.
He noted the absence of rules on the ratio between foreign and local judges in the city.
"Because no rule on the ratio has been set, it is difficult to say if it is against the law. But is this reasonable?" Rao said on Sunday. "Hong Kong is not short of local talent, so should the ratio be adjusted?"
Peter Wong Man-kong, a veteran Hong Kong member of the national legislature, said the city should stop hiring judges who are foreign nationals so as to ensure their allegiance to Hong Kong and the mainland.
"We should stop hiring foreign judges from now on ... and incumbent foreign judges should not take part in constitutional litigations," Wong said.
He argued that since judges' foreign nationality indicated allegiance to a foreign sovereignty, it is "not desirable" to hire more of them or let them take part in constitutional cases.
Wong's proposal came after National People's Congress Chairman Zhang Dejiang reasserted Beijing's stance on Hong Kong affairs in his annual work report.
Zhang, the top Beijing official in charge of the city's affairs, stressed that Hong Kong was inseparable from China. "To attempt 'Hong Kong independence' is to attempt secession, a serious violation of the 'one country, two systems' principle, the constitution of China and the Basic Law," he said.
But not everyone from the pro-establishment camp sees the urgency to replace foreign judges with locals.
"The Basic Law provides that we may invite distinguished judges of other jurisdictions to come to sit in Hong Kong as non-permanent judges, so I don't think there is a need for change at this stage," the Basic Law Committee vice-chairwoman said in Beijing on Tuesday.
"It is to the advantage of Hong Kong that we should have judges from other jurisdictions as well."
Neighbouring states like Australia and Singapore also see the benefits of having outside help.
Media reported that foreign judges could be flown in to rule on court cases in South Australia, including criminal trials, under changes sought by the southern state's chief justice, Chris Kourakis.
Singapore has also acted, although international judges are only permitted to hear cases in its international commercial court and appeals from such cases.
The specialist court, officially established in January 2015, comprises eminent jurists from other jurisdictions, including the United States, Australia, France and Hong Kong.
The city state's move to allow foreign judges to hear commercial cases is widely seen as a boost to its standing against regional rival Hong Kong, whose judicial independence has been increasingly questioned by the international community.
Professor Simon Young Ngai-man, of the University of Hong Kong's law faculty, said the presence of foreign judges could reinforce the independence of courts in the city.
He cited the composition of the Court of Final Appeal and said the expatriate judges of the city's top court were the most senior and experienced judges from the common law world.
"They bring their knowledge and expertise to the Hong Kong court. Their valuable insights could enhance the Hong Kong courts," Young said.
The academic said law would become stagnant if all judges shared the same background or gender, adding that diversity on the benches should be maintained at all levels of Hong Kong courts.
"The law is constantly changing and we need judges with different backgrounds.
"Hong Kong is still very much an international city," he said. "We have to get beyond the race or background of judges."
Young also rejected suggestions that non-Chinese judges were unable to pay proper regard to the "One China" principle enshrined in Hong Kong's Basic Law.
Hong Kong courts, with the legacy of English common law, have long been characterised by their diversity.
Mr Justice Roberto Ribeiro, a permanent judge of the Court of Final Appeal, was born in Hong Kong and educated in the city before reading law in the United Kingdom.
High Court judge Mr Justice Mohan Bharwaney was also born in Hong Kong. He read law at the University of Hong Kong and began his career as a barrister in the city in the 1970s.
The judiciary and justice department both pointed out that under Article 92 of the Basic Law, judges shall be chosen on the basis of their judicial and professional qualities and may be recruited from other common law jurisdictions.
"The presence of judges from other jurisdictions does not affect the prospect of local legal talents joining the judiciary.
"Instead, overseas judges facilitate cross-fertilisation and also reinforces the independence of our judiciary," a Department of Justice spokesman said.
Although the judiciary could not provide statistics on the nationalities of the city's 157 full-time judges and judicial officers, it stressed that 89 per cent of them were bilingual – English and Chinese.
Only 6 per cent, or about 10 by a Post calculation, are monolingual.
Retired judge Woo Kwok-hing and Carrie Lam Cheng Yuet-ngor, both chief executive election candidates, said all judges in Hong Kong would abide by and make judgments in accordance with the law.
"Expatriate judges contribute in exactly the same way as local judges as they are performing the same function in the judiciary," Woo told the Post.
"There is no reason to seek to replace expatriate judges or to limit their scope of work. The pace of localisation is fine."
Additional reporting by Tony Cheung in Beijing
This article appeared in the South China Morning Post print edition as: Beijing throws the book at foreign judges