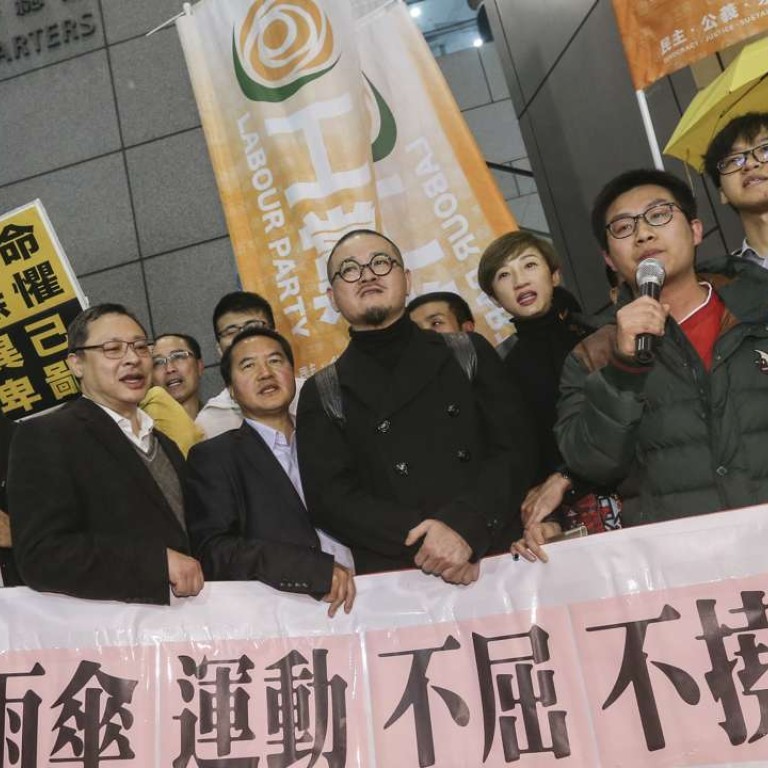 Occupy leaders each face public nuisance charges over 2014 Hong Kong protests
Three principal organisers of Occupy movement each to face three counts, including inciting others to incite others to commit public nuisance, while the others face at least one charge of nuisance or inciting
Benny Tai Yiu-ting, the Reverend Chu Yiu-ming, and Dr Chan Kin-man are facing charges for acts committed between March 27, 2013, when they published their Occupy manifesto in local newspapers, until December 2, 2014, when they turned themselves in to police.
The six others who accompanied the trio on Monday night face charges for actions police allege were committed between September 27 and 28, 2014.
The actions of the nine were said to have taken place at one of three locations in Admiralty: Tim Mei Avenue; the junction between Tim Mei Avenue and Harcourt Road; and Fenwick Pier Street.
Below is the Post's coverage of the visit paid Monday night by nine pro-democracy activists to Hong Kong police headquarters hours after they learned they would be arrested for their roles in 2014.
10.40pm – Heavier sentence eyed?
Tai says some academics say the common law crime of public nuisance shows "prosecutors are eyeing a heavier sentence". Transferring the case to District Court is possible to increase the likelihood of the matter "deterring" others, he adds.
1 0.38pm – Three counts for Benny Tai
Benny Tai faces three counts: conspiracy to commit public nuisance, inciting others to commit public nuisance, as well as inciting others to incite others to commit public nuisance.
He comments on the timing of today's developments. "There is reason to believe political consideration was involved. I'll leave it to the public to judge."
10.36pm – Public nuisance for Lee
Handed the mic, Lee Wing-tat says he faces one count of inciting public nuisance on September 28, 2014.
10.35pm – The nine emerge
Benny Tai speaks first and says he will seek legal counsel before deciding whether to plead guilty, but he adds: "If the offence is in line with the facts, I am prepared to plead guilty."
9.30pm – Tanya Chan emerges
Chan, the lone woman of the nine, appears outside the station. She says the nine will soon issue a statement on their meeting with police that began two hours ago.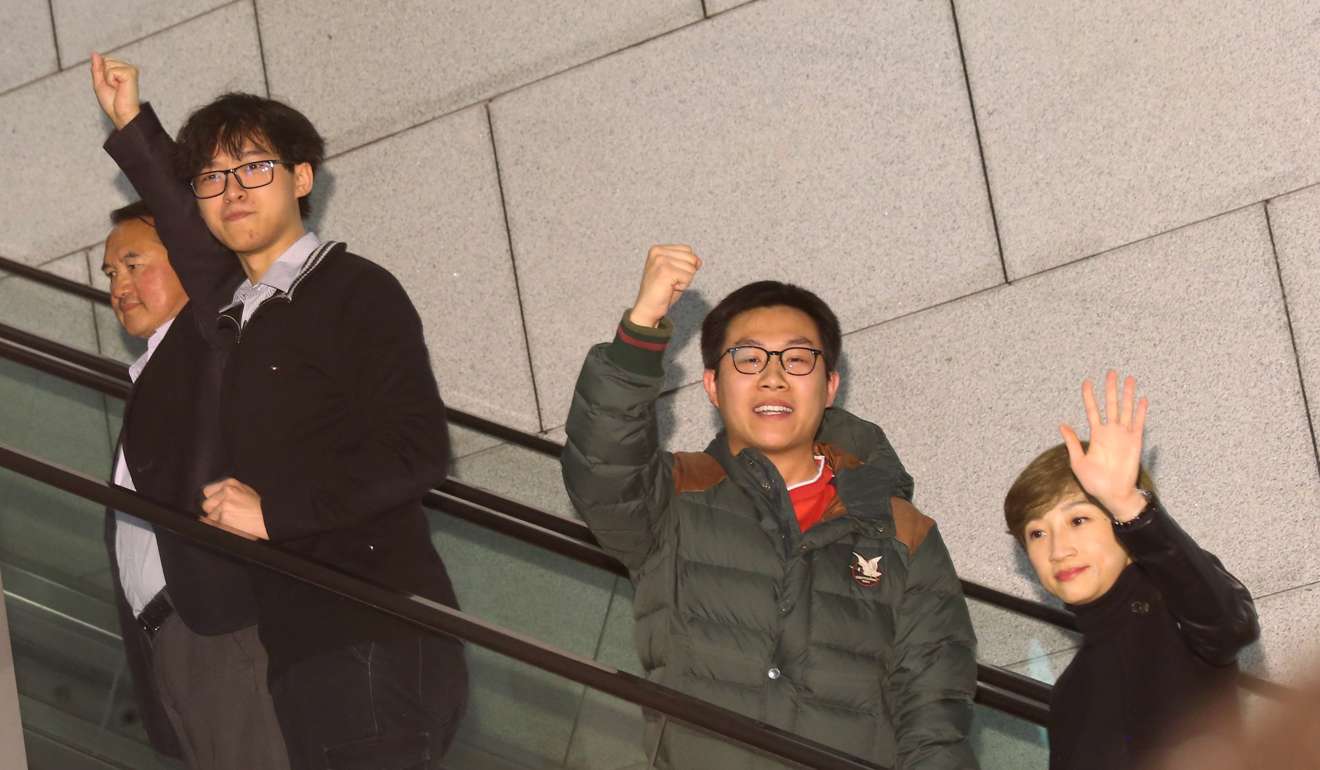 8:45pm – Clear message
Demosisto party lawmaker Nathan Law Kwun-chung, who participated in the protests as a member of the Hong Kong Federation of Students, said the government's pursuit of the arrests sent a clear message to the public that the new administration would continue its hardline approach.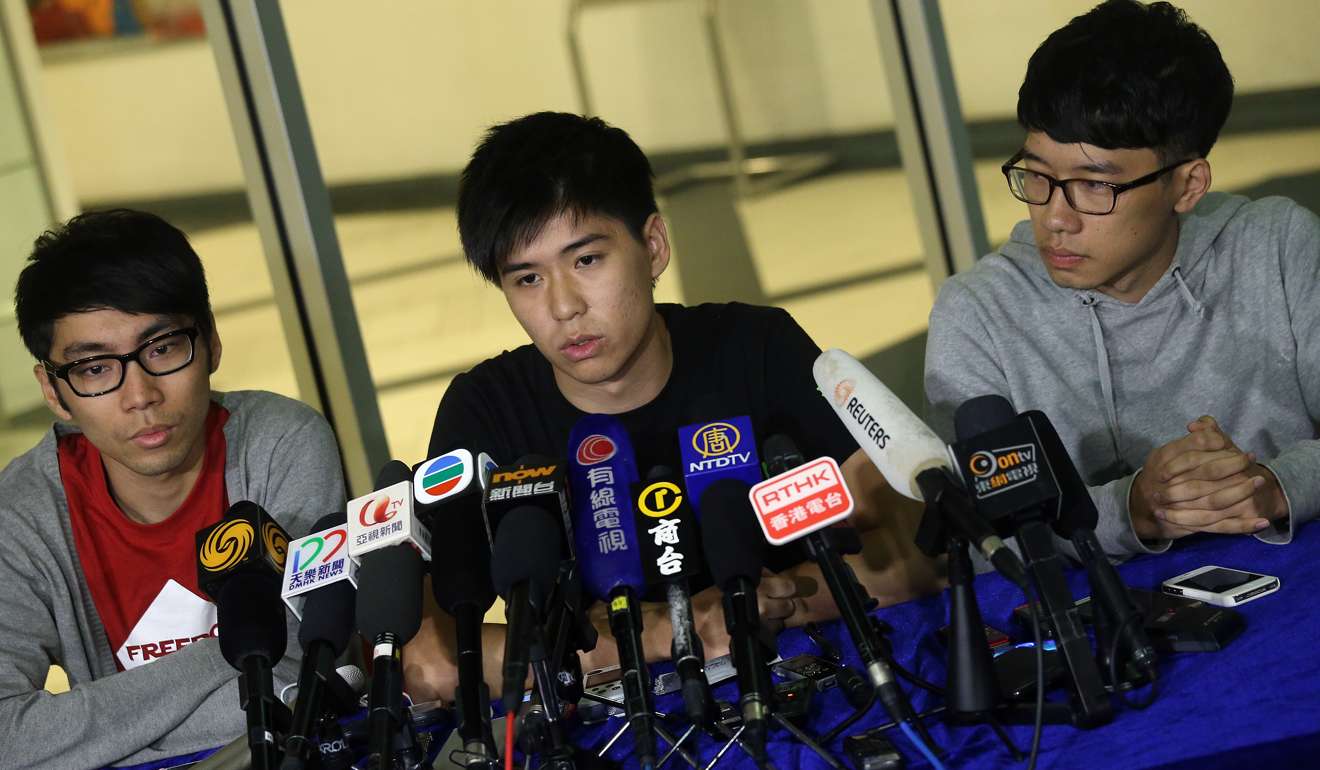 "It is crystal clear that the objective of the Beijing government is to wipe out all democratic forces in Hong Kong, from the prosecution of umbrella movement leaders to
unseating democratic lawmakers
," he said.
8.20pm – Joshua Wong next?
Hong Kong student activist Joshua Wong Chi-fung, one of the leading voices of the 2014 protests, said he expected to be targeted soon.
"I wouldn't be surprised if I was next," he said, believing that the day's developments proved that whether it's Leung Chun-ying or Carrie Lam, neither leader hopes to mend the city's divisions.
"They're the ones who continue to polarise society," he added.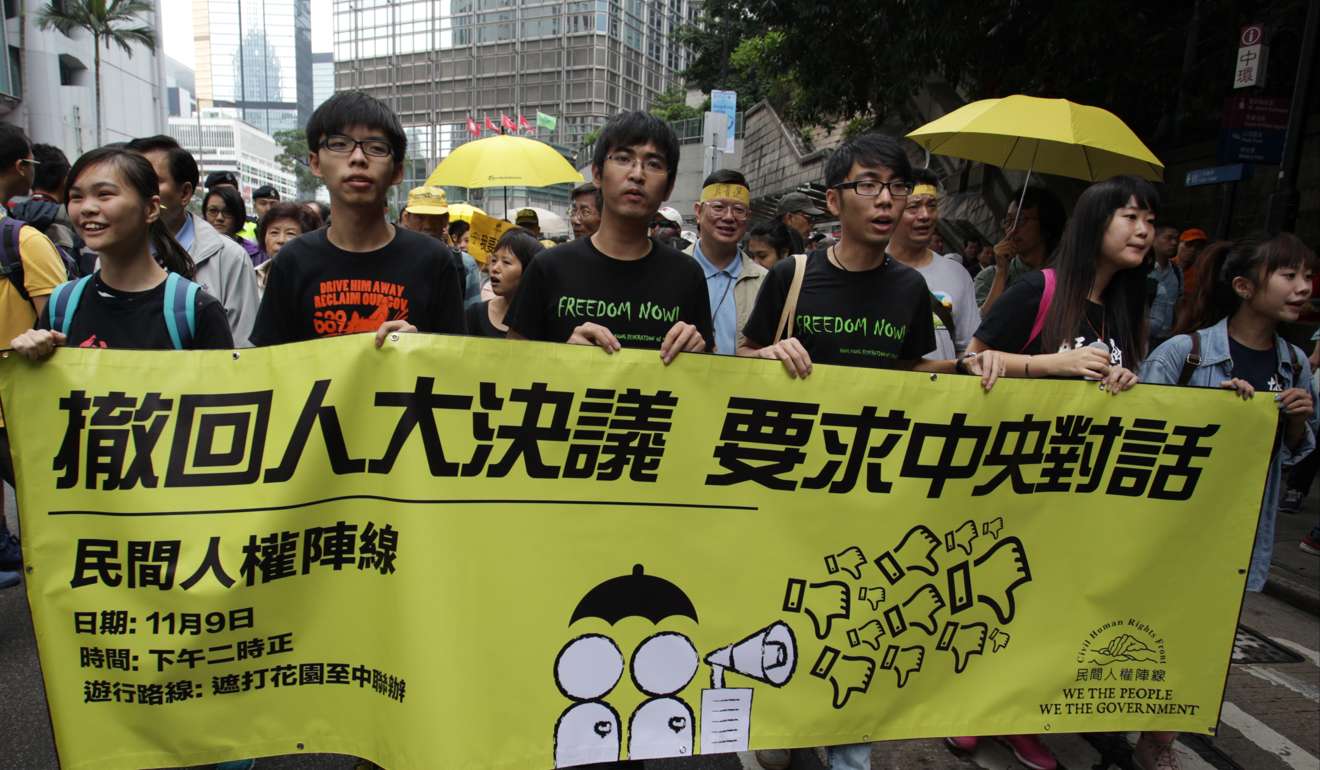 8pm – 'Ironic' timing decried
Former Civic Party chairman Alan Leong Kah-kit called the timing of the planned arrests "ironic".
"This is particularly ironic, when less than 24 hours before the accused received phone calls from the police force, the chief executive-elect Carrie Lam announced to the world that she would take it upon herself ... to mend the divide in Hong Kong."
The former lawmakers urged Lam how laying "the most severe of charges against the umbrella movement participants" could end Hongkongers' frustration.
He also questioned whether political motivations lurked behind the choice of a possible charge of public nuisance under the common law.
"There of course are other offences in the public order ordinance that could be laid against them, such as unlawful assembly," he said. "But it seems the government is determined to lay the most serious of offences against the umbrella movement participants, making sure the most severe of sentences are imposed upon their conviction."
7.40pm – Chants for universal suffrage
As the nine walk into the station, their supporters shout: "We want universal suffrage! We're not afraid of anything!"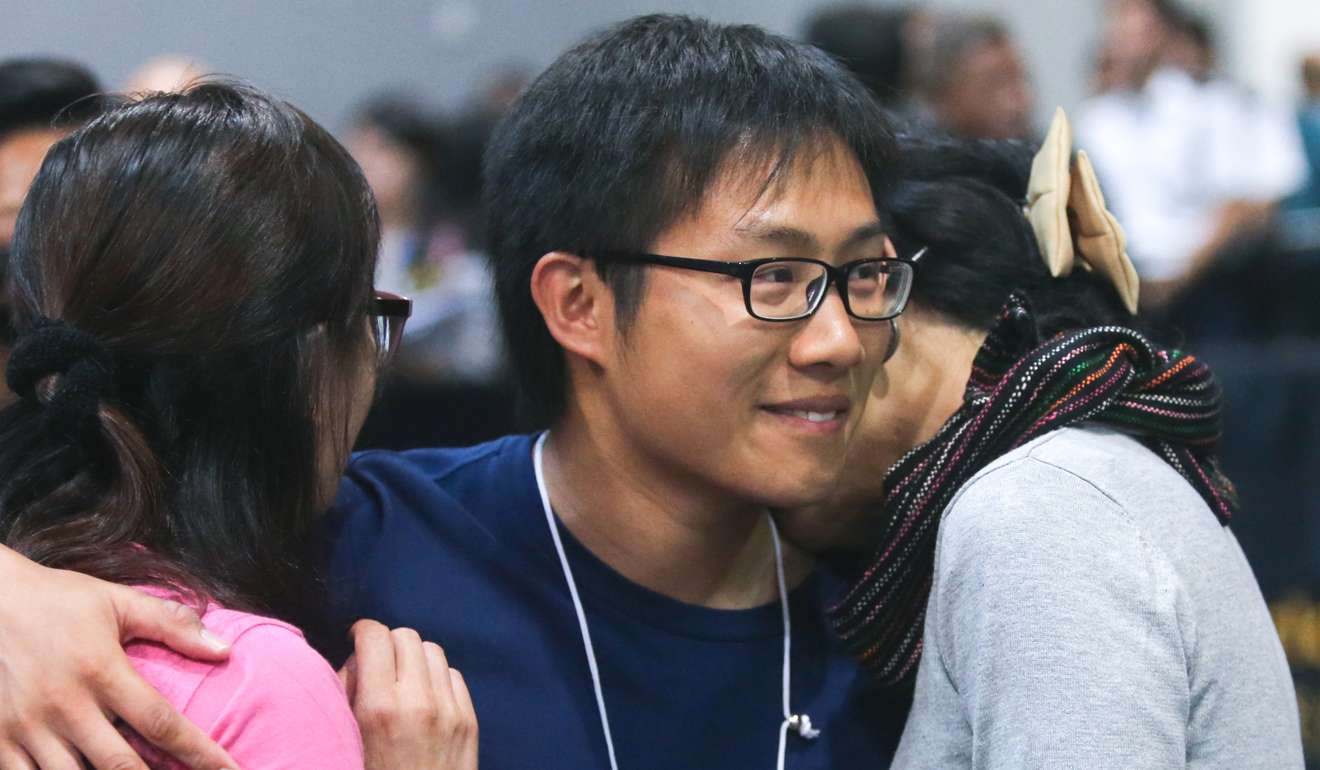 Civic Party lawmaker Tanya Chan, one of the nine, slams Chief Executive Leung Chun-ying for dividing the city. She urges people to unify.
7.37pm – No fear from former student leader
Former student leader at the Occupy protests, Tommy Cheung Sau-yin, said he did not fear prosecution.
"As a participant of the civil disobedience campaign, we have been prepared for this," he said, addressing supporters outside the station.
7.34pm – 'Political persecution'
Standing outside the station, Chan Kin-man said the "political persecution" could not undermine "a determination to seek universal suffrage".
"Even if I have to be kept behind bars at the end of the day, I would see it as my honour."
He continued: "This kind of political persecution will not destroy our determination to strive for democracy. Even if I am jailed, I will be proud that I have joined the umbrella movement".
Chan claimed he was told he would be charged with incitement. He said no one deserves such a charge more than Leung after rounds of tear gas were fired upon protesters during the Occupy movement.
7.31pm – Long journey to come
Occupy co-founder Benny Tai Yiu-ting said a long journey of court proceedings would ensue following tonight.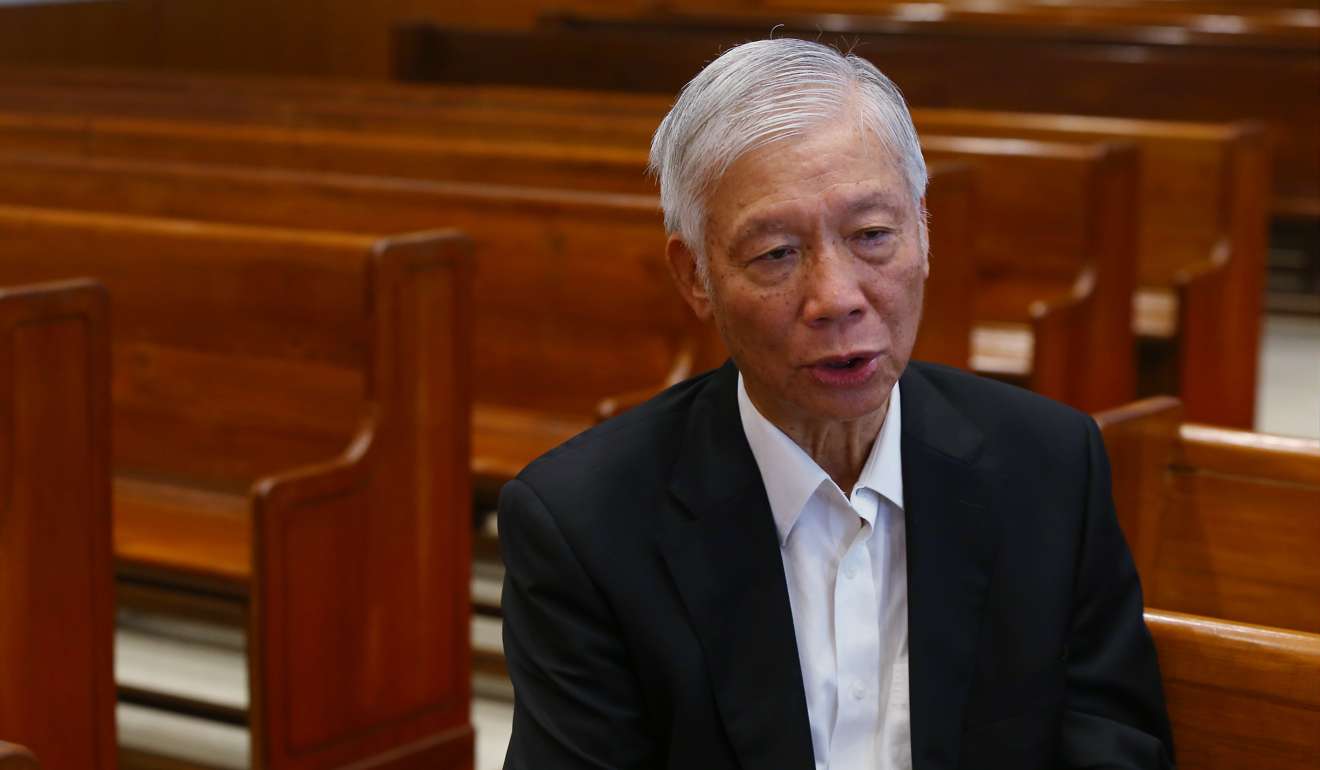 But he urged people not to give up on the spirit, love and peace the movement preached in pursuit of democracy, claiming such an approach could gain additional support from more people.
7.28pm – Ready
Outside the police station, Democrat Lee Wing-tat said he had been prepared to get arrested and even imprisoned when he took part in the Occupy protests in 2014.
"What is ironic is that it comes just one day after we have elected a new chief executive who boasted about healing the social divide and uniting society."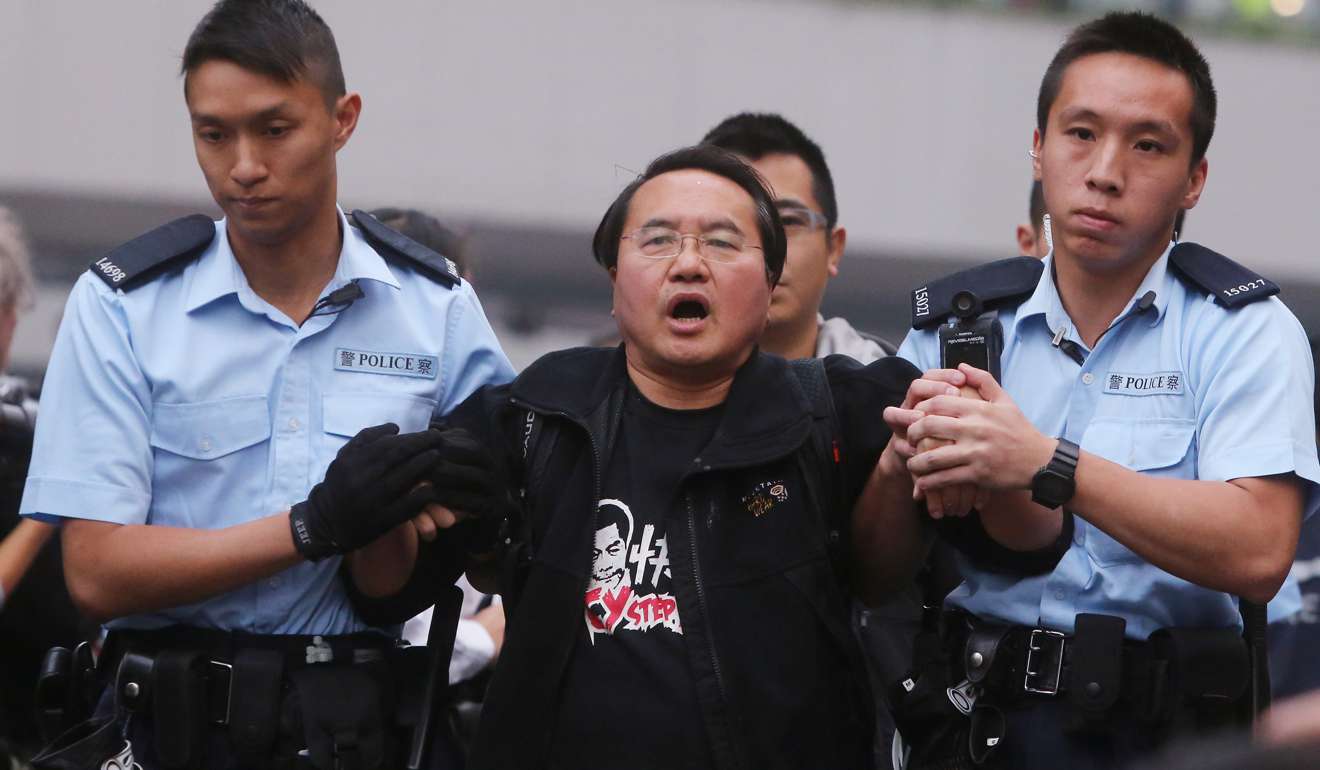 "Healing social divide cannot be achieved by arresting people," the former lawmaker added. "It will unite us more to fight with the government."
7.26pm – Justice speaks
Dismissing claims that the prosecution was brought by Lam, a spokesman from the Department of Justice said the matter should not be politicised or viewed through a political lens.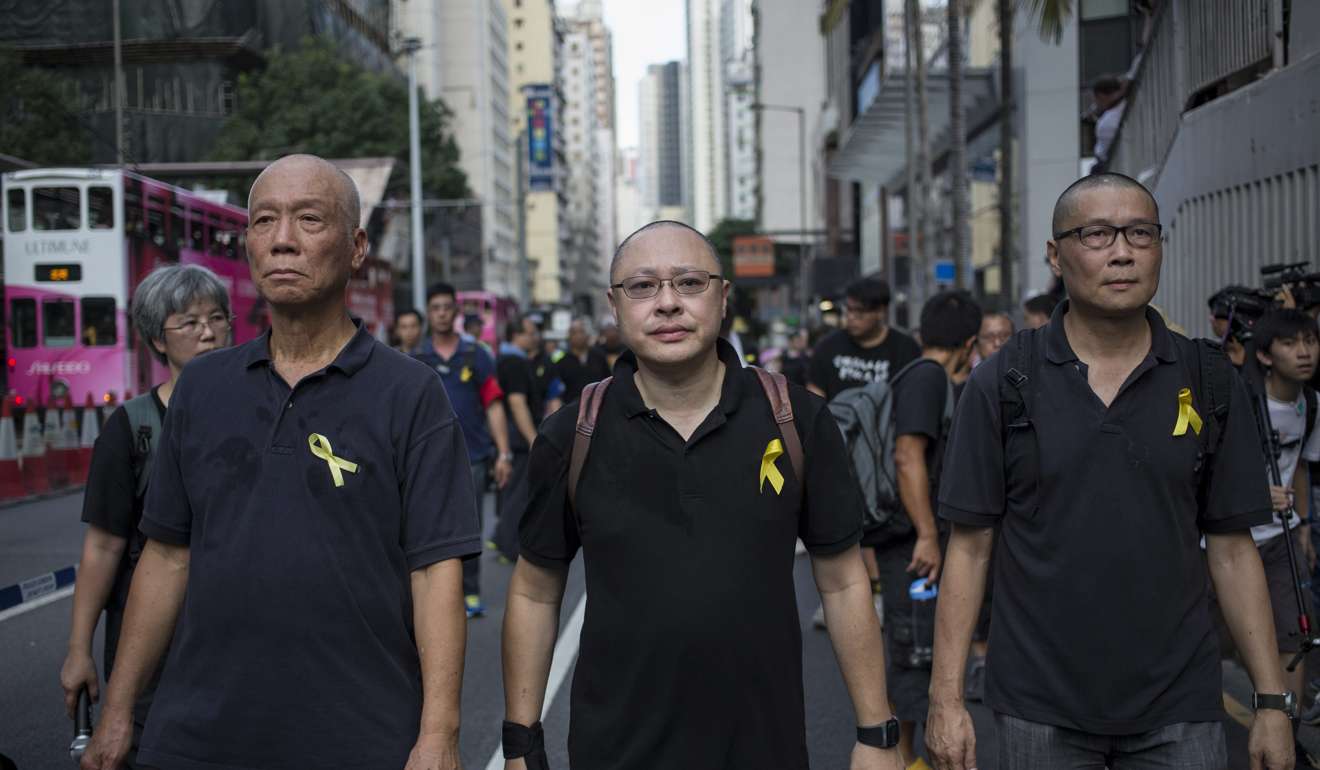 "The department stresses that such surmising is completely baseless and utterly untrue," he said. "When handling prosecution work, the department does not give prior notice to the executive branch, nor did [it] give prior warning to the chief executive-elect, Mrs Carrie Lam, as suggested by certain rumours."
"As in other criminal cases, the department generally endeavours to handle cases as soon as possible."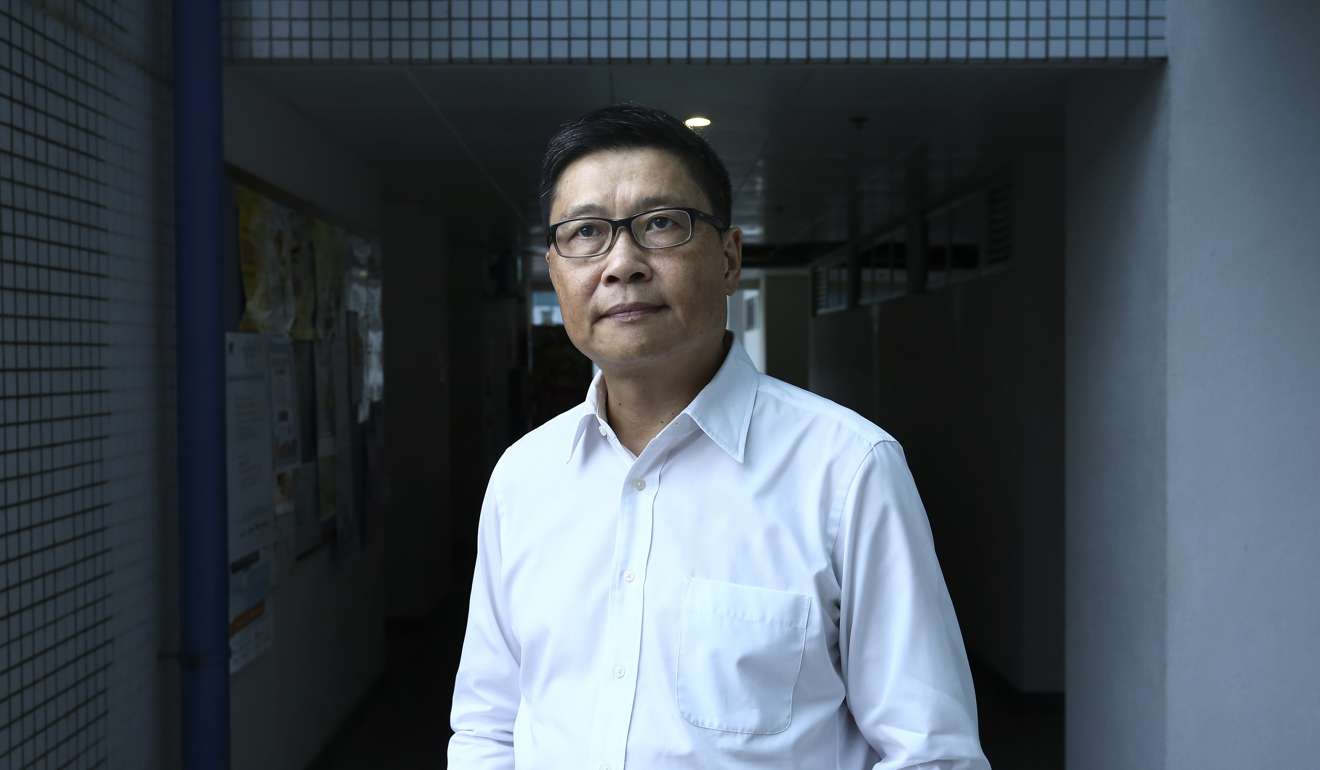 7.15pm – Support for the nine arrives
Members of at least four political parties – Democratic Party, Labour Party, Civic Party, Demosisto and the radical People Power group – have gathered outside the Wan Chai police station in support of the Occupy Central leaders and activists that are set to be arrested and charged later tonight.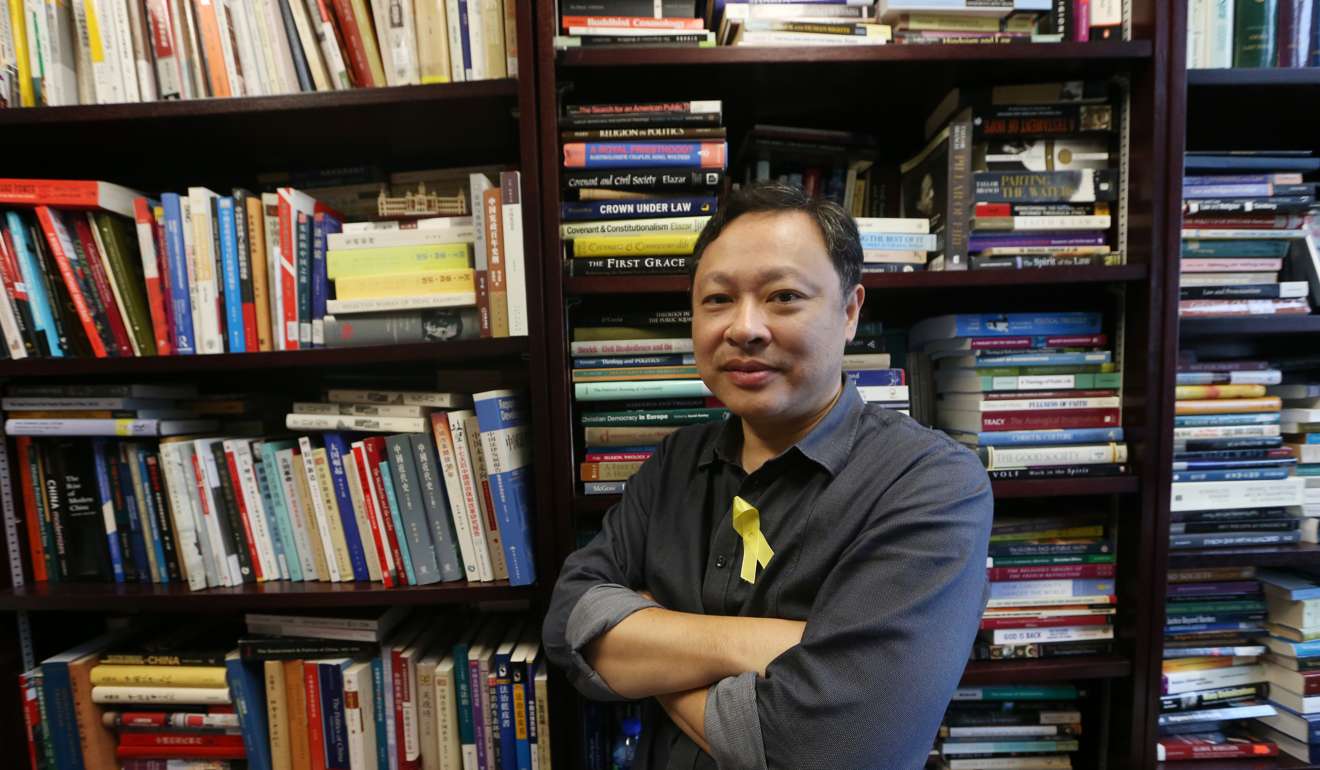 Dozens are holding yellow umbrellas – a symbol of the 2014 pro-democracy protests – and holding placards that read "we stand united" and "civil disobedience: don't forget why we started".
Background
Nine key protesters from Hong Kong's 2014 pro-democracy Occupy protests have arrived at the Wan Chai Police headquarters to face arrest and charges dating three years ago, just hours after unexpected phone calls from the force this morning.
Those who emerged at the station included the three founders of the unprecedented 79-day sit-in: Reverend Chu Yiu-ming, and university scholars Benny Tai Yiu-ting and Chan Kin-man.
Lawmakers Tanya Chan and Shiu Ka-chun were also among the group, as well as Tommy Cheung Sau-yin and Eason Chung Yiu-wah, two former student leaders of the Hong Kong Federation of Students.
The other two were League of Social Democrats vice-chairman Raphael Wong Ho-ming and former
Legislative Council
member Lee Wing-tat.
They are expected to face a public nuisance charge under common law, which carries a maximum sentence of seven years.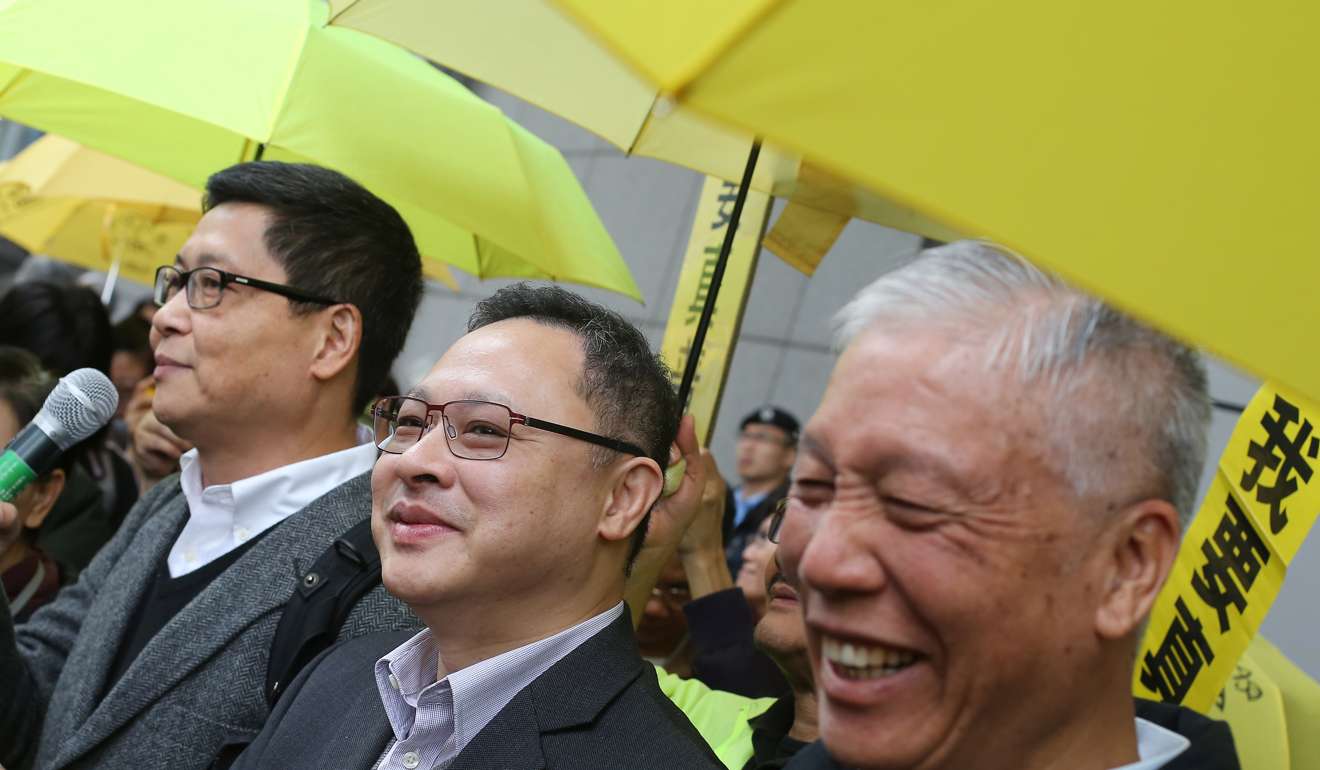 She said she had not been aware of the planned prosecution.
This has prompted some of those targeted to call Leung's move a "poisoned chalice" for the chief executive-elect, deliberately left by Leung. Another said he thought the calls had been delayed until after the poll to protect Lam's campaign.