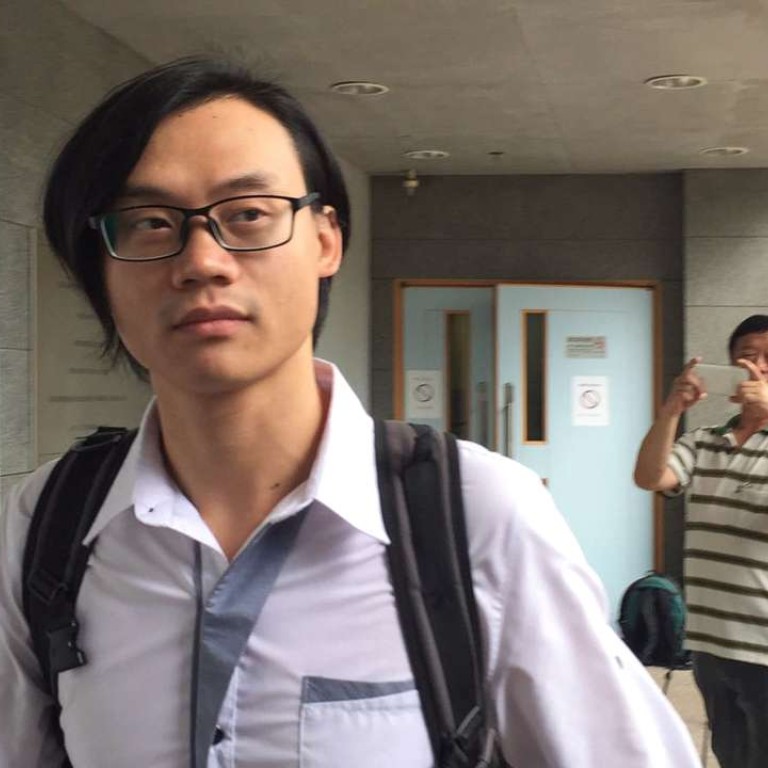 Waiter, jailed over Mong Kok riot, loses appeal against his conviction and sentence
The High Court refused his ­applications after finding the trial magistrate did not make any material errors in the earlier decision
A waiter,
jailed for nine months
for throwing water bottles and resisting arrest during the Mong Kok riot last year, has failed to overturn his conviction and sentence.
Chan Pak-yeung, 30, waved goodbye to his family and supporters as he was escorted away from the dock to serve his sentence on Wednesday.
The High Court refused his ­applications after finding the trial magistrate did not make any material errors that would jeopardise the safety of the conviction nor impose a manifestly excessive sentence on charges of assaulting and resisting police.
Madam Justice Judianna Barnes said the court must send a strong message that courts will not tolerate or condone assaults inflicted on police officers in execution of their duties.
"Sentencing must carry a deterrent effect," she said on Wednesday. "While the magistrate's starting point of nine months in sentencing was rather severe, the court does not find it manifestly excessive based on the serious circumstances in the present case."
The Civic Passion member
was the first to be convicted over the violent clashes on Lunar New Year, which began with a hawker control operation going wrong and saw an officer firing warning shots while protesters set fires and hurled bricks at police.
Six others have been convicted since then, with all but one lodging appeals, including two students and a chef who were jailed for three years earlier this month on a joint rioting charge.
In a written judgement, Barnes said So Wai-tak is an experienced magistrate who had considered all the evidence to find the officers reliable in Chan's identification and that it was not possible for him to be an innocent bystander observing a public assembly when he was equipped with mask and gloves.
While she sided with the defence in finding So committed a very serious error in drawing negative inference from Chan's silence upon arrest, she agreed with prosecutors that it was not a material error as she found the magistrate would have reached the same conclusion without it.
Among the past examples cited by defence was an Occupy case before the same magistrate, in which a protester was jailed for four weeks for similarly throwing a water bottle. The case of activist Ken Tsang Kin-chiu jailed for three weeks for resisting arrest was also referenced.
But Barnes concluded they were not comparable as the present case took place at the height of the Mong Kok disturbances, with the possibility of clashes erupting at any time.
She also noted that sentencing at the magistrate level carried no binding effect nor reference value to the higher court.
This article appeared in the South China Morning Post print edition as: Judge rejects appeal of Mong Kok rioter