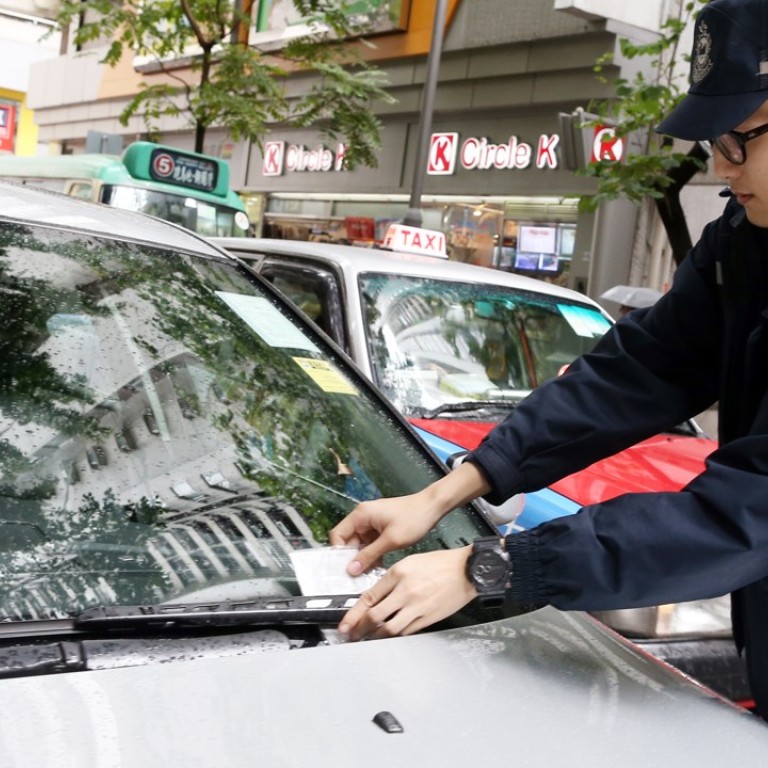 Hong Kong transport and logistic industries say parking fine rise will affect livelihood of commercial drivers
They call for government to tackle rising number of private cars and lack of parking spaces instead
Hong Kong's transport and logistics industries have joined the chorus of disapproval against the government's proposed 50 per cent rise in illegal parking fines as the increase, coupled with a recent parking fee raise, will hit professional drivers hard.
Representatives called on the government on Friday to shelve its proposal of increasing fixed penalties by 50 per cent from June next year for illegal parking, amid a severe lack of parking spaces for commercial vehicles.
At a Legislative Council subcommittee meeting for the proposal, various transport and logistics groups argued that the fine increase would not resolve the road congestion problem without a plan to curb the growth of private cars and address parking needs of commercial vehicles.
"While the government claimed to be targeting the reduction in the number of private cars and air pollution, it is spending a huge sum on major road construction projects such as the
Hong Kong-Zhuhai-Macau bridge
, which will encourage Hongkongers to own cars to drive across cities," president of Hong Kong Automobile Association Kenneth Ng Shing-yip, said.
Adding fuel to the fire, private car parks recently raised parking fees by as high as 10 per cent after the government announced in March fee rises for 13 government car parks, and the Airport Authority's plans to raise its car park fees by 9 per cent in June.
The government's proposal would see penalties for 27 parking offences increase. For example, two fixed penalties of HK$320 and HK$450 will be raised to HK$480 and HK$680, based on severity.
A Federation of Hong Kong Transport Worker Organisations spokesman said the proposed rise would affect the livelihood of professional drivers, especially those for goods vehicles, due to a lack of parking and loading spaces.
"The government should review its logistic planning on whether the supporting measures can satisfy the needs of the logistic industry," he said.
However, Deputy Secretary for Transport and Housing Ivy Law Chui-mei defended the increase, saying the last adjustment was made in 1994 and the proposed rise only reflected the accumulated inflation to be deterrent.
She admitted that the parking needs of commercial vehicles should be viewed as a top priority and that the Transport Department would launch a consultancy study on how to cope with their demands.
The number of penalty tickets issued last year stood at 1.45 million, up from about 600,000 in 2005, while the number of licensed vehicles was over 710,000 as of February.
There are about 690,000 parking spaces in the city, of which 195,000 are for public use and 495,000 are designated for private use in commercial, residential and industrial premises.
This article appeared in the South China Morning Post print edition as: Road to parking fine increases gets even rockier