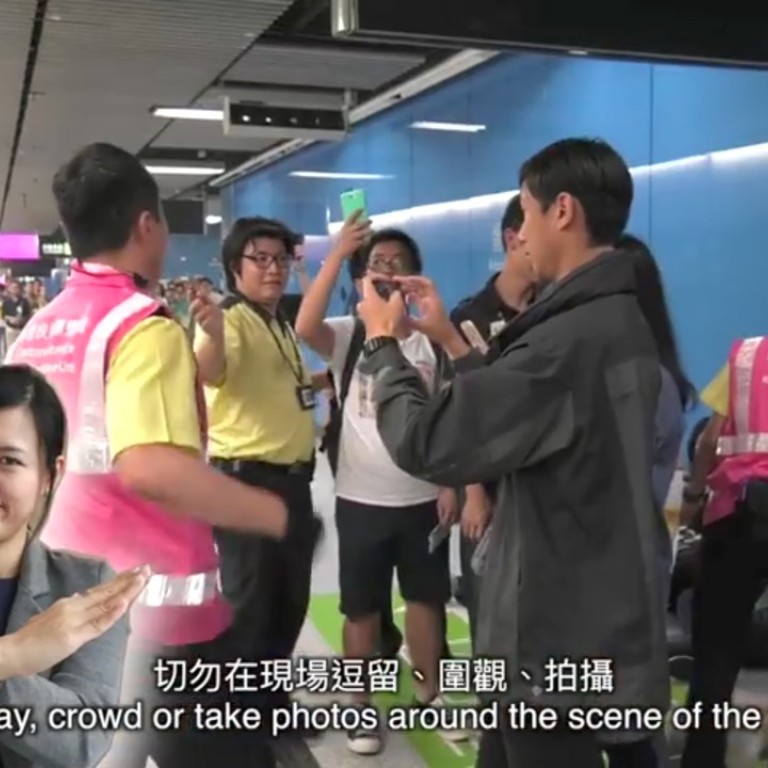 Hong Kong police post Facebook video on dos and don'ts during emergency situations ahead of visit by state leaders
Force holds anti-terrorism drills as part of increased security
Hong Kong police have released a list of dos and don'ts teaching the public how to react to emergency situations at major public facilities as the force holds anti-terrorism drills as part of the unprecedentedly tight security arrangements for visiting state leaders next month.
A minute-long video – the first in a series – released on the police Facebook page on Monday starts by reminding Hongkongers not to linger and take photographs when an unexpected incident breaks out in public areas or on public transport.
There had been widespread public criticism of bystanders who were occupied with taking smartphone photos and videos while ignoring their own safety and failing to extend a helping hand to victims during the
arson attack on an MTR train
near Tsim Sha Tsui station in February.
The presenter in the Facebook clip, which included scenes enacted in an MTR station and train, reminded members of the public to pay attention to announcements and information displayed at the sites and posted on the relevant social media platforms.
Instructions given by staff or rescue officers should be followed, she added.
The two remaining videos on this topic are expected to be posted on Facebook on Tuesday and Wednesday.
The online education drive came as the
Post
learned that more than a third of the city's police force would be deployed to protect state leaders during their visit next month to mark
the 20th anniversary of the city's return to Chinese sovereignty
. The deployment was described as the biggest police operation since the 1997 handover.
The 29,000-strong force is also due to mount its largest five-day anti-terror drill, code-named "Hardshield", this week to ensure officers are ready for any scenario, including terrorist attacks.
But the Post learned that there was no intelligence to suggest Hong Kong had been specifically targeted for attack and that the terrorism threat level remained "moderate".
This article appeared in the South China Morning Post print edition as: Police make emergency dos and don'ts video