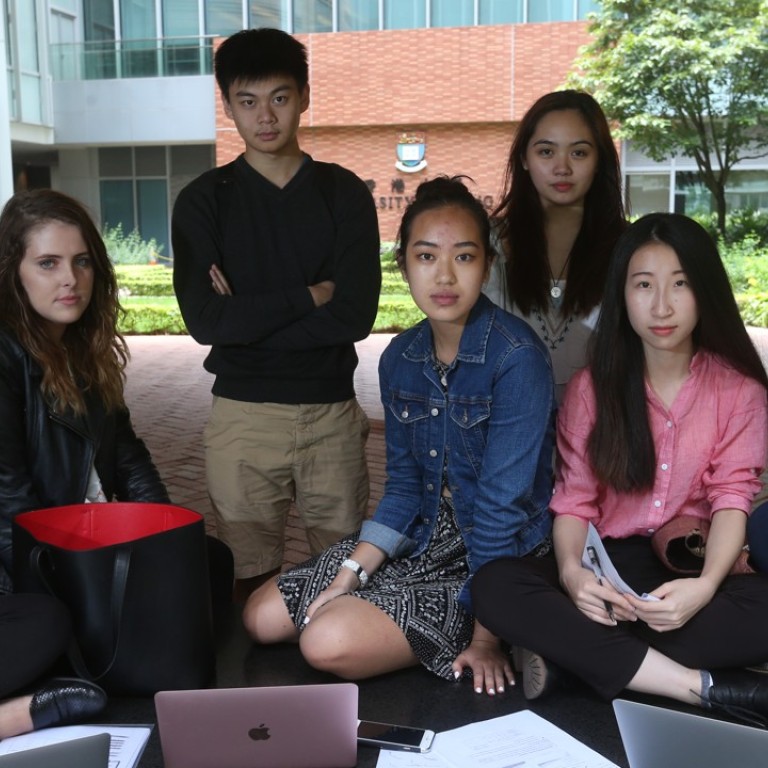 Study finds Hong Kong domestic helpers subjected to employment terms abuse by more than 70 per cent of agencies
HKU student group warns that if trend continues, city will suffer negative economic impact as workers look for safer shores
More than 70 per cent of employment agencies in Hong Kong charge excessive fees to domestic helpers, withhold their passports, or engage in other illegal practices, a seven-month undercover investigation has found.
The Post obtained details of the investigation by a group of students from the University of Hong Kong who are calling for stronger enforcement action, warning the problem will have a strong impact on the city's economy and prompt domestic helpers to seek better and safer shores.
The group, calling itself Students Against Fees and Exploitation, or SAFE, will officially unveil its findings on Thursday.
The findings of a separate study covering 3,000 Filipino and Indonesian
domestic helpers in Hong Kong
were released on Wednesday. It reflected the plight of the city's two largest groups of domestic helpers, with the majority having no proper resting space and being reduced to sleeping in storage rooms, on balconies, and even in toilets.
Watch: How do Hong Kong's domestic helpers sleep?
During the SAFE undercover investigation, 17 students working together with some domestic helpers covered more than 100 recruitment agencies between last October and last month.
Volunteers posing as new clients – either workers or employers – inquired about job requirements, recording their conversations.
They discovered that
more than 70 per cent of the agencies broke the law, either by overcharging clients or withholding their personal identity documents as leverage to make them pay their debts. Others allowed their partner agencies abroad to break the rules.
"On average, the agencies that engaged in illegal practices in Hong Kong charged between HK$6,000 to HK$8,000 in placement fees," Siya Kulkarni, 20, a student of economics and finance from India, said.
"The way they carried this out varied. For instance, an agency in Causeway Bay told us it would even take six months of the worker's salary, which is obviously illegal."
According to a previous study
, indebtedness due to excessive agency fees continues to expose Hong Kong's domestic workers to human and labour rights abuses.
Tiffany Chan Yan-lok, 22, a local student of economics and finance, said the government saw it as an "issue of a minority" and did not consider it a priority to end such abuses.
But she and the other students who conducted the investigation warned that the existence of such a "black market" was not just affecting domestic helpers, it would also have a long-term impact on Hong Kong's economy.
"Everyone is going to be affected. In the future, there will be a greater need for domestic helpers because of the ageing population," Kulkarni said.
"With the city under the international radar for human-trafficking, gaps in labour laws and people becoming more aware of the conditions in Hong Kong, the supply of domestic workers won't be sustainable."
Shiella Estrade, chairwoman of the Progressive Labour Union of Domestic Workers in Hong Kong, said some domestic helpers had already started considering other options, such as Japan, which began opening up its market this year.
"Others are trying to apply for other jobs in Australia and New Zealand," she said.
"A friend of mine was trying to convince me to go to Japan, because they can get better wages, work eight hours and receive overtime. I am not going because I still believe that raising awareness of workers' rights in Hong Kong is more important."
There are nearly 1,300 licensed employment agencies in the city, monitored by the Employment Agencies Administration.
The government carried out 5,233 inspections between January 2014 and September last year, but only 23 agencies were fined and 13 lost their licences.
"This is a disproportionately small number and is insufficient progress in light of recent research on human-trafficking among Hong Kong workers," Kulkarni said.
Some 350,000 domestic helpers serve 280,000 households in the city, where families rely heavily on them to look after children and the elderly while both husbands and wives go to work.