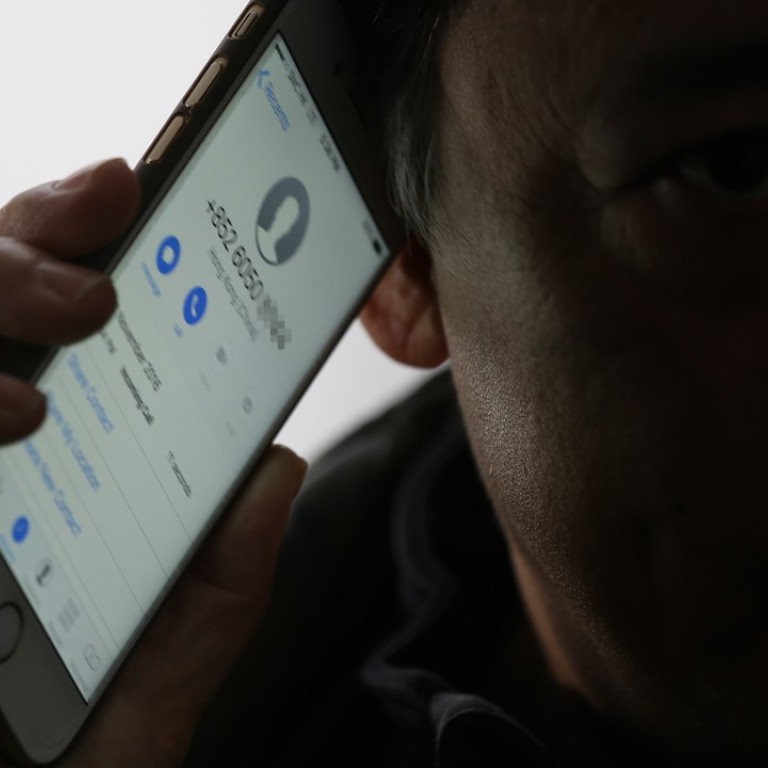 New phone scam on the rise in Hong Kong, downloading software to steal funds
Engineer loses 1.5 million yuan after call from man pretending to be immigration official
A new tactic for scamming money from Hongkongers is gaining popularity, police have said, with con artists increasingly asking their victims to download computer software which lets the thieves move money from their online bank accounts.
An engineer, 38, fell victim to the con last month, losing 1.5 million yuan (HK$1.7 million).
A scammer called the Kwai Chung resident, who moved from the mainland several years ago, on April 4, claiming to be a Hong Kong immigration officer.
The man accused his victim of involvement in a mainland money laundering case. He transferred the call to another man who claimed to be an officer from Shanghai's Public Security Bureau.
Hong Kong police said the man was asked to go to a hotel in Huangguan, Shenzhen, to help with an investigation, and he did so.
"As instructed, he inserted bank-issued USB keys into a computer in the hotel to log into his three mainland bank accounts," one police source said.
"The victim was then asked to download remotely controlled software and let the 'investigators' check his bank accounts."
He said the software allowed someone to connect to and access the victim's computer and take money from his bank accounts.
On April 6, the victim found 1.5 million yuan had been taken, but did not call police immediately.
He realised he had been cheated when no one contacted him and the money was not transferred back to his accounts. He called Hong Kong police on Sunday.
Another source said the tactic in question surfaced late last year, but had been sucking in more victims recently.
Hongkongers continue to fall for phone scams, despite repeated warnings from police not to provide private bank information over the phone, the internet or other channels.
The first three months of this year saw 127 phone scam victims lose more than HK$40 million in the city. Last year Hong Kong police handled 656 phone scam cases involving fraudsters posing as mainland officials, in which victims lost a total of HK$203 million. In 2015, there were 1,423 such cases bagging HK$292 million.
Typically, scammers call victims and tell them a parcel they mailed has violated mainland laws, before being passing them onto someone claiming to be a mainland official. They instruct the victim to prove their willingness to cooperate by transferring money to a mainland bank account.
Hong Kong police said mainland law enforcement officials would never ask someone to hand over money to prove their innocence, or ask them to provide online banking passwords over the phone or via internet.
This article appeared in the South China Morning Post print edition as: Phone scams by download on rise