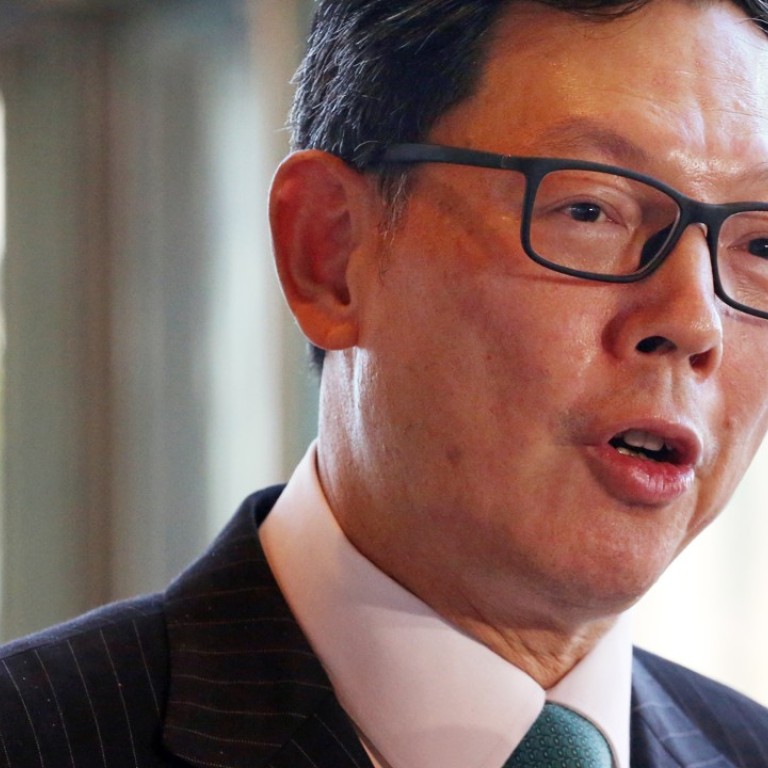 Hong Kong Monetary Authority mulls using facial recognition and fingerprint technology in ATMs
Security boost follows Macau's adoption of the technology, amid central government worries over financial crime
The
Hong Kong Monetary Authority
confirmed on Monday that it would look into using facial recognition or fingerprint technology in the city's cash machines to beef up financial security, as doubts remain whether such biotechnologies are mature and safe enough.
After an exclusive
Post
report that local banks may need to boost ATM security in the battle against financial crime and money laundering, following the footstep of
Macau
, the authority said it would study if the use of facial recognition is "reliable and useful".
"We have just found out that Macau has adopted this new technology. We will be studying this technology to see if this can enhance security," authority chairman Norman Chan Tak-lam said after a
Legislative Council
meeting.
"There are still other possibilities. For example, some people are suggesting whether fingerprints verification can be deployed. Can this replace the use of password or should the two be used at the same time?...Now that Macau has this new technology, we are happy to study."
Chan made the remarks as official figures showed that the number of suspicious transaction reports received by the police skyrocketed from 23,282 in 2012 to 76,590 last year, leaving investigators struggling to cope. Meanwhile, the number of convictions sank from 160 in 2012 to 102 last year.
Earlier this month, Macau announced the move to use facial recognition to scan bank card users at ATMs across the former Portuguese enclave to tackle money laundering and capital flight. The high-tech screening system will first be installed at ATMs in and around casinos before being extended to cover all 1,300 cash machines. All holders of mainland-issued China UnionPay bank cards "will be required to scan their mainland identity card and undergo a facial recognition check" to draw cash."
Francis Fong Po-Kiu, honorary president of the Information Technology Federation, said that technologies of facial recognition and fingerprints are not mature and safe enough. It would not be very difficult for a scam artist to fool the two hi-tech systems.
"The use of PIN is safer, because you should be the only one who knows the numbers," he said. He suggested that if the two new technologies are to be used, they should be used together with the PIN number to be safe.
The authority also confirmed in a statement that a IT colleague attended a meeting organised by Macau's Monetary Authority last Friday that discussed financial supervision.
"In our ongoing efforts to enhance the overall security of the banking system, we would explore the feasibility, robustness, costs and benefits of different technologies including, facial recognition, amongst other forms of biometrical authentications. This also includes the technologies being employed by other jurisdictions," it said.
The total amount of cash withdrawn from ATM machines in Macau recently topped HK$10 billion a month. This has fuelled concerns that money laundering and capital flight could be a significant factor in the ATM withdrawal surge.
This article appeared in the South China Morning Post print edition as: authority mulls atm biometric scanners