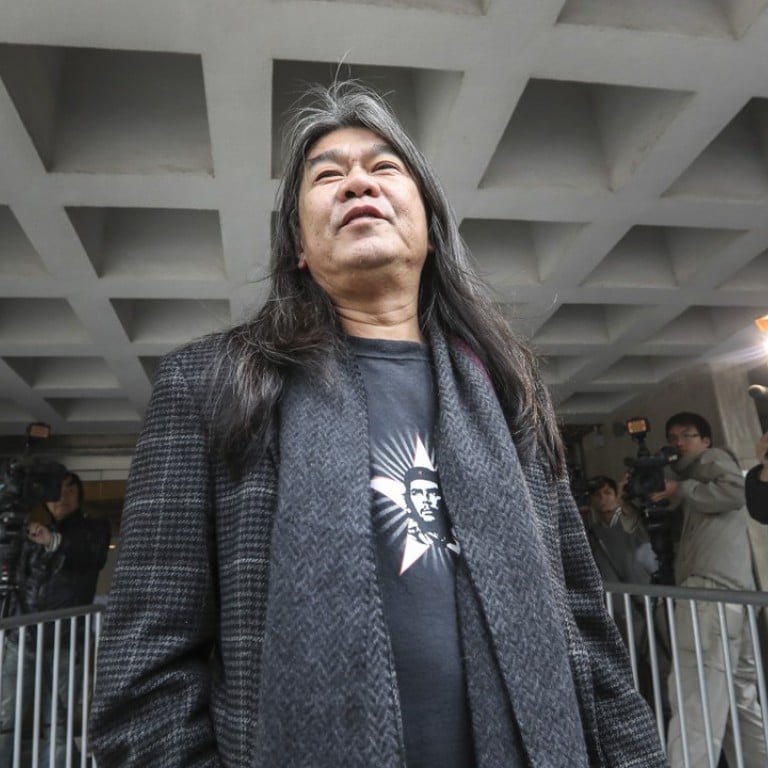 No parliamentary privilege for Hong Kong lawmaker over money from tycoon Jimmy Lai: court
Ruling for prosecution means trial scheduled for June 5 to proceed
A Hong Kong judge on Wednesday rejected a high-profile lawmaker's claim of "parliamentary privilege" and gave prosecutors a green light to pursue their case against him over money he received from a media tycoon.
District Court judge Alex Lee Wan-tang was earlier urged at a preliminary hearing by lawyers for "Long Hair" Leung Kwok-hung to decide whether the court had jurisdiction to try the pan-democratic lawmaker, who was alleged to have committed misconduct in receiving HK$250,000 from media tycoon
Jimmy Lai Chee-ying
in 2012.
On Wednesday, Lee ruled against Leung and his lawyers' suggestion that the matter was beyond the judiciary and entirely an internal one for the
Legislative Council
.
The ruling means the trial, scheduled for June 5, will proceed.
Lee also allowed prosecutors to use certain Legco documents – earlier opposed by the defence on the same privilege ground – for restricted purposes.
And it means prosecutors could establish their case to a fuller extent and thus deal a blow to Leung's defence.
Leung, 60, allegedly failed to disclose to Legco that he had accepted the cash from Lai, founder of Next Media, through Lai's aide, Mark Simon, on May 22, 2012.
The lawmaker, first elected in 2010, has denied one count of misconduct in public office.
The prosecutors, representing the
Independent Commission Against Corruption
, said earlier that they would rely solely on Leung's acceptance of the cash and the alleged non-disclosure as constituting misconduct, rather than anything the lawmaker had said or done for Lai during Legco meetings.
However, they told the court, they would need the Legco register showing Leung's declaration of interest as well as Leung's speeches as evidence to demonstrate he had not declared Lai's payment despite ample opportunities to do so.
Leung's barrister, Martin Lee Chu-ming SC, argued earlier that not just those documents but the incident itself would fall within the parliamentary privilege covered by Legco's Powers and Privilege Ordinance.
The judge on Wednesday disagreed.
But he ruled that the register and speeches could only be used as a "record of history" rather than as evidence to show whether Leung had spoken for improper purposes.
"If during the trial, there is any dispute ... the court will revisit the issue," Lee said, adding that he would give his reasons at the end of the proceedings.
Flanked by his supporters – including fellow lawmakers Nathan Law Kwun-chung, Eddie Chu Hoi-dick, and Lau Siu-lai – Leung chanted slogans before he entered court on Wednesday.
This article appeared in the South China Morning Post print edition as: No privilege for 'Long Hair' over payment: court