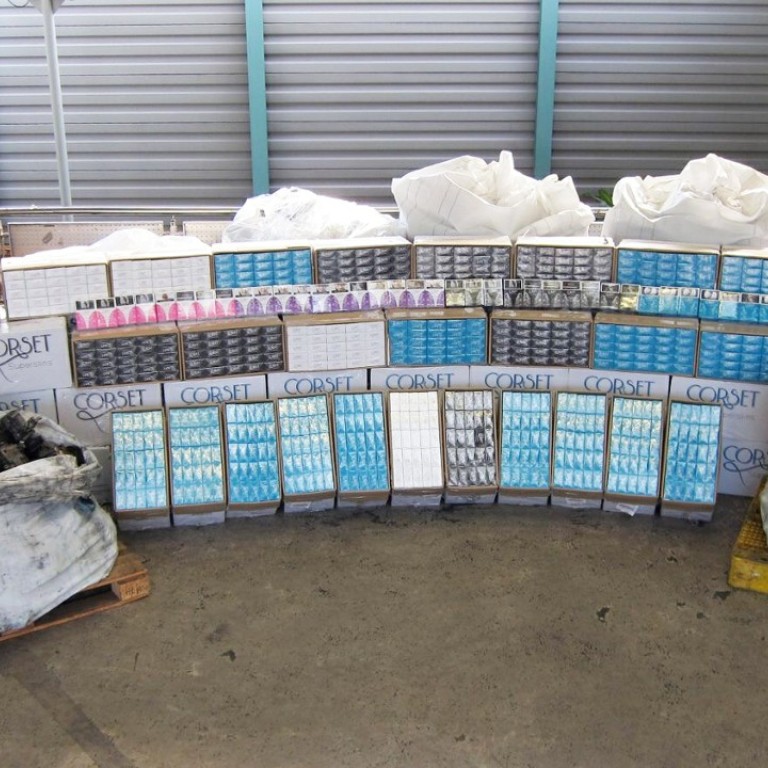 Hong Kong customs seize contraband cigarettes worth HK$8 million
Some 300 cartons of cigarettes were hidden in containers from Malaysia
Hong Kong customs seized HK$8.2 million worth of contraband cigarettes hidden in four shipping containers from Malaysia.
Lau Yuk-lung, who heads the city's customs division investigating illicit cigarettes, believes the consignment, containing more than 300 cartons, was not intended for local consumption. It was one of the biggest seizures by the division.
"We believe the haul was bound for Taiwan because it carried health warnings written in traditional Chinese and used by Taiwanese authorities," he said on Wednesday.
The four containers were unloaded from a ship that arrived from Malaysia and berthed at a container terminal in Kwai Chung on Monday last week.
According to the Customs and Excise Department, the contents were listed in the import documents as second-hand vehicle parts and plastic beads.
When no one came forward to collect the consignment, the containers were opened for inspection on Monday and found to be packed with more than 100 sacks of vehicle parts and plastic beads.
Describing the search as "treasure hunting", Lau said 34 out of 108 sacks were found to contain cartons of contraband cigarettes mixed with the other contents.
"Eighteen sacks carried vehicle parts and cartons of cigarettes in two of the containers and another 16 contained plastic beads and boxes of cigarettes in the other two containers," he said.
He said a total of 304 cartons of untaxed cigarettes were found.
Instead of shipping the cigarettes directly from Malaysia to Taiwan, Lau believed smugglers used the route in an attempt to avoid detection.
No arrests had been made by Wednesday and investigations were continuing.
Lau said officers would investigate the source of the contraband cigarettes and track down the consignee.
He said the consignment was the largest haul of its kind this year to be smuggled into the city by sea. Last September customs officers seized HK$54 million worth of illicit cigarettes hidden in two containers from Vietnam.
Under the Import and Export Ordinance, smuggling carries a maximum penalty of seven years' imprisonment and a HK$2 million fine.
Members of the public may report any suspected illicit cigarette activities to the 24-hour customs hotline on 2545 6182.
This article appeared in the South China Morning Post print edition as: Huge haul of cigarettes hidden in containers