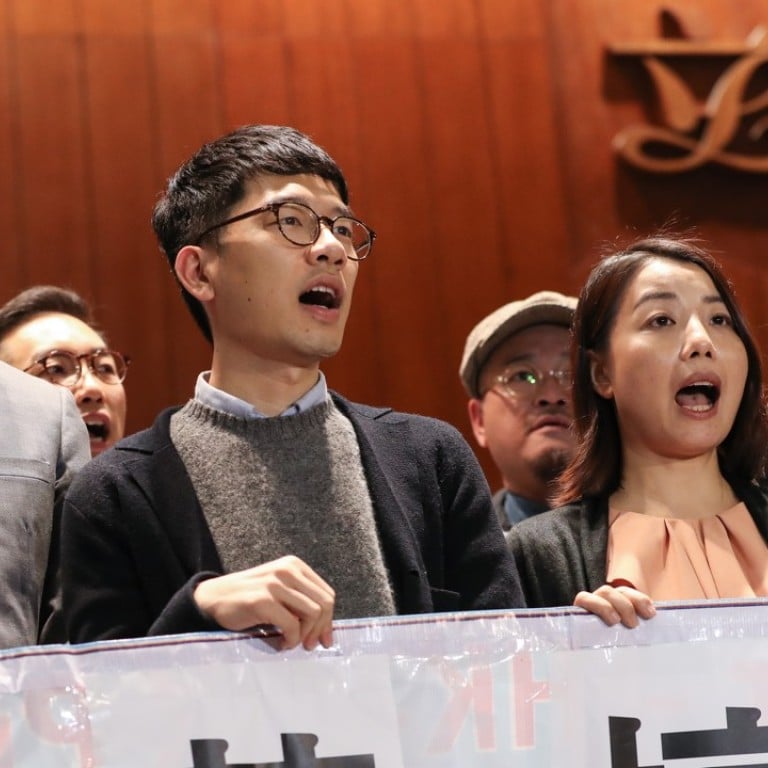 Oath-taking antics: The acts that got six Hong Kong lawmakers disqualified
What the six lawmakers did ­during their oath-taking sessions on ­October 12, 2016, to get them disqualified by Mr Justice Thomas Au Hing-cheung
Nathan Law Kwun-chung
Made a short speech preceding his oath. In a reference to the government's previous warning of potential disqualification, Law quoted Mahatma Gandhi in saying: "You can chain me, you can torture me, you can even destroy this body, but you will never imprison my mind." As he proceeded with his oath and came to the word "republic", he changed the tone of his voice, as if asking a question. " I swear allegiance to ... the People's Republic of China?" he said.
Au's ruling: To a reasonable person, Law's speech looked like that he did not believe in the oath, but had been forced by the system to take the oath. His changing of tone showed he did not respect or recognise China as sovereign over Hong Kong. Even if Law was telling the truth about his intentions, his oath would still be invalid as lawmakers are not allowed to convey any other messages during the oath.
Lau Siu-lai
Spent eight minutes delivering her oath, pausing five to seven seconds between every Chinese word. She later said in a Facebook post that she did that to "manifest the falsehood of the oath".
Au: It was an "obvious case" and found she breached the requirement to believe in what she was saying. She also failed to take the oath in the exact form and content required.
Edward Yiu Chung-yim
Inserted in the middle of the oath: "I will uphold procedural justice in Hong Kong, fight for genuine universal suffrage and serve the city's sustainable development".
Au: Yiu "plainly" breached the exact form and content requirement, making his oath invalid. Viewed objectively, there is no doubt that he intended to add the extra words in the way that he did.
Leung Kwok-hung
Wore a black t-shirt with the words "civil disobedience" printed on and held up a yellow umbrella – a symbol of the 2014 Occupy Central – with words "end one party rule". He also chanted slogans to ask chief executive Leung Chun-ying to step down and demand democracy. He also paused frequently between words and phrases.
Au: He had failed the requirement to be solemn and did not comply with the exact form and content.
Yau Wai-ching
Displayed a blue banner bearing the words "Hong Kong is not China" and pronounced China as "Chee-na", a variation of the derogatory "Shina" used by Japan during wartime. She also mispronounced "People's Republic of China" as "People's Re-f****** of Chee-na" three times.
Au: The mispronunciation of "Chee-na" suggested that she refused to pledge allegiance and conveyed the message of advocacy for Hong Kong independence. Her use of "f" word, he said, showed her contempt for the China as the 'one country' in the 'one country, two systems' concept which is fundamental to the Basic Law.
Sixtus Baggio Leung Chung-hang
Wrapped the same blue banner around his shoulders and made the same mispronunciation of "Chee-na". He also crossed his fingers when taking the oath.
Au: Leung's crossing of fingers intended to send a message of not taking the oath seriously or with a clear conscience.
This article appeared in the South China Morning Post print edition as: Why judge decided to slam Legco door on six