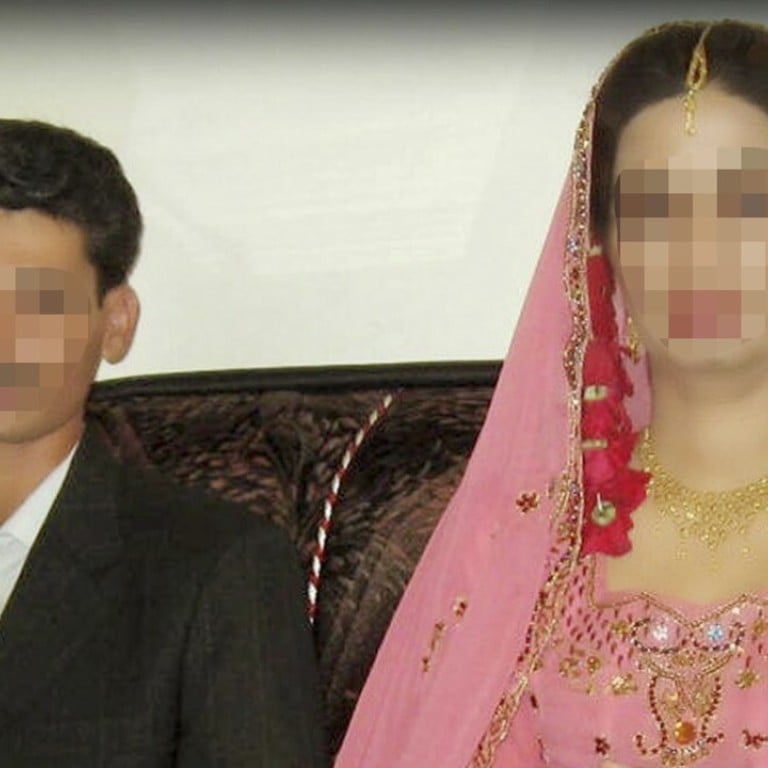 Hong Kong 'slave husband' from Pakistan warns of marriage migration dangers after six difficult years in city
Estranged from wife whose family stipulated he pay them HK$367,000 if the two divorced, man working on expired visa to surrender to authorities
A Pakistani man claiming he was deprived of food and forced to work as a "slave husband" after he immigrated to Hong Kong is speaking out to prevent others from living his heartbreaking story.
Ashraf, 35, who spoke on condition of not disclosing his first name, married a Hong Kong permanent resident of Pakistani descent in Islamabad on April 24, 2011. The two had met through a family matchmaker and arrived in the city in December that year after waiting for his dependent visa.
The case is yet another in a phenomenon of "slave grooms"
first reported
by the
Post
in May. Men who have been tricked into arranged marriages get trafficked to Hong Kong and forced into indentured labour by their bride's family.
Ashraf said his mother-in-law promised he would enjoy a better life in Hong Kong and be able to support his parents financially. Ashraf said this prospect led him to agree to the marriage.
But his mother-in-law stipulated in the Pakistani marriage contract that he pay his wife's family five million Pakistani rupees (HK$367,000) if they divorced. Ashraf's family disagreed with the financial penalty and disowned him. In another twist, Ashraf said his wife, six years his senior, revealed to him on their wedding day that she had a five-year-old son from a previous marriage.
After moving to Hong Kong, Ashraf claimed, his wife often physically and verbally abused him and kept his passport. For seven months, he worked as a full-time security guard and was forced to cook and clean for his wife, her son and mother-in-law after work hours, he said.
"Every day (my) wife slapping me, (saying) bad language ... Sometimes I didn't eat for two days," he told the Post, in broken English, adding that he and his wife slept in separate beds.
He said his wife took the entirety of his HK$13,000 in monthly salary and gave him around HK$10 a day for transportation. To eat, he begged for money on the streets, and said he lost more than 10kg in a year.
The Post has not been able to independently verify Ashraf's claims. But Bindar Singh, 43, who works locally for a travel agency, said he first met an emaciated Ashraf on the streets near his office and asked him if he needed help. Ashraf told Singh he had not eaten in days.
Singh gave him food and pocket money on a regular basis for six months and to this day supports Ashraf. "He looked sick and very skinny ... very depressed," he recalled.
In December 2012, Ashraf escaped after Singh helped him find a free place to stay. Describing Ashraf as a very nice man, Singh was willing to share his name so that "someone could learn" from the harrowing experience.
Ashraf's wife, who declined to give her name, denied all the claims and said she was the couple's sole breadwinner.
"Of course it's not true," she said of the allegations. She planned to report Ashraf's overstay and illegal work in Hong Kong to the Immigration Department. She added that she knew he had been working and paying taxes with an expired visa.
She also claimed Ashraf was thin from the outset owing to his lack of food in Pakistan. She countered he had hit her on multiple occasions and had thrown her on a sofa. She went on to claim Ashraf had friends who were gangsters and threatened to sue him for, in her words, tarnishing her reputation.
In response, the estranged husband denied he had hit his wife and refuted the rest of her claims.
A few weeks ago, Ashraf asked Richard Aziz Butt, an immigration consultant, to help him get a new passport in order to apply for a new police permit that would allow him to work as a security guard. Butt reviewed the case and said Ashraf may have overstayed his visa.
However, Ashraf assumed he still had a valid seven-year dependent visa, and for this reason he continued working and paying taxes until April. He planned to surrender himself to immigration officials on Monday.
The department said all trafficking in persons cases were handled by the Security Bureau.
Butt confirmed to Ashraf that he was a victim of bonded labour through marriage migration, also known as a "slave husband." Since 1997, Butt said he had met dozens of "slave husband" victims, usually from poor families who migrated to Hong Kong through marriage and then were forced into indentured labour for their in-laws as "money-making machines".
However, immigration officials have no official records on forced marriages or the exploitation and trafficking of spouses who move from other countries.
Arguing on the grounds of compassion, Butt asked the department to grant Ashraf a new visa while his case was being investigated.
The department said it could not comment specifically on Ashraf's case but noted that anyone who breached a condition of stay could be guilty of an offence, with a conviction yielding two years in jail and a fine.
The Security Bureau, which oversees immigration and law and order in the city, said identified trafficking victims would be afforded "holistic and humane protection". This protection would include a visa extension by the department and waived visa fees for victims needing to stay in Hong Kong so they could act as prosecution witnesses in legal proceedings.
Butt urged officials to recognise Ashraf and other South Asian "slave husbands" as human-trafficking victims through marriage migration.
"It's the responsibility of the Hong Kong government to investigate impartially such allegations and treat these cases very seriously… and provide justice," he said.
Nurul Qoiriah, head of the Hong Kong office of the International Organisation for Migration, a UN agency that helps migrants, said it could be challenging for law enforcement agencies to identify a victim of trafficking unless there was a detailed report or clear sign indicating the crime.
Other difficulties in identifying trafficked persons stem from victims' fears of imprisonment and deportation as well as ignorance of the rights or help to be given.
Kaushic Biswas, an outreach worker in Chungking Mansions, said he knew of several slave husbands and slave brides in the local South Asian community, including some who were in hiding.
In his more than 15 years working at the commercial complex, Biswas claimed to personally know at least 10 cases of people being "forced to work" in restaurants and a tailor shop.
Ashraf expressed concern that his wife's brothers would retaliate against him. Yet he wanted to prevent other men from being deceived and brought to Hong Kong through marriage dependent visas only to end up in indentured labour.
"I want to say to the other guys if you're getting married, the first step you do, you must (scrutinise) the wife and other family and verify if the other family is not good or good," he said. "If they are not good, then you lose your life, like me. It means your life is destroyed."
Ashraf, now staying with someone in Causeway Bay, added it was "very difficult" to face his family.
"I wasted around six years," he said. "I don't have children. I have no future."
This article appeared in the South China Morning Post print edition as: Pakistani man tells of his life as a HK 'slave husband'