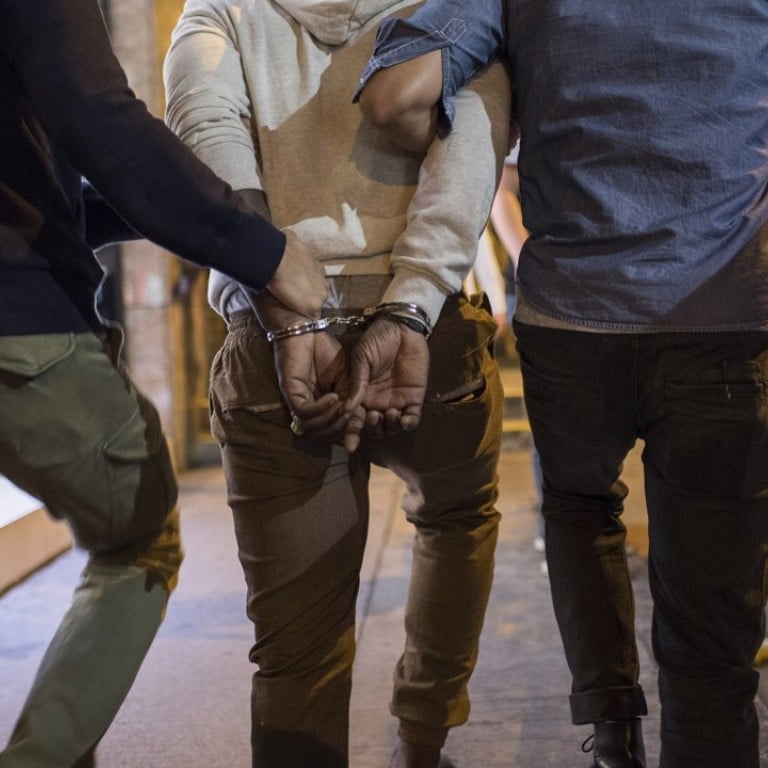 Hong Kong district councillor among 299 arrested after officer's undercover triad investigation
Operation, involving raids on suspects' homes as well as unlicensed venues and brothels, follows 11-month infiltration
A district councillor and an alleged leader of the Wo Shing Wo triad society were among almost 300 people arrested on Monday and Tuesday during the culmination of one undercover agent's 11-month operation within Hong Kong's criminal circles.
The 299 suspects also included two suspected Yuen Long faction leaders of the Wo Shing Wo and scores of their alleged followers, who were nabbed in a series of raids by about 500 officers.
The Yuen Long district council member was understood to have been picked up when officers raided his home in Tuesday's early hours.
And the alleged Wo Shing Wo leader known in the underworld as "Chuen Tsai" was arrested at home at daybreak on Tuesday, as were suspected Yuen Long faction leaders nicknamed "Tsai Tsai" and "Yat Poon Tsai".
"The four men were identified after an undercover agent was deployed to infiltrate the triad society to gather evidence," a police source said.
Superintendent Li Kwai-wah of the New Territories North regional crime unit praised the efforts of the undercover policeman, and marked the toll it had taken on him.
"The officer lost about 30 pounds in weight during the 11-month undercover operation," he said.
But he refused to reveal further details of the agent, for the agent's safety.
It was understood the society usually held meetings at a Yuen Long sauna, which the four main suspects regularly attended.
The 129 men and 170 women, aged from 14 to 70, were arrested when about 500 officers began raiding locations mainly in the New Territories from Monday evening.
During the operation, code-named "Supertale", police raided and closed down more than 10 brothels, four gambling dens, six unlicensed pubs and the sauna, which was also used as a vice establishment.
Another police source said all the venues were believed to be controlled by the Wo Shing Wo.
About 50 of those held were suspected leaders and members of the Wo Shing Wo and several of the men were believed to be members of 14K triad society.
Officers seized about 10 account books belonging to the Wo Shing Wo, weapons, HK$60,000 cash and small amounts of illegal drugs.
The suspects were arrested for various offences including holding office in a triad society, managing a triad society, recruiting others to a triad society, money laundering, drug trafficking and serious assault, according to Li.
"We believe the operation has dealt a heavy blow to the triad society," he said.
This article appeared in the South China Morning Post print edition as: District councillor among 299 held in anti-triad swoop