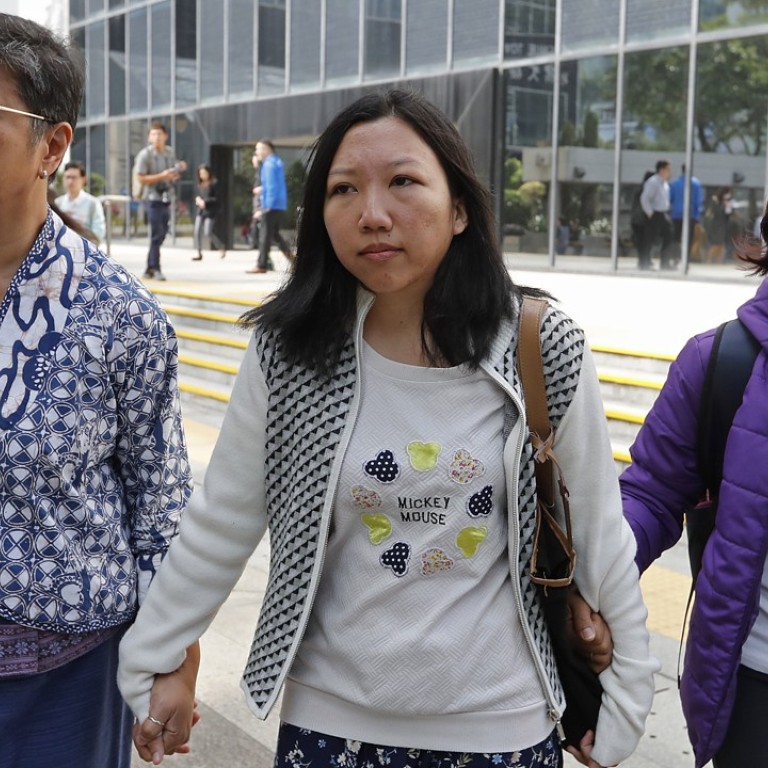 Tortured helper Erwiana wins HK$809,430 civil claim against abusive Hong Kong employer
District Court judge Winnie Tsui awards the Indonesian the full amount she sought, disregarding employer's latest assertion that the former helper overstated her injuries
Tortured former domestic worker
Erwiana Sulistyaningsih
on Thursday prevailed in her two-year legal bid to claim HK$809,430 (US$103,480) in damages from her abusive employer, with a judge calling her mistreatment "inhumane, degrading and abhorrent".
In granting the civil claim, District Court judge Winnie Tsui Wan-wah awarded the former helper the full amount she sought, disregarding the employer Law Wan-tung's assertions that Erwiana's injuries were exaggerated.
In court earlier this month, Law
insisted that the Indonesian's injuries
were either self-inflicted or arising from pre-existing conditions, points that she did not make during her criminal trial two years ago, for which she was sentenced to six years in prison.
However, whether Erwiana will receive the compensation depends on the eventual outcome of a High Court case, where her lawyers are trying to bar Law from transferring her share in a HK$7 million flat to her husband.
On Thursday, Tsui referred to the abuse the former helper suffered at Law's hands between May 2013 and January 2014 and said: "The things that the defendant did to the plaintiff over those seven months were not done merely to inflict physical pain."
A vacuum cleaner tube was on one occasion inserted into the helper's mouth. Another time during winter, she was stripped naked, splashed with cold water, with a fan turned on and pointed at her, the judge said, citing the former helper's memories of her abuse.
"The defendant's acts were designed to 'teach a lesson' to the plaintiff that she, as the defendant's domestic helper, was inferior and must do as ordered," Tsui wrote in a judgment handed down on Thursday.
"It was meant to bring about humiliation, distress and loss of human dignity," she said.
If Law does not appeal against Thursday's ruling, it would mark the end of a nightmarish saga for Erwiana, who at one point had difficulty walking from her injuries.
Her case shone the spotlight on the more than 330,000 domestic helpers in the city, and the hardship they experienced as maids.
It also resulted in Law being found guilty of 18 assault and labour-related charges on February 10, 2015 for hurting Erwiana and another helper, Tutik Lestari Ningsih.
Erwiana pursued a civil claim against Law after the criminal trial, with the District Court tasked to decide the amount of damages Law would have to pay.
She sought damages for her physical injuries and psychological condition, loss of earnings and future earning capacity, medical expenses, and some aggravated damages.
The helper, who is now studying management at a university in Indonesia, suffers from post-traumatic stress disorder and a major depressive disorder.
"I still feel the hatred against my previous employer [and wonder] why she did the violence to me at the time," she testified during the civil proceeding, adding that she still experienced bouts of trembling, and felt nervous when she was reminded of the past.
Tsui said that during the course of the civil suit, she had made clear that Law's assertions were factual allegations that should have been put forth earlier. However, Law only advanced these assertions during the final stages of the proceeding, when factual evidence was no longer accepted.
Law had earlier this month applied to Tsui to submit the former helper's records and witness statements from the criminal trial, as it would show that she was less seriously injured than she claimed.
The judge said she did not take Law's accusations into account but accepted Erwiana's evidence as "coherent and consistent".
She ordered Law, who claimed to be illiterate in English, to also pay interest on the claims and seek court assistance if she needed translation help.
This article appeared in the South China Morning Post print edition as: Tortured helper Erwiana awarded HK$809,430