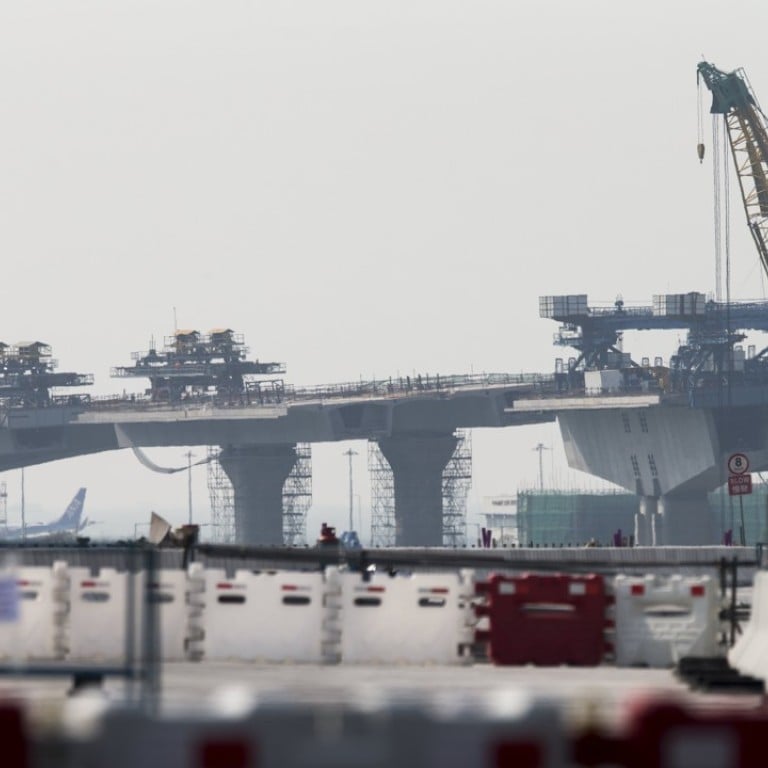 Three contractors found guilty over Hong Kong-Zhuhai-Macau bridge death
Dragages Hong Kong, China Harbour Engineering Company and VSL Hong Kong will be sentenced next Thursday
Three Hong Kong-Zhuhai-Macau bridge contractors were on Friday found guilty of 21 summonses relating to an industrial accident that killed one worker and injured four others.
The West Kowloon Court heard the fatal accident took place on October 19, 2014, when a lifting frame collapsed due to its deficient design, unknown to the three contractors.
But magistrate Edward Wong Ching-yu found these companies had failed to implement a safety management system, take adequate steps to prevent workers from falling from height, and ensure regular inspection of a lifting appliance.
The three contractors – Dragages Hong Kong, China Harbour Engineering Company and VSL Hong Kong – were to be sentenced next Thursday, each of them on seven summonses, out of the 18 they had each denied.
The maximum punishment for each summons is a HK$200,000 (US$25,500) fine, with some carrying jail terms for as long as 12 months.
Subcontractor Fortune Engineering (KK) was meanwhile cleared of one summons alleging that it had failed to ensure the safety and health of employees. The magistrate concluded the company could provide information and training to workers through others, as the three contractors had already provided sufficient information and training.
The court heard the lifting frame collapsed due to its deficient design, which caused structural instability. The accident killed Tse To-long, a Dragages Hong Kong worker, and injured four others: Kong Kai-dik, Ng Yiu-kei, Stephen Knox and Yung Wai-tak.
But Dr Ray Su Kai-leung, testifying for the defence, said: "[The three contractors] as the end users, having operated three lifting frames of the same designs uneventfully, could be unaware of these defects."
The defence also argued that safeguards were put in place against deficient design, such as engaging VSL Technical Centre Asia to design the lifting frames and Arup and Partners Hong Kong to oversee and supervise the design of the lifting frames, as well as appointing AECOM Asia as an independent design checker.
The magistrate found that "the collapse of the lifting frames was not a reasonably foreseeable risk to the [three contractors]".
Still, he observed that the contractors had failed to take adequate steps to prevent workers from falling from height, saying there were insufficient guard rails and anchorage points for workers to attach their harnesses to the lifelines. Their use of lifelines also did not follow guidance notes that permit only one user at a time, when as many as four workers attached their lanyards to the same lifeline on the day of the accident.
The magistrate further pointed out that the contractors did not assign separate personnel to apply and check the necessary permits. "This requirement … is obviously a matter of safety management regardless of whether any failure to observe would indeed give rise to actual safety issues," he said.