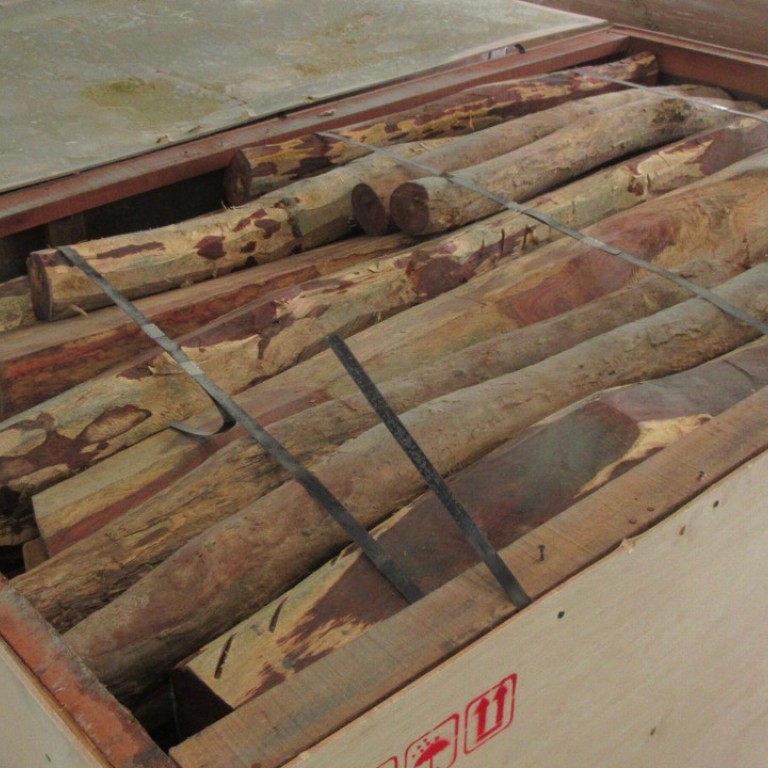 Hong Kong customs seize 26 tonnes of endangered wood hidden in cargo containers
The haul of logs, of the endangered Dalbergia, or rosewood, species, is estimated to be worth HK$3.6 million and is the second such case foiled in three weeks
Hong Kong customs are searching for the smugglers behind a consignment of more than 26 tonnes of endangered wood brought into the city from Thailand.
The haul of logs, of the endangered Dalbergia, or rosewood, species, was estimated to be worth about HK$3.6 million (US$461,000) and is the second wood-smuggling case foiled by customs officers in three weeks.
The logs were hidden in two shipping containers that arrived in Hong Kong on January 29, the Customs and Excise Department said on Thursday.
A department spokesman said the consignment was uncovered when the two containers were opened for inspection at its cargo examination compound in Kwai Chung on Monday.
A total of 26.16 tonnes of the wood was confiscated.
Officers are investigating where the haul – which likely would have been used for making high-end furniture – was destined for. No arrests have been made.
The latest case follows the seizure of 29.23 tonnes of suspected Honduras rosewood worth HK$2.9 million on January 16. The wood was hidden in a cargo container from Guatemala in Central America. A 35-year-old woman was arrested in connection with the case.
In Hong Kong, importing or exporting an dangered species without a licence carries a maximum penalty of two years in jail and a HK$5 million fine under the Protection of Endangered Species of Animals and Plants Ordinance.
Those who import or export unmanifested cargo face seven years' prison and a HK$2 million fine.
Suspected smuggling activities can be reported to customs' 24-hour hotline, 2545 6182.
This article appeared in the South China Morning Post print edition as: 26 tonnes of rare wood seized in second such case