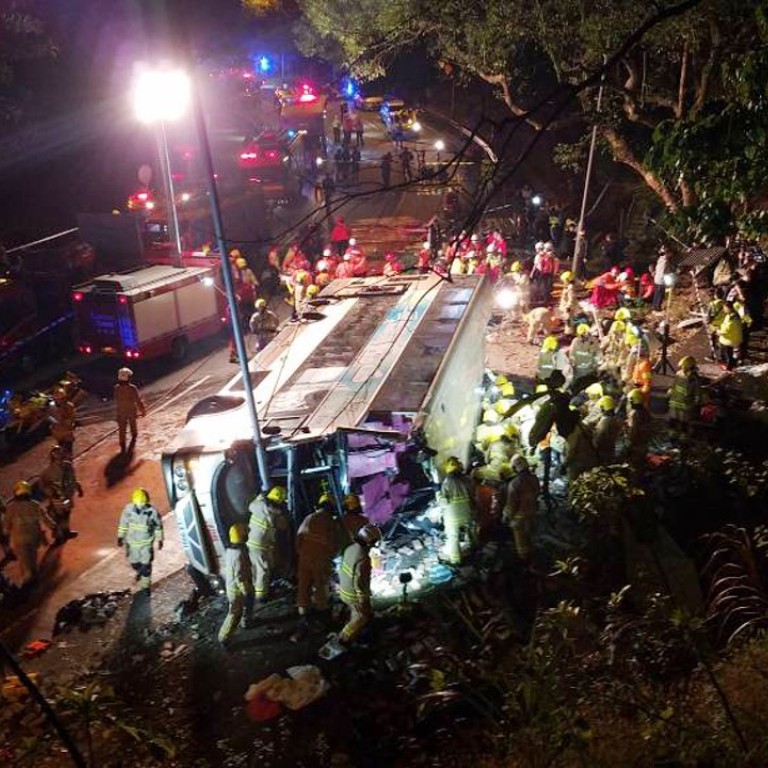 Nineteen dead, more than 60 injured in 'chaotic' Hong Kong double-decker bus crash
Cause of accident that took place on Tai Po Road not yet established, but multiple passengers say vehicle was going fast
The wreckage of a double-decker bus in Hong Kong that crashed on Saturday leaving 19 people dead and more than 60 injured was removed from the crash site for further inspection on Sunday morning. 
All lanes of Tai Po Road between Chek Nai Ping and Tsung Tsai Yuen in Tai Po were reopened to traffic at 6.40am. All bus routes travelling along the motorway have resumed normal services. 
Police have launched an investigation into the fatal accident and urged witnesses with information to contact officers by calling +852 3661 3344 or 9460 0523.
At about 6.15pm on Saturday, a KMB bus, route 872, was travelling from Sha Tin racecourse towards Tai Po. The driver reportedly lost control of the vehicle as he was pulling into a turn near Tai Po Mei, causing the bus to flip over onto its side. 
Fifteen men and three women were confirmed dead at the scene, while 63 injured passengers were rushed to a dozen hospitals across the city. A sixteenth man was confirmed dead at a hospital later at night, taking the death toll to 19. 
It was Hong Kong's deadliest bus accident in nearly 15 years, sparking a full-scale emergency operation.
As of 10.30am on Sunday, 10 men and one woman were in critical condition at Kwong Wah, Prince of Wales, Princess Margaret and Queen Elizabeth hospitals.
At least 21 men were also hospitalised in serious condition and at least one woman was now in stable condition.
Nineteen passengers were discharged from hospitals by Sunday morning, according to the Hospital Authority.
The driver was arrested for dangerous driving causing death and dangerous driving causing grievous bodily harm and is being detained for further enquiries. 
The wrecked bus was taken to the police vehicle examination centre in Tai Lam Chung for investigation.
The city's leader, Chief Executive 
Carrie Lam Cheng Yuet-ngor
visited the victims in hospital and announced that the government would set up an independent committee, chaired by a judge, to investigate bus safety.
"The goal is to ensure a safe and reliable public transport system ... especially for bus services," Lam said.
Senior police superintendent Li Chi-wai, of New Territories North, said the force suspected that the driver was "speeding when driving down a slope, lost control" and then the double-decker "turned over on its left".
Li said officers would investigate the driver's psychological state at the time of the accident, the speed the bus was travelling and whether it had any mechanical issues. 
He added that the driver had not been under the influence of alcohol and had not needed any medical help.
The exact cause of the crash was not clear, but according to eyewitness accounts, the route 872 bus was on its way from Sha Tin racecourse to Tai Po Centre when it flipped onto its side while negotiating a turn on Tai Po Road, near Tsung Tsai Yuen. Passengers suggested the bus was speeding downhill at the time, and the driver appeared to be upset after he was told off for being late.
"He was late for 10 minutes," a passenger recalled of the driver. "He was grumpy because some people criticised him for being late. He then started to drive the bus like he was flying a plane."
Another passenger said: "He was driving very fast, extremely fast, even if he was driving down a slope."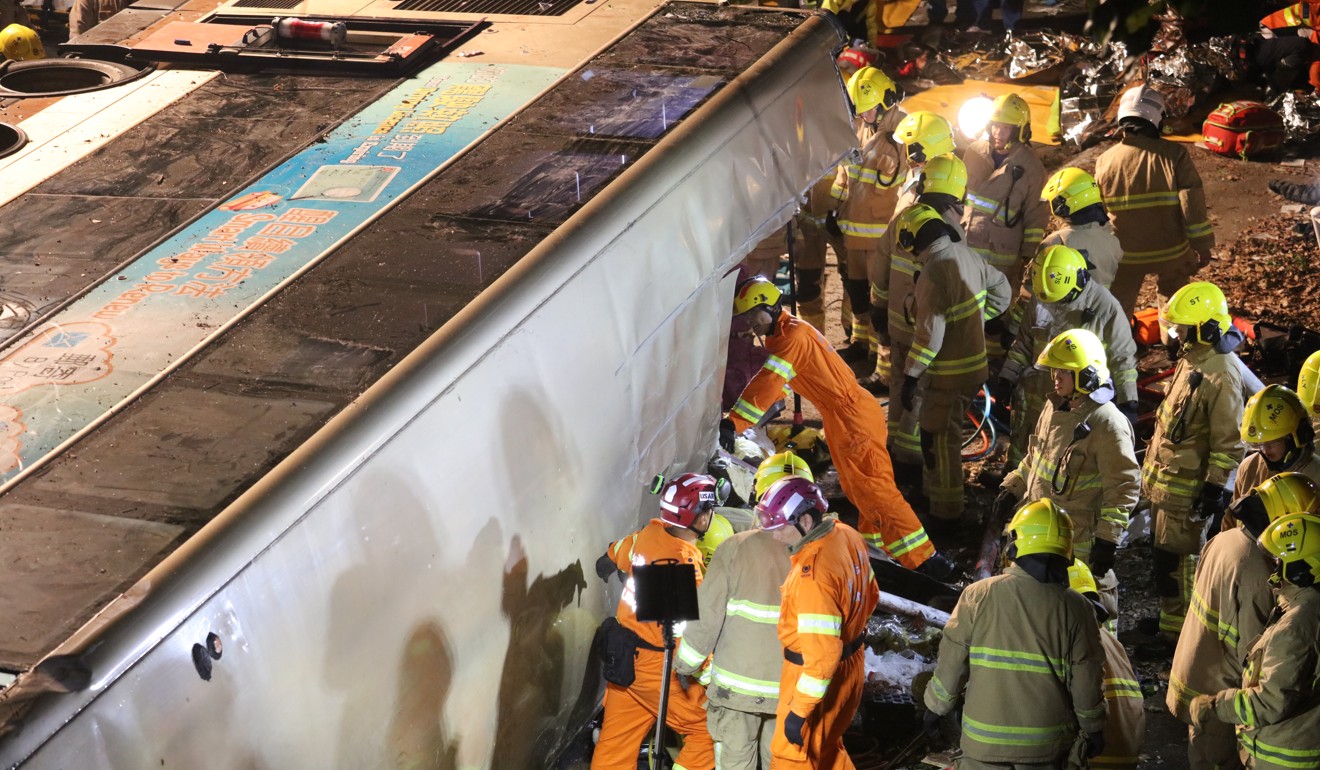 One of the victims, who sat by the side of the road with his right leg bandaged, also suggested the driver had been speeding.
"It was much faster than I normally feel on a bus," he said. "And then it was like the tyres skidded, and the bus overturned. It was really chaotic on the bus. People fell on top of one another and got tossed around from side to side."
Police said they had received multiple calls reporting the accident at around 6pm and it was 9.30pm by the time they managed to pull survivors and bodies out of the wreckage. Investigators were looking into whether the driver had been speeding after finding skid marks stretching 30 metres at the scene. The bus had come to a stop after crashing into a lamp post while on its side.
Many passengers, injured and in shock, were sitting by the road as paramedics provided first aid. Many had bandages wrapped around their heads and several were bleeding as they were stretchered onto waiting ambulances.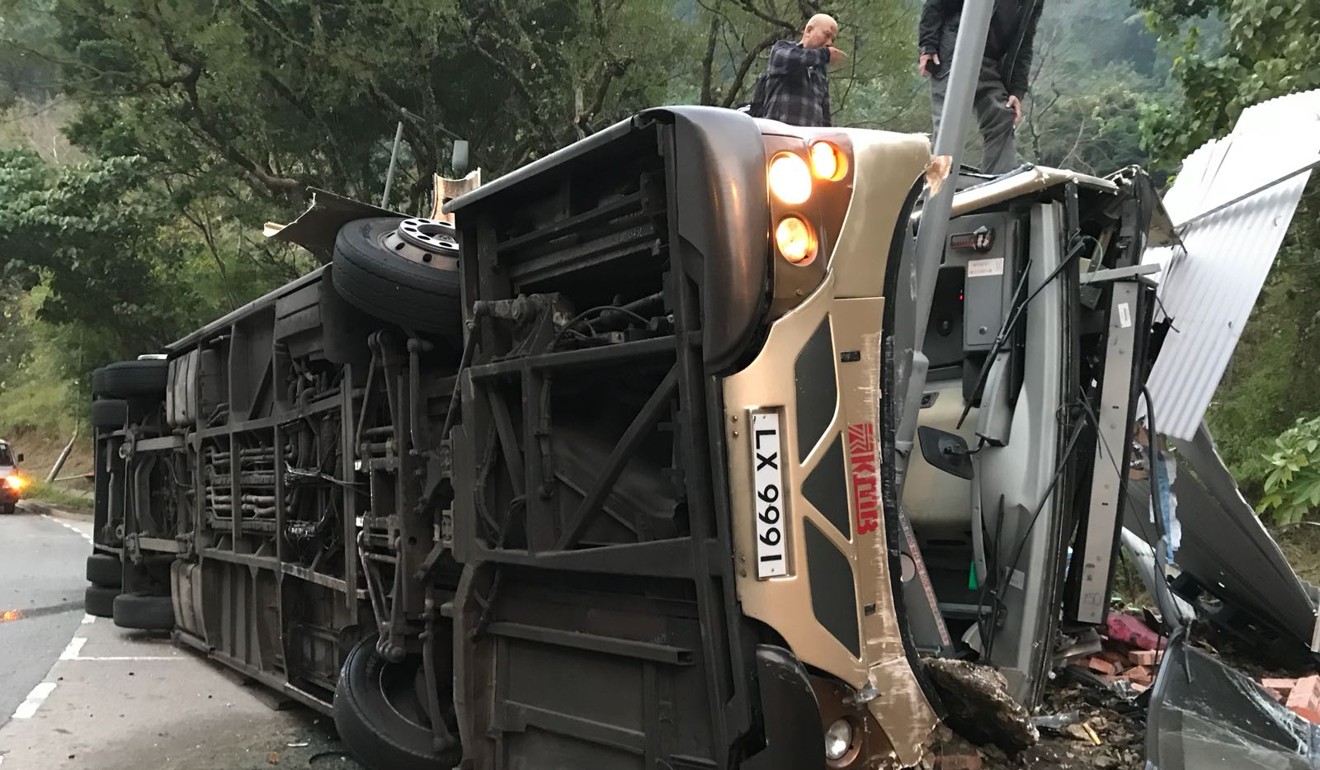 The bodies of the victims were covered and laid by the roadside, waiting to be taken to the morgue.
Apart from Prince of Wales Hospital in Sha Tin, most of the injured were sent to Alice Ho Miu Ling Nethersole Hospital in Tai Po, Queen Elizabeth Hospital in Ho Man Tin and United Christian Hospital in Kwun Tong.
KMB general manager Godwin So Wai-kei said at the crash site that the franchised bus company would give a condolence allowance of HK$80,000 (US$10,000) to each injured person and family of the deceased.
He said t
he 30-year-old driver
had joined the company in 2014 and changed to working part-time last September. The driver was familiar with the route, which was only operated on racing days, and he had last been on it nearly three weeks ago. 
"There were no signs that he was exhausted," So said, adding that the driver had been working seven-hour shifts for the past four days, and was on a four-hour shift on Saturday.
So said KMB would launch its own investigation into the accident, led by independent directors of the firm, and would hand in a report to the Transport Department in a month's time.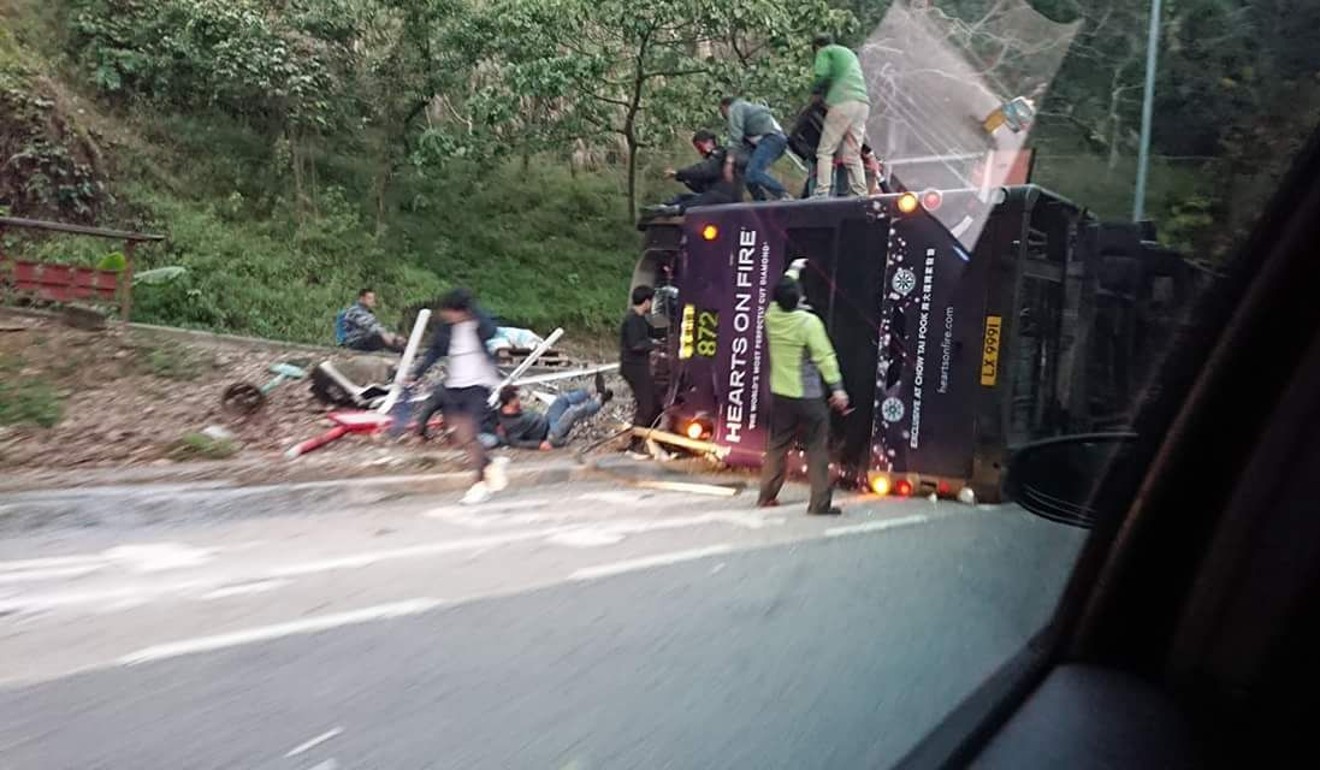 The accident was the deadliest since 2003, when 21 people were killed after a double-decker bus plunged off a Tuen Mun flyover following a collision with a container truck.
In 2008, a speeding bus careered out of control at a Sai Kung roundabout, leaving 18 people dead and 44 injured.
Last September, three people were killed and 29 injured when a double-decker bus 
mounted a pavement
and ploughed into pedestrians at the junction of Yen Chow Street and Cheung Sha Wan Road in Sham Shui Po during rush hour.
This article appeared in the South China Morning Post print edition as: Death and horror on the 872